May 2015 Student Profile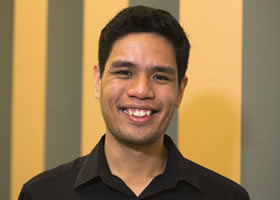 Rob Saldaña
---
Saldaña wants to encourage youth to pursue their musical dreams
---
Meet Rob Saldaña. In 2007, he came to the United States from the Philippines with his mother and settled in the town of Leander, Texas, a small community north of Austin.
As a sophomore with limited English skills, Saldaña found the transition to high school difficult. It was not only the academic demands, but also the social challenges – trying to fit in and make new friends outside the classroom.
His outlook changed though when some choir students at his high school invited him to join them at their table for lunch. The experience forever changed Saldaña and his future.
"I like to say, I came for the lunch but stayed for the music," said Saldaña.
After touring the choral room and speaking with the choir director, Saldaña became a member and, over the next three years, was able to become an All-State Choir performer, earning a music scholarship to UTSA.
As an undergraduate, Saldaña was able to perform in several operas as a member of the UTSA Lyric Theatre and Orchestra.
In addition to gaining experience performing on stage, the music education major developed his skills in vocal competitions.
At a Classical Singer National Competition held in San Antonio for the first time, Saldaña was one of 22 semifinalists selected from more than 8,000 vocalists who auditioned online.
He attended a summer music workshop in Boston where he learned about operatic staging from top professionals.
As a senior, Saldaña has gained experience as a conducting intern for the UTSA Men's Chorus. In that role, he blends 25 voices into one harmonious sound.
Currently, he is student teaching at Judson High School – learning from Kathryn Sherrill, one of the most respected choir instructors in the state. Sherrill has been teaching choir for more than 34 years and has led choirs that have performed at national conferences and events around the country.
Ultimately, Saldaña wants to teach music at the middle school or high school levels and assist students to prepare for University Interscholastic League competitions like the ones he participated in as a high school student, experiences that were an instrumental part of his life.
– Kris Rodriguez
Spring 2015 Student Spotlights
---
Are you graduating in May 2015? Share your photos with us on Facebook or Twitter (@UTSA). #utsagrad2015

Do you know a fascinating UTSA student who is planning to graduate in December 2015? Share that story with us at news@utsa.edu.