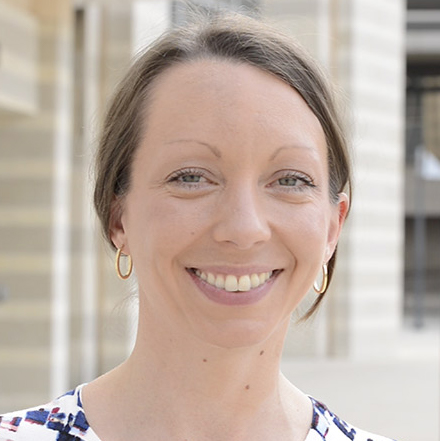 Brooke Balbuena
---
Graduate student Brooke Balbuena credits UTSA music faculty for strengthening her teaching methods.
---
Meet Brooke Balbuena. Music is this graduate student's passion. She studied piano performance and pedagogy to earn her master's degree. Now she shares her knowledge and talent with aspiring young performers.
After serving our country with the United States Army for seven years with deployments to Iraq and Afghanistan during that time, she moved to San Antonio with her husband. Following the move, Balbuena bought a piano and started teaching private lessons.
At one point, she took a hiatus from teaching. After several years, though, friends and family encouraged her to audition for the UTSA piano performance program. Upon getting accepted, she became the recipient of the Zachary Barriger Memorial Scholarship.
"Music is one of those paths that chooses you," said Balbuena. "I was honored to receive a scholarship, and it has allowed me to spend hours practicing and completing the work that is required for my degree."
At UTSA, Balbuena served as a graduate teaching assistant leading group piano lessons. She's also taught private lessons to younger students. She says her interactions with the top-tier faculty in the Department of Music have helped her become a better instructor.
"Faculty members in the music department are caring and supportive. They will go out of their way to help students succeed," said Balbuena. "The faculty at UTSA are world-class. I would encourage anyone interested in music to become a Roadrunner."
Balbuena said her work with the UTSA music department has provided her with opportunities to improve as a performer and teacher. She was recognized as the instrumental winner of UTSA's Concerto & Aria Competition in 2016, toured with the UTSA Orchestra as a soloist and served as president of the UTSA chapter of the Music Teachers National Association.
"During the competition, I learned so much about what happens in performance settings and how to prepare when the pressure is high," said Balbuena. "UTSA has improved the way I teach. I tell students now that anything can happen during a performance but it's how you handle it that truly matters."
She said she's soaked in everything she's learned in the classroom and on stage and shares that knowledge with her talented students.
"In the piano world, there is a legacy you can leave behind by studying and teaching and I feel like I get to carry on that tradition because of what I have learned at UTSA."
By Kara Mireles