)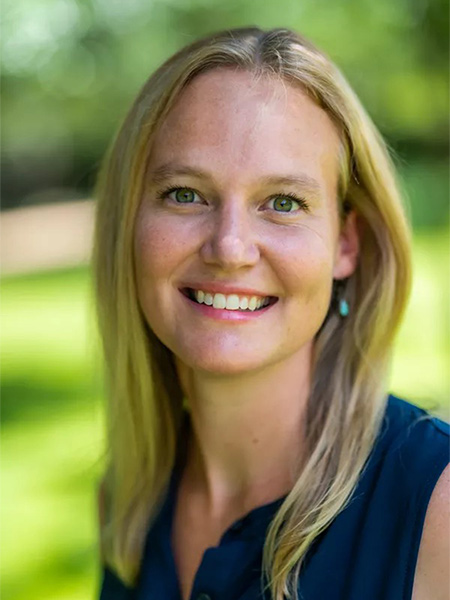 Lutcher Brown Fellowship
The Lutcher Brown Fellowship was established in 2020 with funds from the Lutcher Brown Endowment for Academic Excellence in order to help recently tenured faculty accelerate the success of their research. The fellowship is a one-year, nonrecurring honorific appointment. Fellows are nominated by academic leadership and selected by the provost through a competitive process.
Kathryn Henderson, Ph.D.
Lutcher Brown Fellowship
Associate Professor, Bicultural-Bilingual Studies
Applied Linguistics/TESL Program
The scope and impact of Kathryn Henderson's research and her record of service during her six years at the university demonstrate her dedication to the Roadrunner community and her commitment to support UTSA's destinations to become a model for student success and a great public research university.  
Henderson's recent book, Dual Language Bilingual Education: Teacher Cases and Perspectives on Large-Scale Implementation, explores her primary area of research on teacher language ideologies and local language policy in dual language bilingual education (DLBE) implementation. Henderson has also published 18 peer-reviewed articles, five book chapters and three book reviews as well as 34 refereed presentations. In 2017, she was given the emerging scholar award from the International Society of Language Studies.
Henderson's service to the UTSA community is extensive. Within the College of Education and Human Development (COEHD), she is a member of the COEHD Theoretical Framework Committee and the UTSA COEHD Scholarship Committee. Within her department, Henderson serves as an Undergraduate Advisor of Record, the TexLER Conference Faculty Advisor and a member of the Doctoral Studies Committee. 
Henderson is also a beacon of support for her students. She is currently advising students in the Master of Arts in Teaching English as a Second Language (MA-TESL) and serves as the advisor, committee member, or chair for 9 Ph.D. students. Henderson has also secured four grants in her six years at UTSA. 
Outside of the university, Henderson served on the Dual Language Redesign Committee for San Antonio Independent School District. She serves as an advisor, reviewer, and committee member for the AERA Bilingual Research SIG. She also reviews proposals for the Language and Social Processes SIG and the American Association of Applied Linguistics (AAL). Henderson is a member of the AAL, AERA, the International Society for Language Studies, the National Association of Bilingual Education, the Texas Association of Bilingual Education, and TexTESOL II.
Henderson completed her Ph.D. in bilingual and bicultural education from UT Austin in 2015. She joined UTSA in 2015 as an assistant professor before being promoted to associate professor in 2020. Henderson plans to leverage her recent promotion and fellowship to make a meaningful impact on local schools through UTSA community partners.