The UTSA Student Innovation and Entrepreneurship (SIE) program is a cross-disciplinary effort linking innovation to commercialization. SIE integrates diverse knowledge and perspectives and engages broad audiences from across UTSA to turn imagination into innovation.
We provide space—both physical and mental—to foster innovation and entrepreneurship among all UTSA students, faculty and the San Antonio community through education, real-world experiences, resources, and support to create new technology-based ventures, serving as a catalyst for progress in the regional entrepreneurial ecosystem.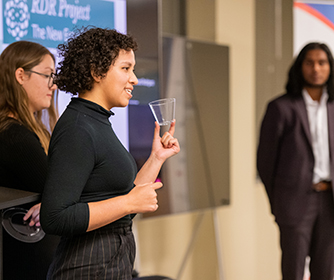 Do you have an innovative, scalable business idea and want to test it in a risk-free environment? Are you working on a research project and want to assess the market opportunity and commercial potential of your technology? The Big Rowdy Idea competition is open to all UTSA students (undergraduates, graduates, doctoral) of any major, postdocs, staff and faculty. Cash prizes for the winners! Register a team or sign up to join a team today!
Apply by September 23, 2022