$100K Student Technology Venture Competition
SIE hosts the annual $100K Student Technology Venture Competition to give students hands-on experience as early stage entrepreneurs. Teams of interdisciplinary students work throughout the semester to develop a technology demonstrator/prototype, business pitch, and business plan to successfully develop a new company. The competition encourages intercollegiate partnership for senior design projects that can translate into new startup companies.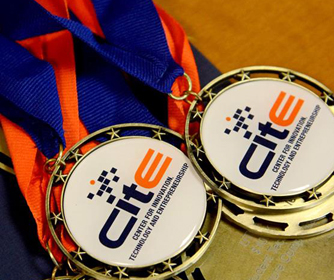 ---
Why should you compete?
Show your talent and connect with San Antonio employers, investors, and seasoned entrepreneurs in a setting that puts you and your skills in the spotlight
Build your resume and stand out from the crowd when applying for jobs
Challenge yourself and gain key transferable skills that can be applied in any job
Test your ideas and business model in a risk-free environment and get valuable feedback from judges and mentors on key aspects of your business
Gain access to mentors and networking opportunities to either raise funds for your startup or land a new job
Last but not least, win $$$ and access to resources
Eligibility Criteria
Eligibility
Open to all UTSA students (undergraduates, graduates, doctoral) of any major
Team Formation
Maximum of 6 members. Interdisciplinary teams are strongly encouraged.
Nature of Idea/Venture
The business submissions must be the team's original work and ideas.
Any type of project/idea is acceptable as long as it is scalable.

 

1 (no hobbies, please)
However, buyouts, expansion of existing companies, real estate syndications, tax shelters, franchises, licensing agreements for distribution in a different geographical area, or spinouts from an existing corporation are 

 

NOT acceptable. 
Investment and Revenue
Companies who have received more than $100K of investment/grant (from any source) prior to the current academic year are 

 

NOT eligible to compete.
Competing teams/companies should not receive any revenue prior to the current academic year.
1
A scalable business model is a business that sees increasing returns as it invests more in capital, labor and services. This generally means that unit costs decline as your business expands. Scalability is what makes a business, in the simplest terms, big, and which typically means greater revenue streams; combine this with efficiencies created by economies of scale, and therefore lower costs, and you have a recipe for a profitable business with strong growth potential.
Things to keep in mind: In the Spring Semester we historically hold the $100K Tech Venture Competition and an Entrepreneurship Bootcamp.
This coming Spring, the School of Data Science will also be running the inaugural Draper Data Science Business Plan Competition.  Most of the SIE dates listed below fall on Wednesdays with the exception of the Bootcamp.
| Date | Day | Activity |
| --- | --- | --- |
| January 17th, 2023 | Tuesday | First day of classes — Applications Open for competition |
| February 8th, 2023 | Wednesday | Kickoff and introduction to the $100K Competition |
| March 4th, 2023 | Saturday | Entrepreneurship Bootcamp |
| March 22nd, 2023 | Wednesday | 1st Round of the competition |
| April 19th, 2023 | Wednesday | Final Round of the $100K Competition |
Awards
1st Place
$5,000 Cash & In-Kind Services* 2
2nd Place
$3,000 Cash & In-Kind Services* 2
3rd Place
$1,500 Cash & In-Kind Services* 2

Note: Projects that are technology-enabled will qualify for an award of up to $2,000 for prototype/proof of concept expenses related to their project. Condition for the award: satisfactory completion of all required deliverables to pitch at the Second Round and 3-minute pitch delivered. More details about the award will be provided at the kickoff meeting.

* 2 Services to help start your scalable new venture. A complete list of services will be provided at the Final Round.
Judging Criteria
Elevator Pitch Round
In order to participate, a team must submit the Big Rowdy Idea application and make the 60-second elevator pitch at the Kick-Off Event.
1st Round
Each Team must submit a one-page overview of their idea and a presentation deck that they will present in 5 minutes to our judges.
Final Round
Each Team must submit an updated presentation that they will present in 7 minutes to our judges along with a written Business Plan and a prototype/minimum viable product,
Each of the elements below will be scored on a 10-point scale by judges independently. Those scores will be tallied and compiled. Teams will then be ranked according to the aggregate score.
How well did the team identify the assumptions crucial to their business?
How well did they design and carry out their tests? (test with customers and/or partners)
How well did the team take action based on the results of the test? (pivot, retest assumptions, etc.)
Did they arrive at a viable business model?
How unique is their value proposition and have they identified barriers to entry? (Who are your competitors? How are you different? What tests show that customers would prefer your solution?)
Is the team solving a significant problem (defined in terms of money or impact)?
Does the team/company have a proof of concept/prototype built?
Does the team have significant evidence that the solution is validated (includes letters of intent, purchase contracts, sales, and partners)?
Does the team have a feasible plan to get to an investable proof of concept?
Past Winners
Spring 2022
Remedium, 1st place
The BackPack, 2nd place
Blynx, 3rd place
Spring 2021
MECM Medical, 1st place
Tranquility Therapeutics, 2nd place
Consilio Prothesium, 3rd place
Spring 2020
TeraBiotech (VAP), 1st place
Q-LADZ, 2nd place
FYREFLY, 3rd place
Spring 2019
EnVault, 1st place
C-CAM Technologies, 2nd place
JNST Solutions, 3rd place
Spring 2018
Winch-Men, 1st Place
VertiPro, 2nd Place
GANA Biomedical Solutions, 3rd Place
Spring 2017
ColdClot/Chiron, 1st Place
FluoroDent, 2nd Place
quadTeck, 3rd Place
Spring 2016
InfraVein, 1st Place
Bullseye Tactics, 2nd Place
WASDPlay, 3rd Place
Fall 2015
EZ Torque, 1st place
Therm-moist therapy, 2nd place
Synced-In, 3rd place
Spring 2015
Vita Ingenium Solutions, 1st place
Mentis, 2nd place
OXYvo, 3rd place
Fall 2014
ISleepTech, 1st place
Thetis Smart Engineering Innovations, 2nd place
Firefly, 3rd place
Spring 2014
Mediflow, 1st place
Velox Medical, 2nd place
Vitalassure, 3rd place
Fall 2013
Claresta Solutions, 1dt place
In Line Innovations, 2nd place
INI Technology, 3rd place
Spring 2013
Leto Solutions, 1st place
Cyclosa, 2nd place
PLaCR I.T., 3rd place
Fall 2012
Lapara Medical Inc., 1st place
Jack Rabbit, 2nd place
Western Immersion Engineering, 3rd place
Spring 2012
ACPPC, 1st place
Fall 2011
Logicorp, 1st place
Auto Turn, 2nd place
AutoView, 3rd place
Spring 2011
UMDI, 1st place
ATALIS, 2nd place
Voice Detection for the Deaf, 3rd place
Fall 2010
Dead-eye, 1st place (tie)
Chute Damper, 1st place (tie)
Fire Suppression, 3rd place
Spring 2010
Invictus, 1st place
Fall 2009
AidPro, 1st place
Phoenix Gaze, 2nd place