$100K Student Technology Venture Competition
SIE hosts the annual $100K Student Technology Venture Competition to give students hands-on experience as early stage entrepreneurs. Teams of interdisciplinary students work throughout the semester to develop a technology demonstrator and business plan to successfully develop a new company. It encourages intercollegiate partnership for senior design projects that can translate into new startup companies.
Senior engineering, computer science or liberal arts students create a new technology product
Senior business students create the business plan for the commercialization of the product
The competition is the culmination of their undergraduate work and will be judged by a panel of academic, business, and entrepreneurial experts
The winning teams have access to a prize pool of over $100,000 in funding and services to launch their new company
Download the $100K Competition Student Handbook
For more information about the competition, contact Randy Quinn   .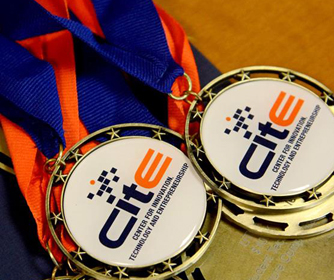 Date
Event
Location
February 9
Kickoff
SEB 1.150G
February 16
Team Meet and Greet
SEB 1.150G
March 24
First Round Pitch Competition
Denman Room (UC 2.01.28)
April 21 at 2 p.m.

Final Round Pitch Competition (13th annual)

Competing Teams:

The BackPack (Garrett Fernandez, Lizet Rojas, Kayla Ruiz, Ashley Ridoutt)
LED Wallpapers (Michael Whitley, Elizabeth (Betsy) Sullivan, Omar Diaz, Nicolas Serenil, Jordan Panis)
Blynx (John Navarro, Joe Gonzalez)
Remedium (Jaime Benavides, Felipe Morales, Rich Yi, Isaiah Arredondo)
Static Lint Roller (Steven Valentin) 

Convocation Center
---
Past Winners
Spring 2022
Remedium, 1st place
The BackPack, 2nd place
Blynx, 3rd place
Spring 2021
MECM Medical, 1st place
Tranquility Therapeutics, 2nd place
Consilio Prothesium, 3rd place
Spring 2020
TeraBiotech (VAP), 1st place
Q-LADZ, 2nd place
FYREFLY, 3rd place
Spring 2019
EnVault, 1st place
C-CAM Technologies, 2nd place
JNST Solutions, 3rd place
Spring 2018
Winch-Men, 1st Place
VertiPro, 2nd Place
GANA Biomedical Solutions, 3rd Place
Spring 2017
ColdClot/Chiron, 1st Place
FluoroDent, 2nd Place
quadTeck, 3rd Place
Spring 2016
InfraVein, 1st Place
Bullseye Tactics, 2nd Place
WASDPlay, 3rd Place
Fall 2015
EZ Torque, 1st place
Therm-moist therapy, 2nd place
Synced-In, 3rd place
Spring 2015
Vita Ingenium Solutions, 1st place
Mentis, 2nd place
OXYvo, 3rd place
Fall 2014
ISleepTech, 1st place
Thetis Smart Engineering Innovations, 2nd place
Firefly, 3rd place
Spring 2014
Mediflow, 1st place
Velox Medical, 2nd place
Vitalassure, 3rd place
Fall 2013
Claresta Solutions, 1dt place
In Line Innovations, 2nd place
INI Technology, 3rd place
Spring 2013
Leto Solutions, 1st place
Cyclosa, 2nd place
PLaCR I.T., 3rd place
Fall 2012
Lapara Medical Inc., 1st place
Jack Rabbit, 2nd place
Western Immersion Engineering, 3rd place
Spring 2012
ACPPC, 1st place
Fall 2011
Logicorp, 1st place
Auto Turn, 2nd place
AutoView, 3rd place
Spring 2011
UMDI, 1st place
ATALIS, 2nd place
Voice Detection for the Deaf, 3rd place
Fall 2010
Dead-eye, 1st place (tie)
Chute Damper, 1st place (tie)
Fire Suppression, 3rd place
Spring 2010
Invictus, 1st place
Fall 2009
AidPro, 1st place
Phoenix Gaze, 2nd place