Whether you are planning a small workshop or hosting a conference, UTSA offers a variety of spaces to meet your event needs.  Special Use facilities include spaces such as special event centers, theater, and other unique spaces available for non-university individuals and groups.  UTSA also offers residential spaces for summer conference housing and academic spaces for limited use such as presentations and non-academic meetings.  Explore the spaces available at each of UTSA's unique campuses to find the facility that best matches your event.
The Space Contact Directory is a comprehensive list of all the space managers on campus. Each space manager oversees the booking of their area, coordination of logistics, and ensures policies and procedures are being followed. This document will also show you how to request space and who to contact for updates. 
---
Special Use
---
Residential Housing
The UTSA campus offers residential facilities through both Campus Living Villages (CLV) and UTSA Housing and Residence Life. CLV owns and manages the on-campus residential facility, University Oaks. UTSA Housing and Residence Life manages Alvarez Hall, Chaparral Village, Chisholm Hall, Guadalupe Hall and Laurel Village. Both CLV and UTSA Housing and Residence Life offer summer conference housing options for guests.
---
Academic Spaces
Academic spaces on the UTSA campus include the John Peace Library and numerous classroom locations. While these spaces are primarily reserved for students and academic classes, both the Library and many classroom spaces are available for non-academic events.
Classrooms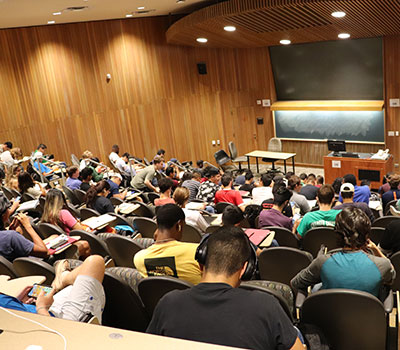 As an institution of higher education, UTSA reserves classrooms primarily for academic classes. Departments may contact Classroom Scheduling directly to reserve classrooms for academic activities and review sessions. Events that are not academic in nature can be reserved through Events Management.