UTSA invites Roadrunner families to attend Family Weekend on Friday, October 1 and Saturday, October 2. Students and their families have an opportunity to explore campus, have a meal together, and cheer on UTSA at the Alamodome. Family Weekend allows you all to have a shared UTSA experience while also meeting other roadrunner families.
Activities
Family Association Dinner 
Take a stroll through campus to the Sombrilla Plaza for the Family Association for a dinner on Friday evening. Enjoy chatting with your roadrunner, getting to know fellow roadrunner families, and taking in the sound of the Sombrilla Fountain. The chicken fajita dinner will be $10 per person and free for children. Be sure to purchase a ticket for your student. Limited availability so get your tickets now!
UCinema
The Student Union invites families to join them for UCinema in the Retama. After dinner, families are invited to walk over to the Student Union for some popcorn and a free screening of the blockbuster film Black Widow.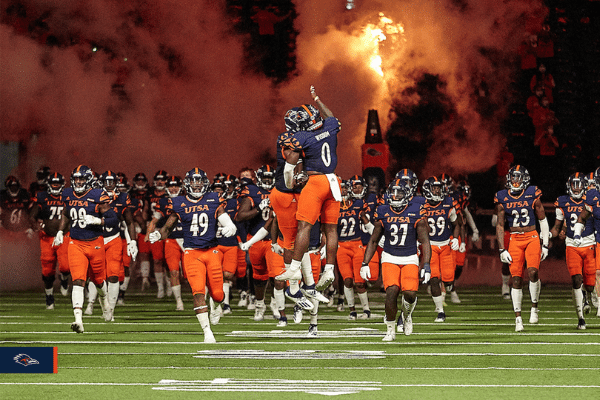 Indoor Tailgate
Enjoy the 72-degree temperature in the Alamodome for Indoor Tailgate located at the North End of the Club Level. This Saturday pre-game event will have free food and beverages available while it lasts.
UTSA vs. UNLV
Sit as a family in the student section and cheer on the Roadrunners at the UTSA Football game on Saturday. Tickets for the game will be sold online at a reduced Family Weekend rate. Log in with your Ticketmaster information or create an account to purchase these $10 tickets.   
Tickets
Tickets for the Family Association Dinner and the UTSA Football Game will be sold separately. Please visit the links below to purchase your tickets. 
Itinerary
Friday
7:00-8:30 pm - Family Association Dinner


9:00 pm – UCinema


Saturday
3:30 pm – Indoor Tailgate


5:00 pm – UTSA vs. UNLV
---
Family of the Year
Family of the Year Contest
The UTSA Family of the Year essay contest is intended to celebrate the supportive role families play in the lives of students and the University community. All current, full-time UTSA students are eligible to nominate their own or any family by submitting a completed application and essay. Nomination form requires a student login.
Nominate Your Family via RowdyLink
Congratulations to our 2019-2020 Family of the Year
Manuel and Elena Pacheco - Del Rio, Texas
Nominated by their daughter - Alyssa Pacheco