Mia SoerensenServing Excellence on the Court and in the Lab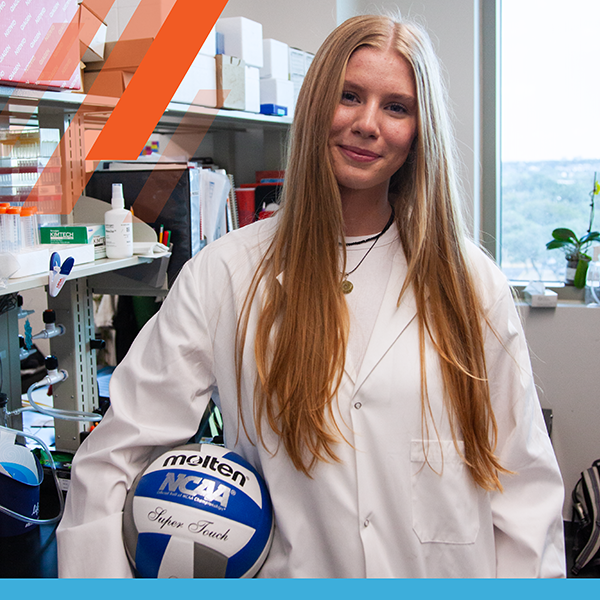 UTSA standout sophomore, Mia Soerensen '26, excels in neuroscience and on the volleyball court thanks to her full-ride UTSA Athletics Scholarship. Originally enrolled at a university in Ohio during her freshman year, Mia chose to transfer to UTSA after discovering the incredible opportunities offered by Roadrunners Athletics, the cutting-edge Roadrunner Athletics Center of Excellence, and the high-caliber coaching staff. Her decision was also influenced by her interest in UTSA's Brain Health Consortium, where, today, she has found inspiring professors who fuel her passion for neuroscience.

"One of the best aspects of being a student-athlete at UTSA is the exceptional care and support we receive, particularly with the facilities like the RACE and the Roadrunner coaching staff. It's incredible to start each morning at such a beautiful place, and the incredible support has made balancing neuroscience and volleyball very achievable."

When she is not spiking balls on the court, Mia serves as an undergraduate research assistant under the guidance of Semmes Foundation Distinguished Chair in Cell Biology, Professor Jenny Hsieh, Ph.D. This experience is both augmenting her knowledge of neuroscience and fueling her ambition to potentially specialize in pediatric neurology in the future.
Because of UTSA's donors, I can pursue my passion for both volleyball and neuroscience. I wouldn't be here without my scholarship, and I am so incredibly grateful.
Dreaming of earning her M.D. and continuing her volleyball journey post-graduation, Mia is deeply grateful to the Roadrunner Athletics Fund (RAF) donors. Their support not only fuels her aspirations but also empowers her to envision a future where she can positively impact the lives of others.

"Because of UTSA's donors, I can pursue my passion for both volleyball and neuroscience. I wouldn't be here without my scholarship, and I am so incredibly grateful," said Mia. "I feel so thankful for the position I am in. I am hoping this support will translate into me being able to impact the lives of others like the RAF donors have done for me."

-Jordan Allen, Development Writer