Website Required Elements
Official sites for The University of Texas at San Antonio are those that officially represent UTSA programs and contain official content targeted at external and internal audiences.
Required Elements
The UTSA header and footer are required elements for any websites hosted under the utsa.edu domain.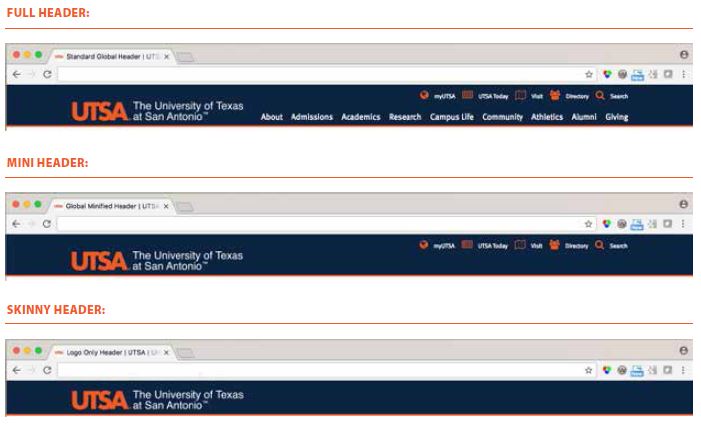 The core of UTSA's web identity is the official UTSA header. This header must appear on all official UTSA websites. It is recommended that all pages adopt the UTSA header and footer in the university's signature blue that includes all the required elements. The UTSA branding masthead offers a simple way to connect our thousands of sites and let users know where they are at all times. No content can appear on top of this element at any time.
Accessibility
UTSA websites are designed to be accessible, so that people with disabilities have access to online information, data and services comparable to that accorded individuals who do not have disabilities. UTSA follow the standards established under Section 508 of the Rehabilitation Act of 1973, amended in 1998 by the Work Force Invesment Act (Section 1194.22 and its subsequent amendments) as its minimum requirements for web accessibility. It is recommended that we follow the Web Content Accessibility Guidelines established by the World Wide Web Consortium's Web Accessibility Initiative (W3C-WAI) that are not addressed in Section 508.
University Communications and Marketing will provide support for the masthead, and footers but will rely on the college, unit and other entities' internal web or IT staff to implement the strip. For implementation or exceptions questions, e-mail mktg-group@utsa.edu.
---
Contact University Communications and Marketing to migrate your website to UTSA branded templates.