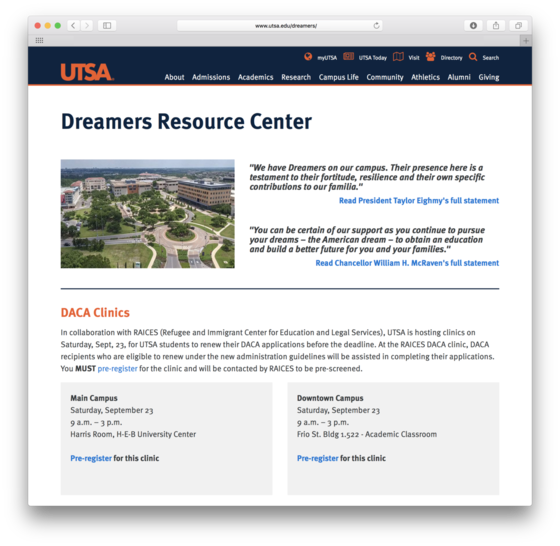 Dear Roadrunners,
I am pleased to announce the launch of our Dreamers Resource Center website, which gathers together all of UTSA's resources and support systems in place to assist students with immigration issues in light of the recent announcement to eliminate the DACA program.
I'd like to draw your attention to the DACA clinics to be held this Saturday at both the Main Campus and Downtown Campus, where DACA recipients who are eligible to renew under the new administration guidelines can receive assistance with completing their applications. Details regarding the clinics, which are being held in collaboration with RAICES (Refugee and Immigrant Center for Education and Legal Services), and a registration link can be found on the site.
If you are a Dreamer, I hope you will take advantage of these resources. I know this is an uncertain time for our DACA students, and I want to reiterate that university administrators, faculty and staff are here to support you. Please know you are not alone.
Taylor Eighmy, Ph.D.
UTSA President