UTSA downtown expansion could add 10,000 students to San Antonio's urban core
February 8, 2018
Rivard Report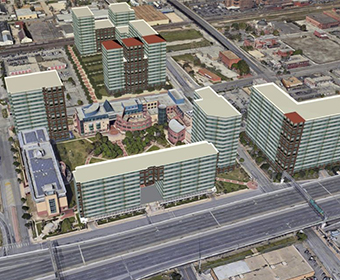 University of Texas at San Antonio President Taylor Eighmy says it is time for ambitious changes at the university's downtown campus. He wants to triple enrollment downtown over the next 10 years.
The downtown campus serves 4,500 students – down considerably since its heyday eight years ago, Eighmy said, when some 8,000 students took at least one class there. The downtown location opened in 1997.
Since that time, enrollment has declined, and some student services offered downtown have moved to UTSA's main campus just inside Loop 1604. Eighmy, who was hired last fall, hopes to increase enrollment downtown to 15,000 students over the next 10 years, with an expansion plan that he says will require major partnerships with the City of San Antonio, Bexar County, and downtown developers.
"The presence of a major downtown campus would be catalytic for sustainable development of the city," Mayor Ron Nirenberg said.