Welcome back, faculty and staff!
August 21, 2018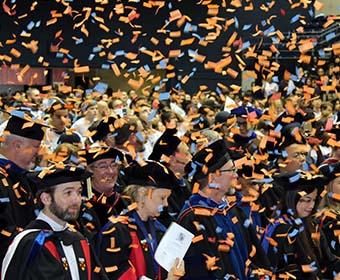 Dear Roadrunner Faculty and Staff,
Welcome to the new academic year!
Seeing our students return to campus for the start of the fall semester is such an exciting time – one of the true joys of working in academia.
I know many of you have worked very hard to get ready for today, and I wanted to extend my heartfelt thanks to all of you for helping our students—especially our newest Roadrunners—to feel at home and ready to learn.
Now that I am about to begin my second year as UTSA's president, I've taken some time to reflect on all the good work that was done to set UTSA's strategic plan into motion. The enthusiastic support I received from all of you, our external stakeholders and the UT Board of Regents has been inspiring. One year into this process, it's now time to sharpen our focus on what kind of institution we want UTSA to be in the decade ahead.
We had a productive summer planning the next chapter of our strategic planning efforts. You can expect to hear more about that in the weeks to come as we share reports from several of the initiatives launched last year, and as new initiatives launch.
Over the course of this academic year Provost Espy and I will share more about these institutional priorities during "Campus Conversation" sessions we will have with every college and administrative unit across the university. We are looking forward to these opportunities for dialogue with all of you.
This year I will also continue my tradition of having "Tacos with Taylor" meet-and-greets with faculty and staff – watch your inboxes for date and time announcements. So many of you are doing phenomenal work in your areas, and I love hearing your stories and thoughts during these casual chats.
Thank you for being a part of the Roadrunner familia, and all my best wishes for a wonderful start to the semester.
With appreciation, 
Taylor Eighmy