Roadrunner Village Initiative
October 11, 2018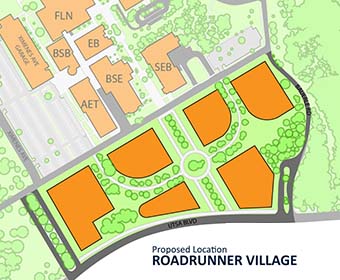 Dear Roadrunners,
Over the next several weeks we'll be announcing a number of new initiatives to drive UTSA toward our destinations as outlined in our strategic plan.
Today, I'm pleased to announce the launch of an exciting new project that will influence the character of the Main Campus, benefiting both the UTSA community as well as our surrounding neighborhoods: Roadrunner Village.
Located along UTSA Boulevard on 20 acres owned by the university, this urban village will offer a mix of market rate housing, retail, casual dining, a grocery store and entertainment venues.
Not only will Roadrunner Village bring a much-needed sense of urban walkability to the edge of Main Campus, it will also provide affordable housing to accommodate a growing student population as well as amenities to serve students living in complexes along UTSA Boulevard. The Village's proximity to the academic core of campus will offer convenience and connectivity for the students, faculty and staff living within its residences.  
As UTSA provides educational opportunities to more students, it is essential that we continue to grow our campus infrastructure to meet their needs and shape the feel of our campus. Roadrunner Village represents the next step in UTSA's evolution from its commuter roots to a university with a residential focus and a vibrant campus life where students live, work and socialize – a holistic college experience fostering a sense of belonging.
Roadrunner Village will be developed through a public private partnership, whereby UTSA will enter into a long-term cooperative arrangement with a private developer to finance, build and manage the facilities. As with all of our building projects, care will be taken to ensure the project aligns closely with our Campus Master Plan initiative.
Vice President for Business Affairs Kathy Funk-Baxter and Vice President for Student Affairs Sam Gonzales are overseeing this initiative with the assistance of a working group to guide the partnership and construction details.
The timeline for the development of Roadrunner Village is still being determined, dependent on the terms of UTSA's agreement with the developer. We are hopeful that construction can begin as soon as fall 2019.
The Roadrunner Village working group will actively seek the input of faculty, staff and students via advisory sessions at designated points in the design and programming process. The group welcomes any thoughts you may have regarding the project, including the services and venues offered. Email them at roadrunnervillage@utsa.edu to share your ideas.
With appreciation, 
Taylor