Follow-up regarding yesterday's classroom incident
November 13, 2018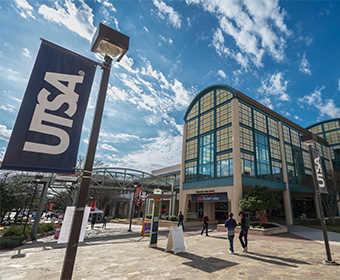 President Taylor Eighmy sent the following email to UTSA faculty further updating them on Monday's classroom incident. Click here to view the message sent to all students. 
Dear Faculty,
I am writing to provide an update regarding yesterday's classroom incident. Because the matter concerns one of our faculty members and—more broadly—issues of inclusion, civility and classroom management, I'll address some of the specific questions and concerns you may have.
We are currently conducting two separate investigations into the matter, one on potential discrimination (conducted by our Office of Equal Opportunity Services) and the other on classroom management (conducted through the Provost's Office by Interim Dean Grimes in the College of Sciences). Provost Espy and I are committed to ensuring an equitable process for both the student and faculty member. Interim Dean Grimes and our EOS office are working quickly and diligently to gather the facts, and both the student and the faculty member have met separately with those conducting the investigations.
For the best interest of all involved, the faculty member's classes will be taught by another faculty member for the remainder of the semester. Her students have been informed. The student involved in the incident has been welcomed back to class and offered support services. Once the two investigations are complete next week, appropriate administrative action will be determined.
No matter the outcome of the investigations, the incident shows issues that extend far beyond the events of yesterday. The reactions expressed through social media, emails, phone calls and group meetings I've attended confirm that feelings of marginalization on the part of some students—especially our African American students—are real and profound.
The bottom line: regardless of the final outcomes regarding yesterday's incident, we have an obligation as an institution to take a hard look at our campus climate—especially for students of color—and enact systemic change to make UTSA a more inclusive campus. 
Here are my commitments to you, as your president:
We will re-double our efforts to examine how our students from underrepresented groups are treated inside and outside the classroom. As a faculty member, you know there exists a power dynamic between faculty and students that is highly nuanced and sometimes challenging to navigate.

 

Teaching and Learning Services

 

has several programs to help our faculty with classroom management, and they are available for individual consultations. We need a fuller understanding and process for reviewing incidents when that dynamic results in hostilities, discrimination or disrespect, and I will be working with Provost Espy to put those in place. Soon we will release the results of our student diversity survey administered last spring which gives further insights into areas where we are doing well, and areas needing improvement here at UTSA.


We will place a greater emphasis on safe reporting.

 

Our students may seek your counsel around safe reporting about bias or discrimination concerns. Many of our students may not realize that they can report classroom and campus environment incidents and concerns safely through our

 

Office of Equal Opportunity Services

 

or

 

UTSA's Hotline. We will be looking at ways to raise awareness around safe reporting among our students.


We need more faculty, staff and administrators of color on our campus. Provost Espy is working with each of the Deans on their efforts to accelerate the diversity of our faculty. Our progress will be measured through

 

institutional key performance indicators,

 

reported annually, and carefully evaluated. Vice President for Inclusive Excellence Myron Anderson will be leading a new campus-wide initiative focused on diversifying our workforce this spring. To be successful, this work must permeate every corner of our institution as one of our highest priorities – each and every one of us taking action. It is time for a renewed examination of our hiring, promotion and retention practices.


The faculty member involved in yesterday's incident will get full due process. We cannot make any assumptions regarding her actions until all facts have been gathered and assessed. The outpouring of anger and disappointment sparked by the events of yesterday must be heard, and we owe an equitable process to all the parties involved.
I expect to be held accountable in these matters, and expect the same from the entire campus community. I promise to keep you updated both on the outcomes of yesterday's incident, as well as the broader issues surrounding UTSA's inclusivity.
I have full faith in our community and our capacity for transformation. As always, thank you for everything you do for our students.
With appreciation, 
Taylor Eighmy