Westside Community Partnerships initiative
September 10, 2019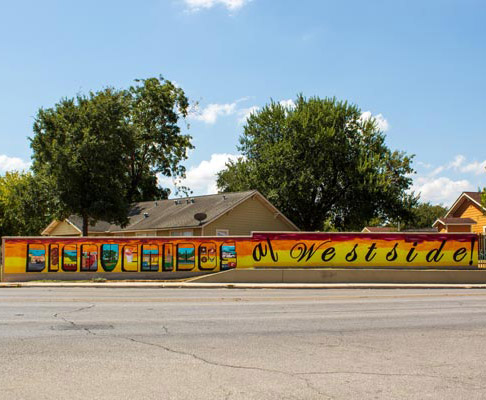 Dear Roadrunners,
Universities serve as one of our society's greatest equalizers, opening the doors of opportunity for all. Indeed, driving social mobility through education is at the very core of UTSA's mission.
To be a true urban-serving university, our engagement and partnership with San Antonio communities is essential. We have a firm commitment to deepen the university's relationships with all areas of the city, with a particular focus on San Antonio's historically underserved neighborhoods.
Today I'm pleased to announce a new President's Initiative on Westside Community Partnerships, representing our first step toward fortifying UTSA's engagement city-wide. It's a natural place to start given the proximity of our Downtown Campus to San Antonio's near Westside.
Our vision to expand UTSA's Downtown Campus over the next decade will be informed and influenced by the historical and cultural context that surrounds its physical footprint. Our aim is to balance campus growth with the preservation of existing community assets – the heritage, artistic legacies, social movements and strong neighborhood identity that shape San Antonio's Westside.
There are many ways in which UTSA is already productively engaged in partnerships throughout the Westside. This initiative will strengthen and define those existing partnerships while opening the doors wide to new ones. It represents the next level of institutional focus and coordination to allow UTSA to be the best community partner it can be. 
UTSA is co-developing this initiative with the assistance of the National Association for Latino Community Asset Builders (NALCAB), and their input was integral to crafting the framework and principles that will guide us. Four key themes will drive this initiative, each with a dedicated task force: Creating Pathways to Economic Prosperity, Creating Pathways to Educational Excellence, Community-Based Research, Sustainable Partnerships & Advocacy, and Fostering Community-Campus Engagement.
As one of their first orders of business, each task force will be reaching out to new and existing community-based organizations with an invitation to work together. A Westside Community Advisory Council will also be established to help guide the initiative as it evolves over time. 
In order to be successful, this initiative must be further shaped by Westside residents and community leaders. We're considering this to be a first draft, and will be actively seeking feedback and involvement from the community to prioritize activities for each task force. Our hope is that this draft inspires ideas, conversations and new avenues for UTSA and the Westside to work together toward mutual goals.
Though we are announcing the launch of this initiative today, much groundwork has taken place to put infrastructure into place to support these efforts. One example is the securing of a location for UTSA's new community center on Guadalupe Street. All are invited to attend a ribbon cutting this Saturday to celebrate this next step toward furthering our campus-community partnerships. We look forward to working with our Westside neighbors to develop the programming and services that will be offered by the center.
My sincerest thanks to all those involved in leading the components of this multifaceted initiative, and for the collective efforts of so many of our faculty and staff in supporting UTSA's goals as an urban-serving learning community. 
With appreciation,
Taylor