Compliance training - A message from the President's Cabinet
October 7, 2019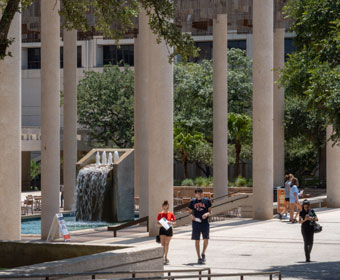 Dear Colleagues,
UTSA is committed to maintaining an environment that is welcoming, safe, accessible, inclusive and a true embodiment of our core institutional values. We must continually strive to be a place where all members of our community can learn, live and work free from all forms of discrimination, harassment and intimidation.
To advance this goal, we have revised our annual required compliance training for staff and faculty to include some new and redeveloped modules. The modules will ensure you have the knowledge you need to be in compliance with all university policies and relevant state/federal laws. In addition, the training will augment your skill set as a UTSA employee as we work together to promote a welcoming and inclusive campus for the benefit of the entire Roadrunner community.
This week you will receive an email from the Office of Institutional Compliance and Risk Services which will contain the training instructions and link. You will have until December 13, 2019 to complete it, and we encourage you to take the time needed to thoughtfully consider the critical information provided.
As always, thank you for your dedication to UTSA!
Sincerely,
Taylor Eighmy, President
Myron Anderson, Vice President for Inclusive Excellence
Bernard Arulanandam, Interim Vice President for Research, Economic Development and Knowledge Enterprise
Lisa Campos, Vice President for Intercollegiate Athletics and Athletics Director
Mary Diaz, Interim Vice President for University Relations and Chief of Staff to the President
Kimberly Andrews Espy, Provost and Senior Vice President for Academic Affairs
Joe Izbrand, Associate Vice President for Strategic Communications and External Affairs
Kendra Ketchum, Vice President for Information Management and Technology
Veronica Mendez, Senior Vice President for Business Affairs
Karl Miller-Lugo, Special Assistant to the President for Development and Alumni Relations
Anne Peters, Associate Vice President for University Marketing and Special Projects
LT Robinson, Senior Vice Provost for Student Affairs and Dean of Students