Spring 2022 Update: How far we've come, and some big things ahead
February 23, 2022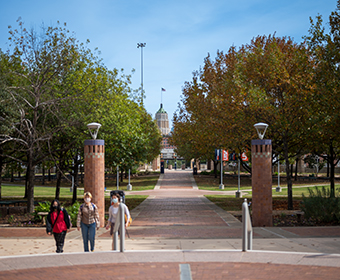 Dear Alumni and Friends,
Although we are well into the new year, I wanted to take a moment to reflect on last year—to share my perspective and gratitude—and look at the exciting things ahead for UTSA. As we all know, 2021 had a mix of highs and lows. It was our second year navigating a difficult pandemic, but also a year of achieving big milestones. I recently shared an email with faculty and staff highlighting last year's points of pride and expanding on upcoming initiatives, several of which I wanted to share with you as well.
CARNEGIE R1, TOP TIER DESIGNATION
In December, UTSA officially achieved an R1 Classification from the Carnegie Classification of Institutions of Higher Education serving as a critical waypoint toward our strategic destination to become one of our nation's great public research universities.  As the only Tier One institution in San Antonio and one of eleven in Texas, the designation places UTSA among the top 4% of research universities in the nation.
A WINNING YEAR FOR ATHLETICS
Our Intercollegiate Athletics programs gave us much to be proud of last year. Accomplishments included celebrating the grand opening of our state-of-the-art Roadrunner Athletics Center of Excellence, confirming our conference move to the American Athletic Conference, and bringing home the Conference USA football championship. Our alumni and the greater San Antonio community embraced UTSA with incredible enthusiasm as we garnered national attention for our athletics program. Building on this momentum, we launched our Bold Champions athletics fundraising campaign.
TRANSFORMATIVE GIFTS
2021 was a year of transformational giving to the university, including an unrestricted $40 million gift from philanthropists MacKenzie Scott and Dan Jewett, which allows UTSA to allocate funds in ways that will most benefit students. Additionally, UTSA witnessed the naming of two colleges—the first and second in UTSA history—the Carlos Alvarez College of Business and the Margie and Bill Klesse College of Engineering and Integrated Design. These new names recognize impactful gifts to the colleges as part of Be Bold: A Campaign for Our Future, the largest fundraising campaign in UTSA history, which will publicly launch later this year.
DOWNTOWN EXPANSION
A number of initiatives are moving forward to grow UTSA's downtown core, including community-wide efforts to plan for the future of the Institute of Texan Cultures, a new school to house the Southwest School of Art, and the opening of our School of Data Science and National Security Collaboration Center building. Additionally, initial planning for our next building dedicated to Innovation, Entrepreneurship and Careers will continue this year.
BOLD PROMISE PROGRAM
Last year, we expanded our Bold Promise program, providing tuition and fee-free higher education to even more Texas students. This program furthers UTSA's commitment to close gaps in higher education in our city and state.
ADVANCING STUDENT HEALTH AND WELLBEING
In close partnership with UT Health San Antonio, UTSA integrated and expanded clinical services for student health, counseling and mental health needs to promote the wellness of all Roadrunners. 
It is my hope we can carry our positive momentum into 2022 and beyond. Thank you, as always, for your advocacy and support of UTSA. We have much to be grateful for, and so much more on the horizon.
With appreciation,
Taylor Eighmy
President