Announcement and congratulations to Dr. Bernard Arulanandam
April 27, 2022
Office of the President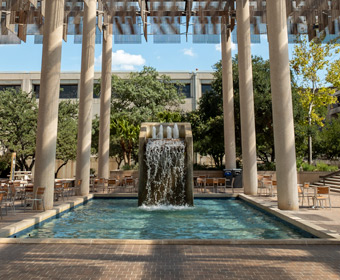 Faculty and Staff, 
It is with great pride that I share Tufts University today announced the selection of Bernard Arulanandam, UTSA Vice President of Research, Economic Development and Knowledge Enterprise (REDKE), as Vice Provost for Research. His appointment is effective July 1.
I know I speak for all of us when I share my deep appreciation for the leadership Bernard provided to our university's research enterprise. His impact on UTSA is profound and will be felt for decades to come, especially given his instrumental role in our journey to earning the Carnegie R1 classification. He will be greatly missed as he and his family embark on this exciting, new chapter.
Bernard's contributions to UTSA go far beyond his administrative duties. As a nationally recognized immunologist, Bernard directs a research program that is focused on elucidating host-microbial interactions and the cellular and molecular mechanisms involved in the induction of immune responses against infectious diseases. His interdisciplinary research accomplishments are reflected in the funding he has received from the National Institutes of Health, Department of Defense and Department of Homeland Security, as well as his extensive citations, research publications and patents. Additionally, Bernard has successfully mentored many students and post-doctoral fellows who have now developed independent productive careers in government, industry and academia.
Bernard was appointed Assistant Vice President for Research in 2012, and has overseen our research enterprise since 2016. In 2018, economic development was added to his portfolio. In each of these roles, Bernard served as a tremendous champion of research excellence with UTSA attaining its highest research expenditures in university history under his leadership.
Effective June 1, 2022, Jaclyn Shaw, Associate Vice President for Strategic Research Initiatives, will serve as interim vice president while a nationwide search for a new vice president is conducted.
I am so grateful for the opportunity to have worked alongside Bernard during his time at UTSA. I have learned much from Bernard, and his impact on our community will be felt by generations of researchers and students to come. I know I speak for all of us when I say we wish him and his family nothing but the best on his next professional adventure.
With appreciation,
Taylor Eighmy
President