UTSA and Southwest School of Art Update
May 6, 2022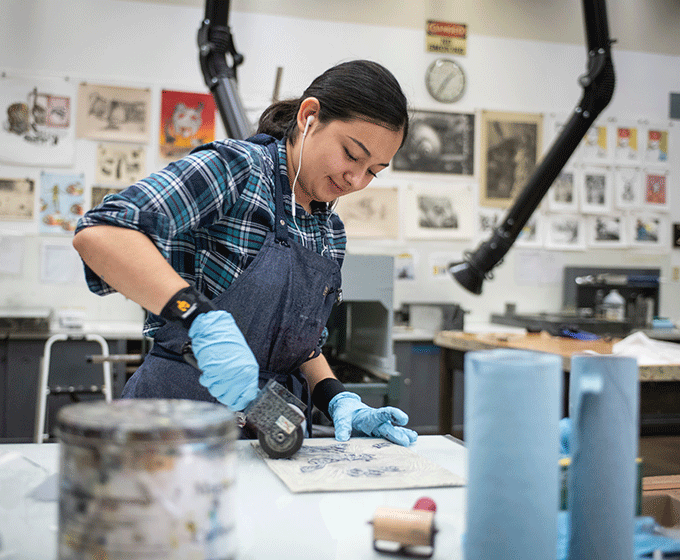 Dear SSA Friends and future UTSA Community Partners,

The end of the academic semester is upon us, and with it, the usual din of final projects, exams and celebrations. We have much to celebrate this spring, and we are pleased to recognize this exciting time with our friends and partners at the Southwest School of Art (SSA). Our efforts toward bringing SSA together with UTSA continue to advance. Earlier this semester, we provided a detailed update on our activities and outcomes, and today we write to share more news of our progress.

Giving Day
SSA has a long history of philanthropic support thanks to the generosity of many friends and donors. We were proud to support SSA through UTSA Giving Day on April 19–20, and especially proud to see so many heed the call to support SSA as the newest members of our Roadrunner family by making donations expressly to support SSA's community programs for adults and children.

Special thanks must be given to Elise Boyan, Former Southwest School of Art Trustee & Former Board Chair, Johnny Clay Johnson, Ph.D., Former Trustee, and Club Giraud for pledging $2,500 to support our newly merged school for every 25 donors up to $10,000. Fundraising exceeded that goal, with 112 individual gifts totaling $16,542 to advance our new merged school. These 112 donors are among the more than 2,400 who came together to create more than $500,000 of impact for programs across UTSA. We look forward to exceeding those numbers in during UTSA Giving Day 2023, another step in our efforts to work closely with SSA donors to ensure that students of the visual arts are nurtured in their university studies and art education for all ages in our community continues to thrive. Moreover, we want to emphasize that UTSA greatly respects the intentions of all donors. Our policies assure that all gifts are utilized in ways that adhere directly to our donors' wishes, and will benefit our programs and students throughout the transition and into the future. 

Honoring Named Endowments and Spaces
We intend to honor all current named endowments and spaces as we move forward. Honoring these legacies is important. All named SSA Endowments and spaces will remain as they are named in keeping with the wishes or intent of their original benefactor or bestower. 

Student Transition
A priority of our work this month has been to continue supporting the smooth transition of the SSA students who are transferring into the BFA program at UTSA—we are pleased to share all have now been admitted. Also, we extend warm congratulations to the SSA class of 2022, who celebrated their graduation ceremony on May 1 in the Elizbeth Huth Coates Chapel—we are so proud of each of you. Dedicated UTSA staff in Admissions, Advising and Financial Aid are assisting SSA students throughout the process of transferring their credits and getting registered for the fall.  SSA students have also been connected with other individualized points of contact of other UTSA service units, such as Student Disability Services, to ensure students start with the needed support. 

Additionally, UTSA has worked to match the scholarship percentage for each SSA student. Since these students now are eligible for federal aid, many are being awarded additional aid on top of their existing scholarships, which reduces the amount students have to pay to complete their degree at UTSA. A UTSA financial aid officer is meeting individually with SSA students to review their financial aid award packages, including available scholarships and grants.

In addition to now being eligible for federal student aid, SSA students will now have access to a multitude of benefits at UTSA, including on-campus health, wellness and wellbeing services, free and unlimited bus service throughout the greater San Antonio area through the VIA U-Pass program, a full slate of student engagement activities and leadership opportunities, and so much more. 

More information on the student transfer process can be found on the FAQ for SSA students.

Campus Walkthrough
UTSA and SSA faculty and staff came together on April 15 for a walkthrough of the picturesque Southwest campus. The group included individuals from a wide variety of areas including Academic Affairs, Business Affairs, COLFA, SSA's BFA program, community education, events, academic technologies, facilities and safety and security. This collaborative meeting was an opportunity to review historical and future space usage, address access and safety in preparation for the fall semester, and develop strategies for long range planning. During the visit, the SSA landscape and facilities crew were hard at work planting and maintaining the lush grounds, demonstrating the longstanding care and dedication of the SSA staff for the facilities. 

Community Programs, Special Events, Exhibitions and Collaborations
We are grateful to the foundations and corporations continuing to support SSA's Young Artist Programs, especially those providing scholarships to low-income students in Summer Art Studios, which returns this June. We remain committed to building back the community classes for both adults and young artists, offering adult students in the community programs ample access to studio space and time. We also send thanks to the sponsors and participants in the 2022 Fiesta Arts Fair—the first occurrence of the event in two years—which was a great success, attracting more than 9,000 guests. Plans are also underway for the 2023 Gala. Moreover, we are especially grateful to the Alturas Foundation for their generous support of the Kukuli Velarde: Cosmos exhibition opening in the Russell Hill Rogers Gallery this September; and, to the National Endowment for the Arts for their support of the Delita Martin exhibition opening in the same space in January 2023. Our work continues to build back a robust exhibitions program at SSA, to be managed in partnership with exhibitions at UTSA. Lastly, we look forward to continuing SSA's popular collaboration with the San Antonio Book Festival, which returns this year on May 21. We look forward to continuing that collaboration and to renewed collaborations with other San Antonio arts and culture organizations, and in doing so, revitalizing downtown as a hub of cultural vibrancy.

Staff Hiring Update
A key focus of our efforts in the coming weeks will be transitioning SSA employees to UTSA. The UTSA People Excellence team held a benefits presentation on April 27 to provide SSA employees information about paid time off, educational benefits, medical insurance and more prior to the July 1 transition date. 

As part of the agreement between SSA and UTSA, UTSA is offering employment opportunities to SSA employees. UTSA has posted a variety of positions for which only current SSA employees are eligible and has begun receiving applications and conducting interviews. As noted previously, SSA staff are welcome and encouraged to apply for any open positions at the university that meet their interests and qualifications. A member of the UTSA Talent Acquisition team is available every Wednesday on the SSA campus to answer questions from current SSA employees. 

The Talent Acquisition team has worked with each employee to provide support through the transition process, and we are so excited to welcome SSA staff and faculty to UTSA on July 1. More information on the employee hiring process can be found on the FAQ for Staff & Faculty. 

Please Hold the Date
Please mark your calendars for the September 9th opening of the exhibition, Kukuli Velarde: Cosmos, the first exhibition in the coming academic year to be held in the Russell Hill Rogers Galleries.

As many of us look ahead past the end of the semester marked with commencement and celebrations of the end of the academic year, the team of UTSA and SSA staff and faculty are working diligently and tirelessly to complete the full range of transition activities over the summer. It will be a busy few months for these team members, and we remain grateful for their efforts and, more broadly, for their dedication to our vision to create an expanded, unique new school of art that—with the continuing support of its donor community and partners in the arts community—can build on its legacy to remain a nationally recognized model for arts education. 
Sincerely,
Taylor Eighmy
President
Kimberly Andrews Espy
Provost and Senior Vice President for Academic Affairs
Veronica Salazar
Chief Financial Officer and Senior Vice President for Business Affairs
Karl Miller-Lugo
Vice President for Development and Alumni Relations