UTSA and Southwest School of Art Update
July 26, 2022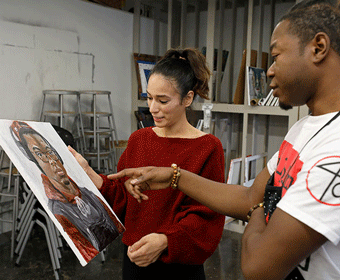 Dear SSA Friends and UTSA Community Partners,
Earlier this month, The University of Texas at San Antonio (UTSA) completed the final terms of its agreement to unite with the Southwest School of Art (SSA).
We are honored to continue the excellent work of SSA in advancing visual arts education in San Antonio. While our union is now official, we recognize and embrace the work that remains ahead of us to advance SSA's legacy for the benefit of all. We look forward to working closely with our new colleagues and the long-standing SSA community in that endeavor. For now, we celebrate this milestone and prepare to welcome SSA's BFA and community students to the Roadrunner family this fall.
>> VIDEO: BFA student Jim Gelvin talks about joining an expanded artistic community at UTSA
 
Staff Transition
On July 1, we welcomed 31 new colleagues from SSA who are joining the UTSA faculty and staff. We are delighted that these talented professionals are bringing their unique expertise to the new school in support of long-term continuity of high-quality arts education.
As part of the agreement between the two institutions, UTSA offered employment opportunities to SSA employees. Throughout the process, the university's Talent Acquisition team worked closely with each employee to provide support through workshops and one-on-one meetings.
Thank you, Paula
We extend our sincere congratulations and gratitude to Southwest School of Art President and CEO Paula Owen on her retirement last month. For 26 years, Paula's committed, intelligent and visionary leadership was a constant for SSA as she created a culture of progressive development to grow the school and its community support. Her legacy will endure for years to come at the UTSA Southwest Campus. Thank you, Paula, for being an unwavering champion of art and artists in San Antonio.
Search advisory committee for school director
Also this month, College of Liberal and Fine Arts Dean Glenn Martínez named the search advisory committee to initiate the nationwide search for the founding director of the new school of art. Organized within the College of Liberal and Fine Arts (COLFA), the school will be the administrative home for the university's current undergraduate and graduate degrees in studio art and art history, as well as for the minor in museum studies. With executive search firm Koya Partners and managing director Naree W.S. Vineralready on tap to assist with the search, we are excited to begin this process to identify a director who shares our commitment to expand visual and creative arts education and student learning, while preserving SSA's tremendous legacy.
The search advisory committee will be chaired by Lisa Montoya, vice provost for global initiatives, and Tracy Cowden, director of the UTSA Department of Music will serve as co-chair. Joining them is a dedicated slate of faculty and staff, several of whom made the transition from SSA, as well as a number of community representatives to whom we are particularly grateful for dedicating their time and talents as resources in the search process.
There will be multiple opportunities to meet and interact with candidates as a part of the search process, as well as to provide input into the selection. Simultaneously with the search, COLFA leadership will conduct campus visits and engage with national experts and community constituents to learn from exemplary universities and programs as guides in growing the school.
The process to select the initial name of the new school is underway; the initial name will be announced later this summer.
Gala in the Garden 2022
Plans are progressing for the annual Gala in the Garden & Art Sale fundraiser, to be held Thursday, Nov. 3, and we are grateful and pleased to announce the Mays Family Foundation as the Gala's Presenting Sponsor. We cordially invite you to join us to celebrate the union of SSA and UTSA and make your reservations now. As always, funds generated by the Gala in the Garden will support community art programs, so please join us for this exquisite celebration under the stars. 
What's next
More immediately, we are planning an Open House in the John L. Santikos Building on Thursday, Aug. 11, 5–7 p.m., to coincide with the start of registration for fall community classes. No reservations required — this is just an opportunity to thank our loyal students and meet new friends. As we mentioned in our last message, UTSA and SSA jointly administered the Summer Art Studios for kids and teens and the Adult Community Classes this summer to help ensure a smooth transition for the young artist programs and community programs. Just like summer, a full range of community art classes will be offered at the Southwest Campus for fall. 
Our teams also are preparing for the upcoming site visit Aug. 24 by the Southern Association of Colleges and Schools Commission on Colleges, which oversees UTSA's institutional accreditation. UTSA earned reaffirmation of accreditation in 2021 through 2030. This site visit is an element of their standard process in review of the merger, and provides an opportunity for our SACSCOC peer reviewers to experience the Southwest Campus and our programs first-hand. Based on our recent successful reaffirmation, we know this addition will only enhance our ability to continue to meet SACSCOC accreditation standards, and are so excited to give them a tour of its beautiful grounds and facilities and introduce them to the team. More to follow!
September marks the opening of the Kukuli Velarde exhibition in the Russell Hill Rogers Galleries. Opening reception is 5:30–8 p.m. on Sept. 9, with an Artist Talk at 6 p.m. The exhibition runs through Nov. 5.
We will continue to share the latest news and updates on the UTSA+SSA transition website, and also continue to highlight the voices of some of the many individuals who are contributing to this tremendous effort on this site and on social media. 
Sincerely,
Taylor Eighmy
President
Kimberly Andrews Espy
Provost and Senior Vice President for Academic Affairs
Veronica Salazar
Chief Financial Officer and Senior Vice President for Business Affairs
Karl Miller-Lugo
Vice President for Advancement and Alumni Engagement