Title IX Reporting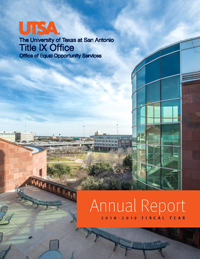 UTSA's inaugural Title IX Annual Report provides data from student-related investigations handled by the Equal Opportunity Services (EOS)/Title IX Office during the 2018-2019 fiscal year.
Among the report's highlights:
The EOS/Title IX office handled a total 421 reports involving students, faculty and staff during the 2018-19 fiscal year.
Of those 421 reports, 24% (103) were classified as student-on-student

 

Title IX reports. Of those, 40% (41) became student-on-student

 

Title IX cases.
92% of all employees completed online discrimination, harassment and sexual misconduct training last year, and 100% of athletic employees and student-athletes completed sexual assault training as required by the NCAA.