Comparison Data: UTSA and Peer Models of Excellence

The charts below indicate how UTSA compares to our 10 institutional peer models of excellence in key areas over the last decade.
This information will be updated annually to monitor UTSA's progress and help guide our upward trajectory.
---
Why the 10-year time frame?
A 10-year comparison time frame is a good indicator that instiuttions can make and maintain significant changes over a relatively short period. When multi-year trends occur, it signals an intentionality in the institution's planning and decision making.
Comparisons over the course of a decade also allows for a "smoothing" of any anomalies that may occur for a specific year. 
Data sources
The comparisons provided are based on the following sources:
Data charts
---
Alumni and Age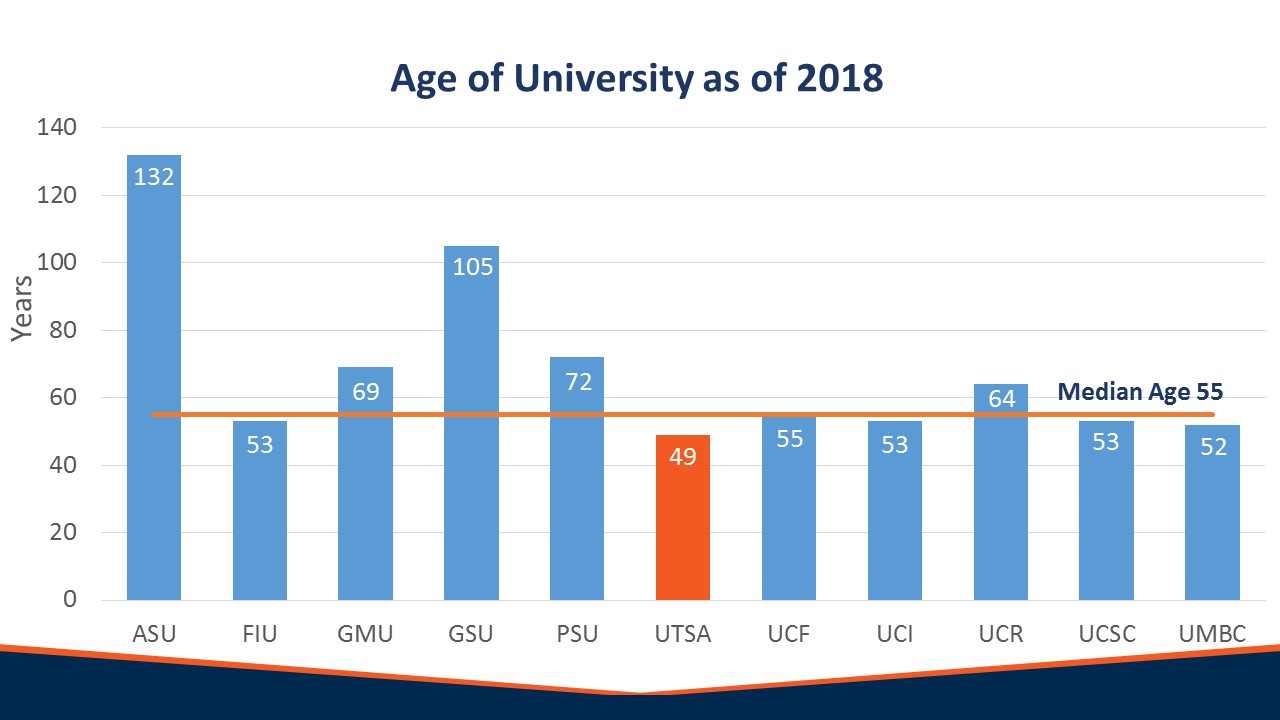 ---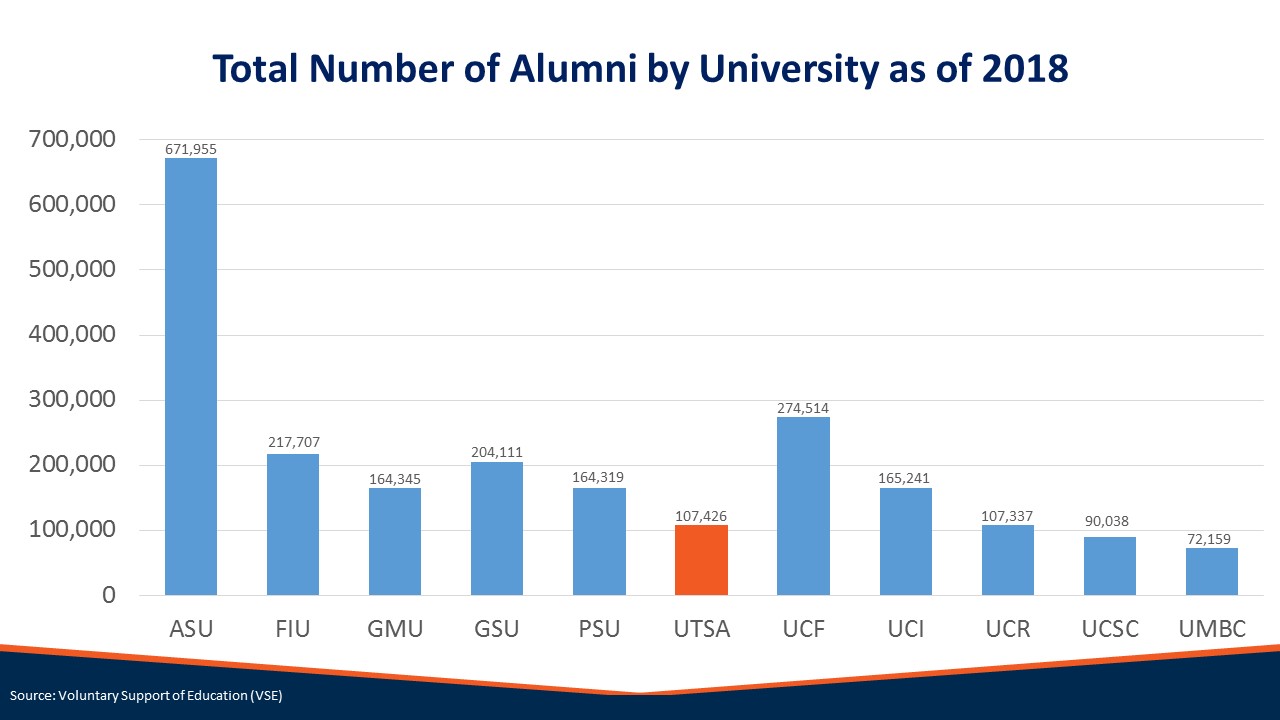 ---
Research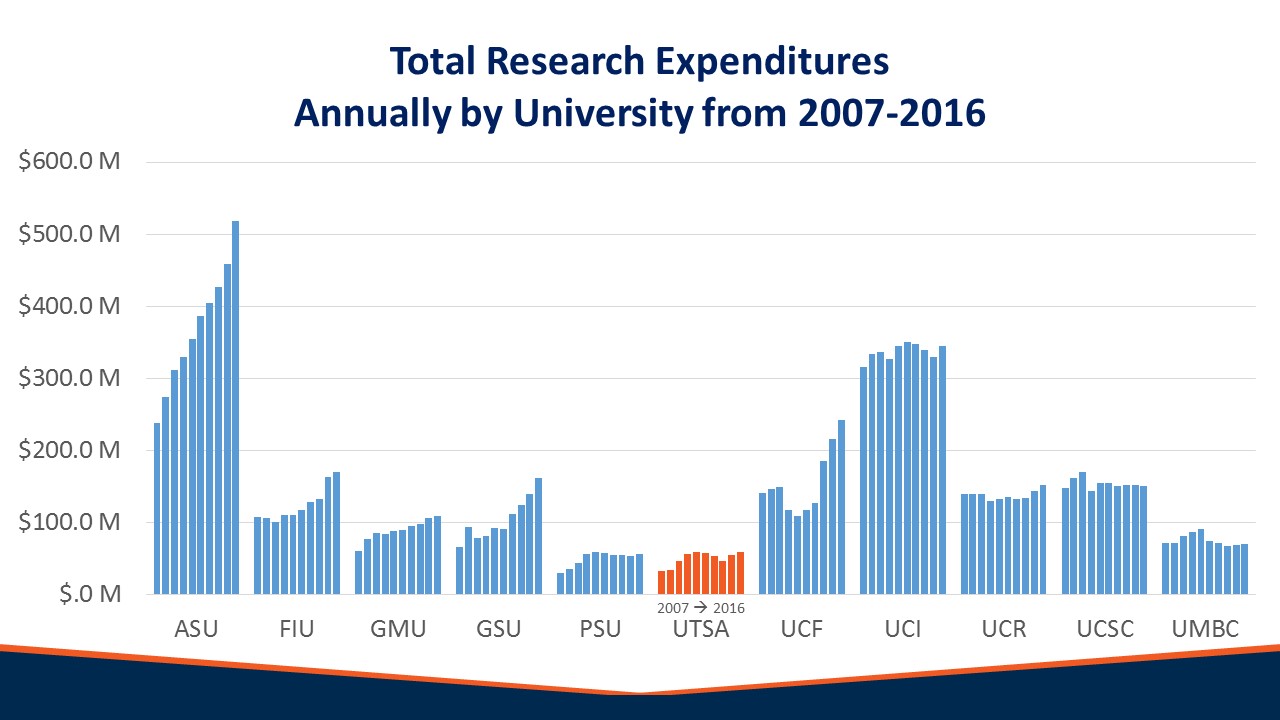 Top Ten year increase in Total Research Expenditures
GSU: 145 percentage point increase ($95M)
ASU: 118 percentage point increase ($280M)
PSU: 87 percentage point increase ($26M)
UTSA: 87 percentage point increase ($27M)
Peer Average: $179M
Peer Median: $152M
UTSA:  $60M
---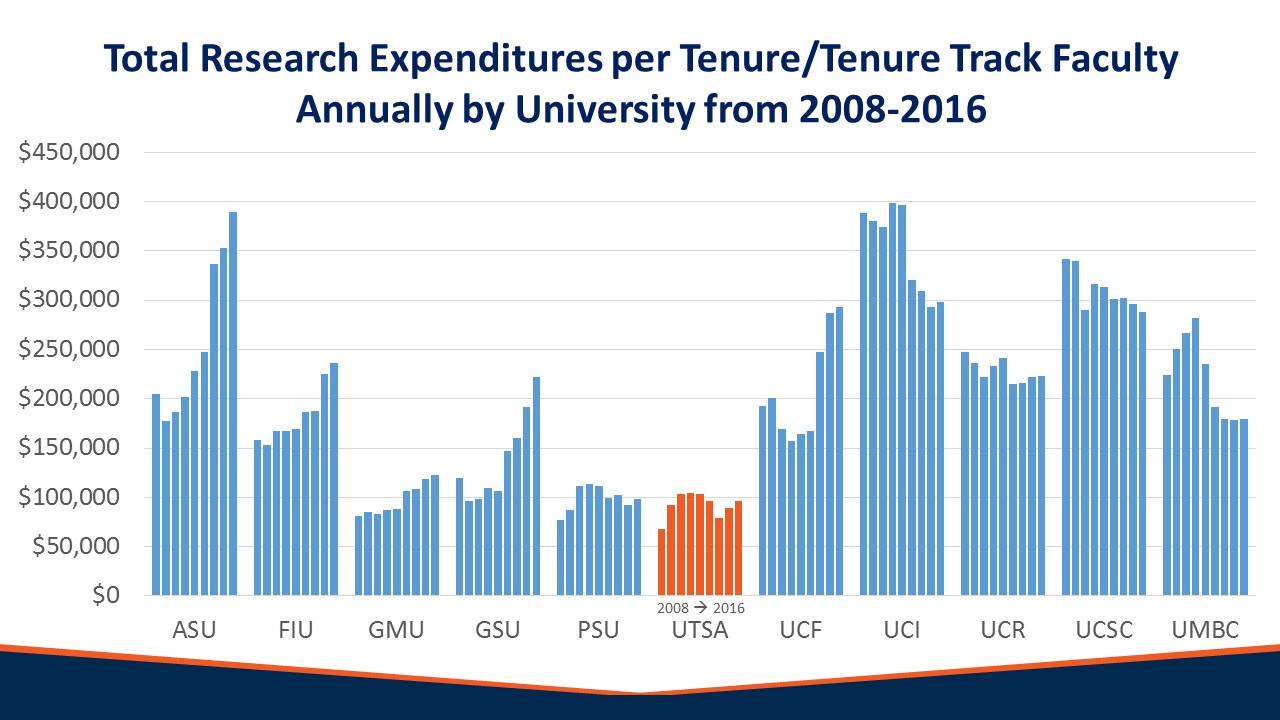 Top Ten year increase in Total Research Expenditures per Tenure/Tenure Track Faculty
ASU: 90 percentage point increase ($185K per faculty member)
GSU: 86 percentage point increase ($102K per faculty member)
UCF: 52 percentage point increase ($100K per faculty member)
GMU: 52 percentage point increase ($42K per faculty member)
UTSA: 43 percentage point increase ($29K per faculty member)
Peer Average: $235K
Peer Median: $230K
UTSA:  $96K
---
Top Ten year increase in Federally Financed Research Expenditures
GSU: 86 percentage point increase ($24M)
ASU: 80 percentage point increase  ($94M)
PSU: 54 percentage point increase  ($11M)
UTSA: 19 percentage point increase  ($4M)
Peer Average: $83M
Peer Median: $70M
UTSA:  $26M
---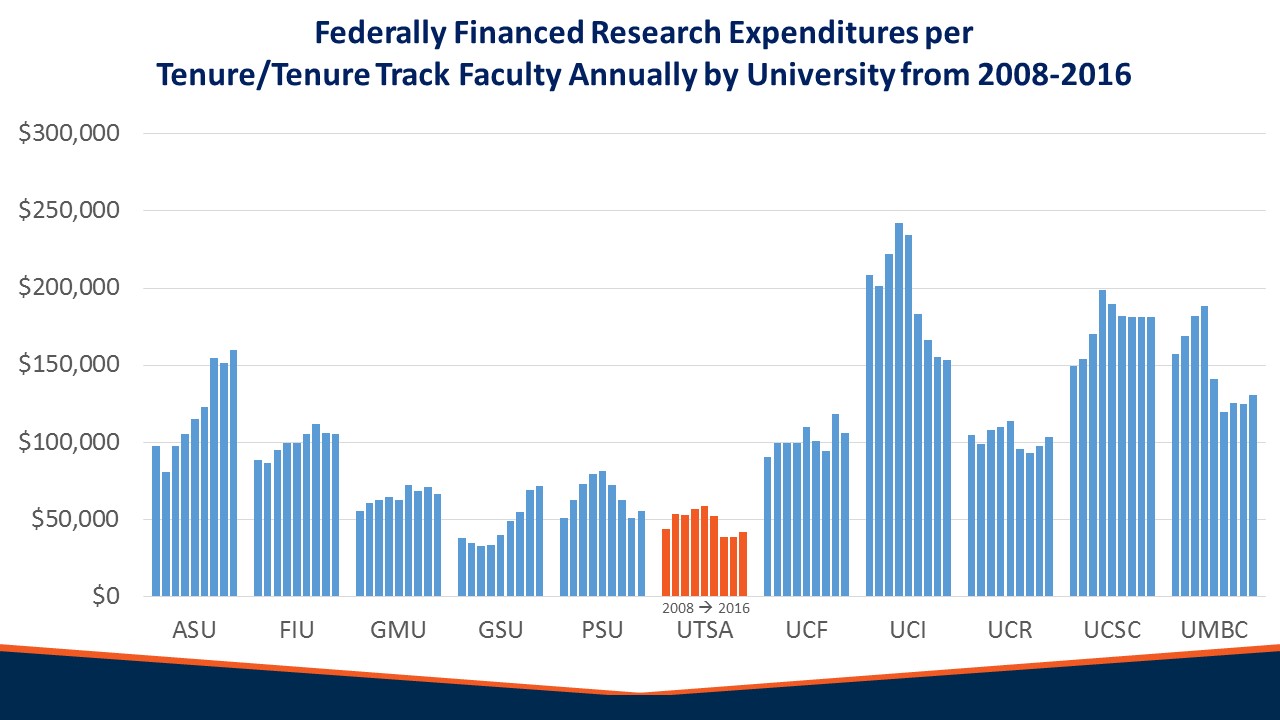 Top Ten year increase in Federally Financed Research Expenditures per Tenure/Tenure Track Faculty
GSU: 88 percentage point increase ($34K per faculty member)
ASU: 64 percentage point increase ($62K per faculty member)
UCSC: 21 percentage point increase ($32K per faculty member)
UTSA: 6 percentage point decrease ($2,400K per faculty member)
Peer Average: $113K
Peer Median: $106K
UTSA:  $42K
---
Financial Aid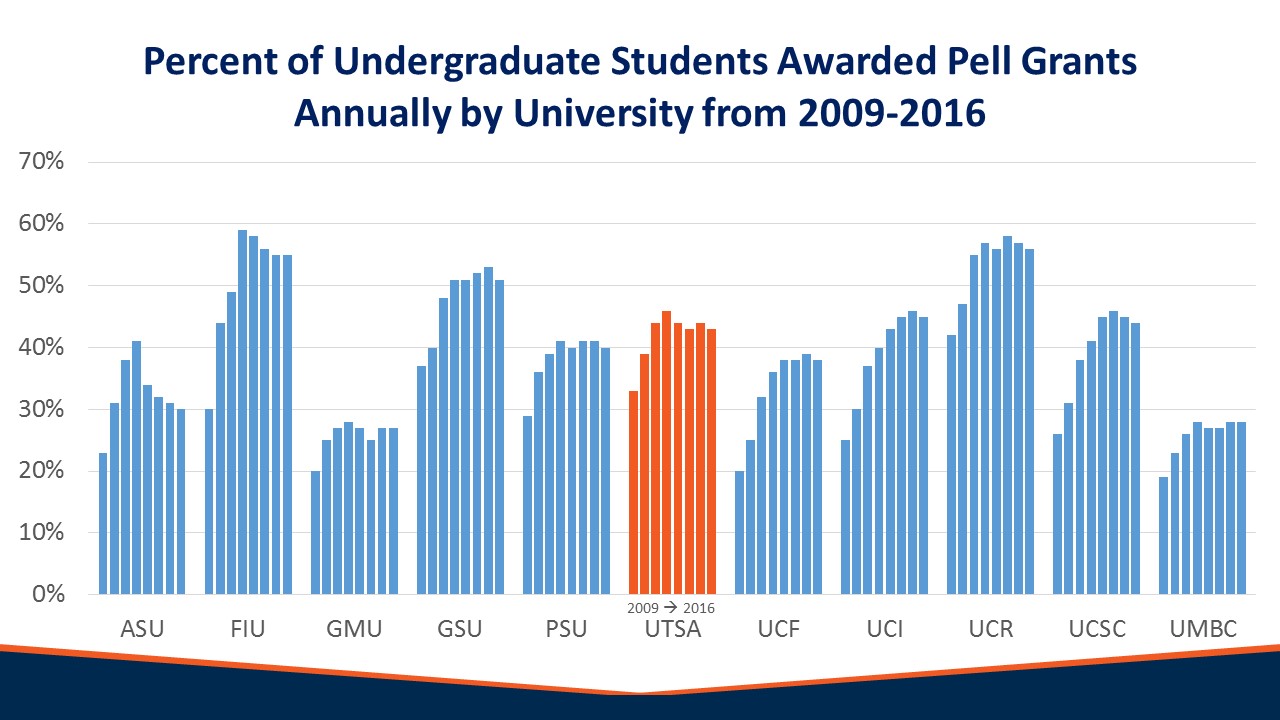 Top Ten year change in percentage of Pell Grant recipients
FIU is now 55% Pell, an increase of 25 percentage points
UCI is 45% Pell, an increase of 20 percentage points
UCF is 38% Pell, UCSC is 44% Pell, both increased by 18 percentage points
UTSA is 43% Pell, an increase of 10 percentage points
Peer Average: 41%
Peer Median: 42%
UTSA: 43%
---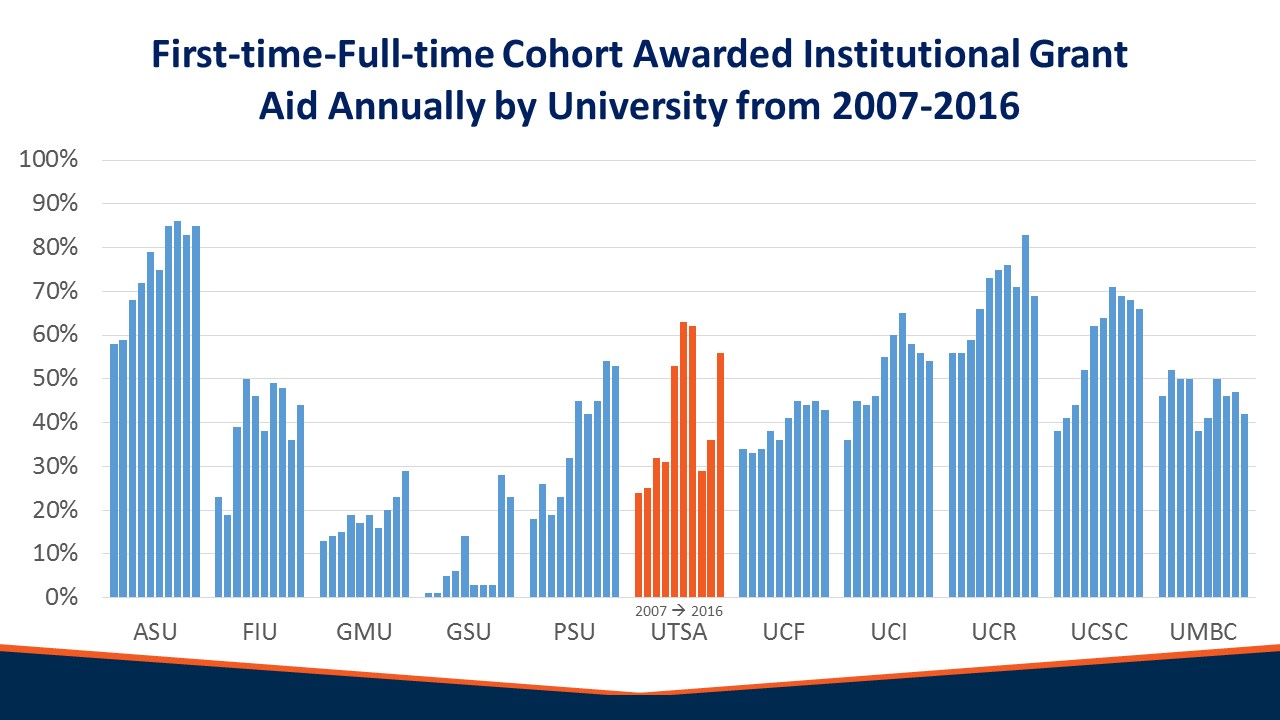 Top Ten year change in percentage of First-time-Full-time Cohort Awarded Institutional Grant Aid recipients
PSU: From 18% to 53% (35% point increase)
UTSA: From 24% to 56% (32% increase)
UCSC: From 38% to 66% (28% increase)
Peer Average 52%
Peer Median 49%
UTSA: 56%
---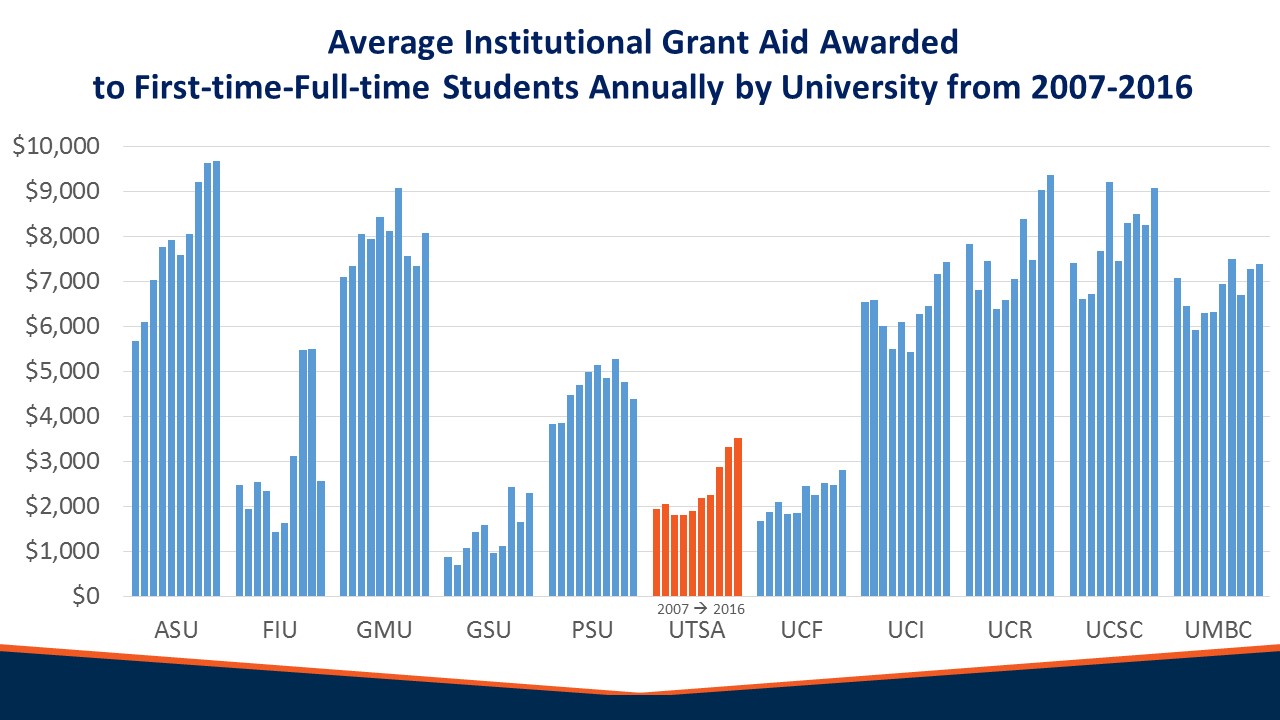 Top Ten year change in Average Institutional Grant Aid Awarded to First-time-Full-time Cohort Awarded Institutional Grant Aid recipients
ASU: From $5,700 to $9,700; a $4000 increase (70%)
UCSC: From $7,400 to $9,100; a $1,700 increase (22%)
UTSA: From $2000 to $3,500; a $1,500 increase (80%)
Peer Average:  $6,307
Peer Median:  $7,41
UTSA:  $3,514
---
Enrollment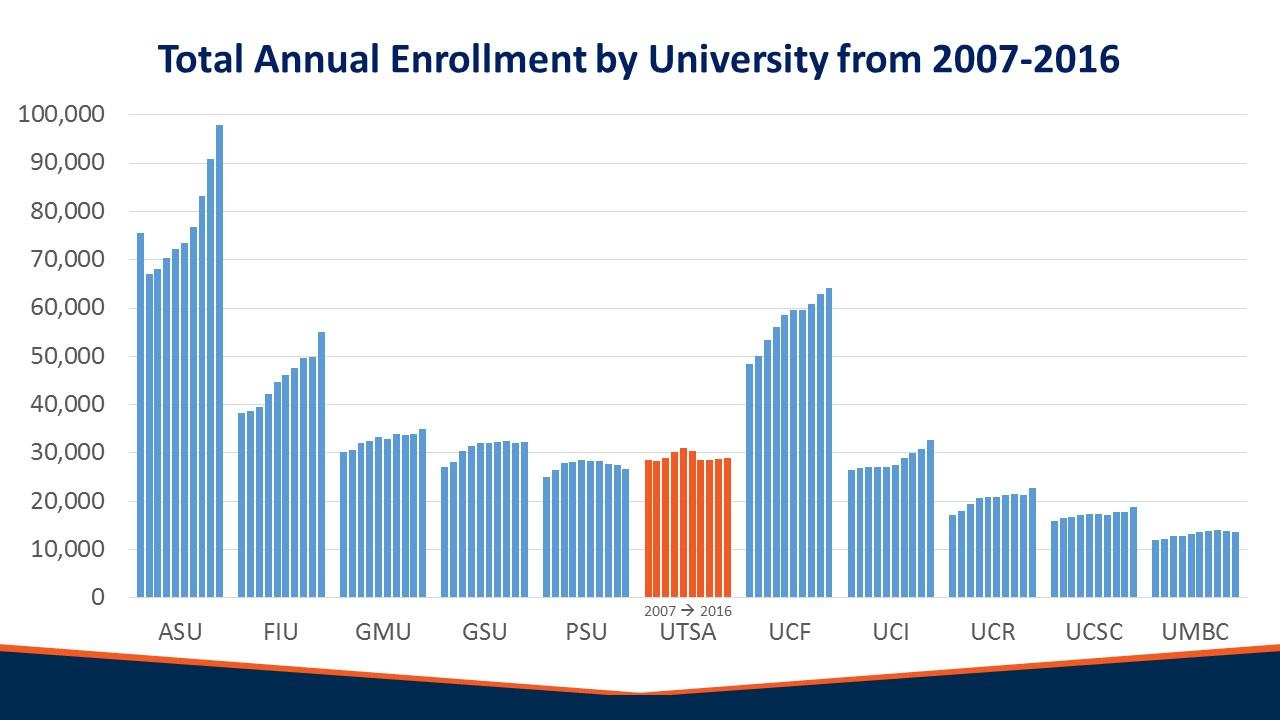 Top Ten year change in enrollment
FIU 44%
UCF, UCR: 32%
ASU: 30%
UTSA: 1.5%
Peer Average: 39,861
Peer Median: 32,496
UTSA: 28,959
---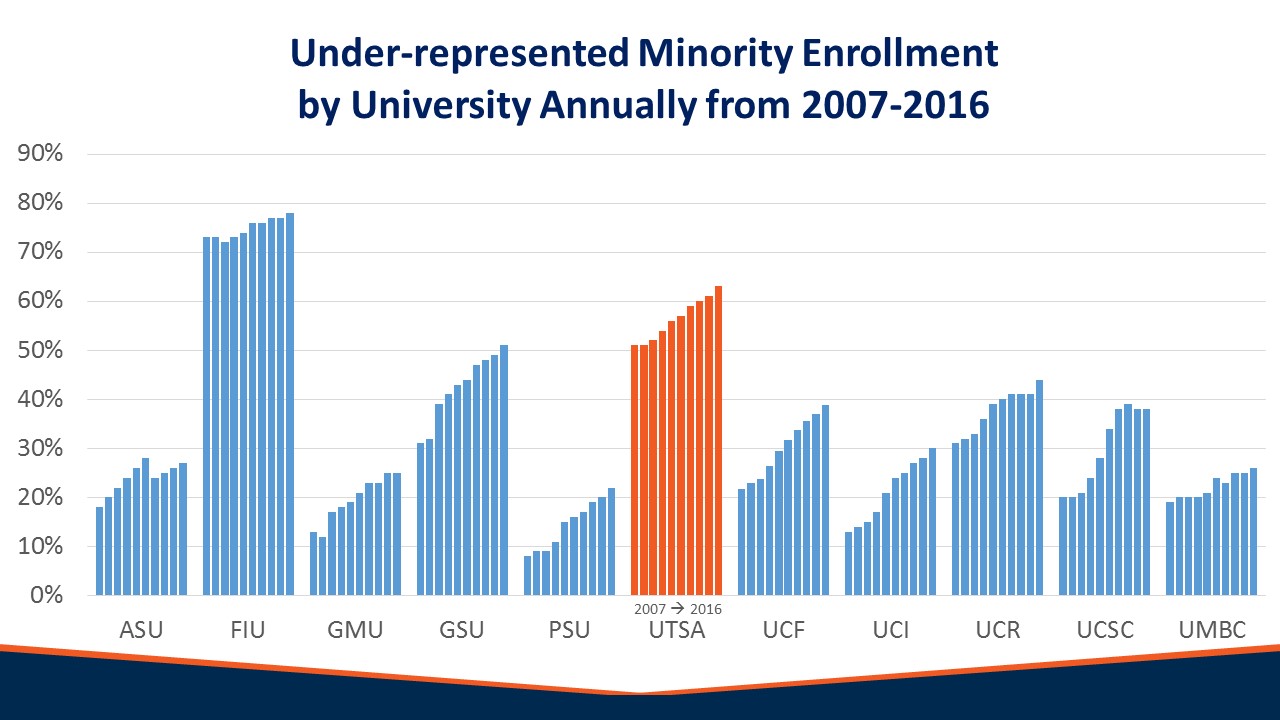 Top Ten Year change in URM Enrollment
GSU: 20%
UCSC: 18%
UCF, UCI: 17%
UTSA: 12%
Peer Average:  38%
Peer Median:  34%
UTSA: 63%
---
Retention and Graduation Rates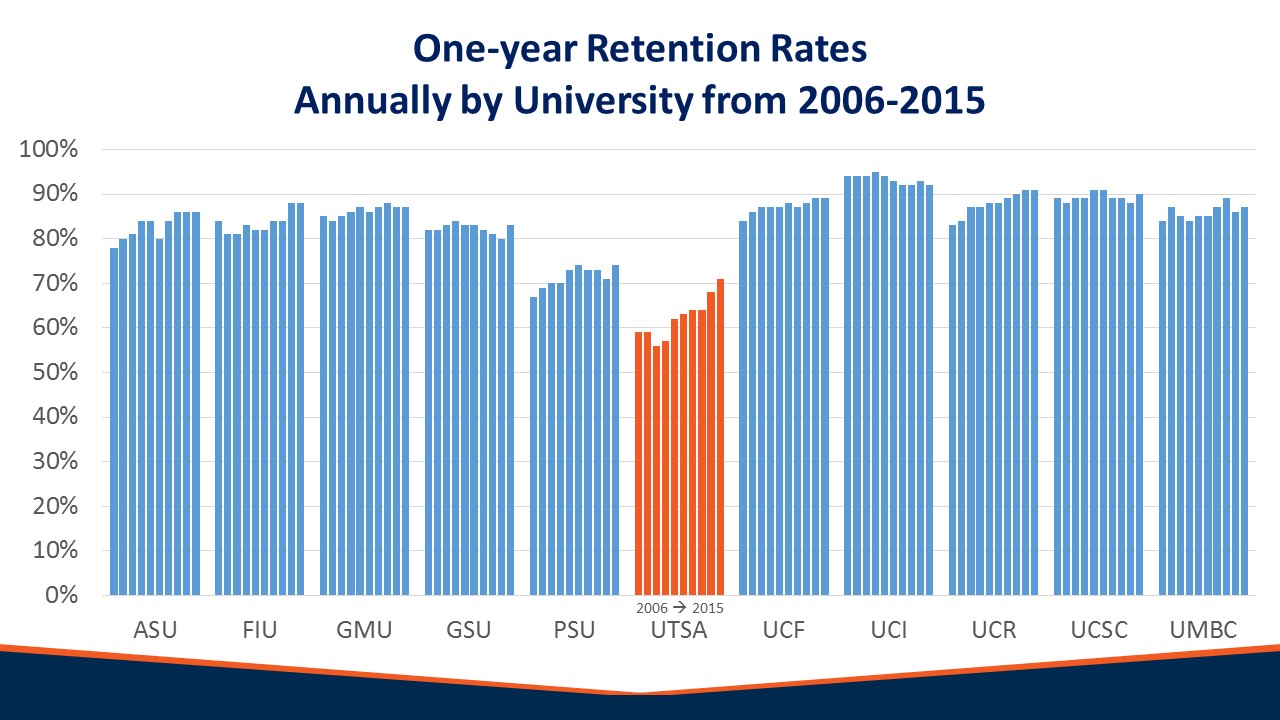 Top Ten year change in One-year Retention Rates
UTSA: From 59% to 71%, 12 percentage points
UCR: From 83% to 91%, 8 percentage points
ASU: From 78% to 86%, 8 percentage points
Peer Average: 87%
Peer Median: 88%
UTSA: 71%
---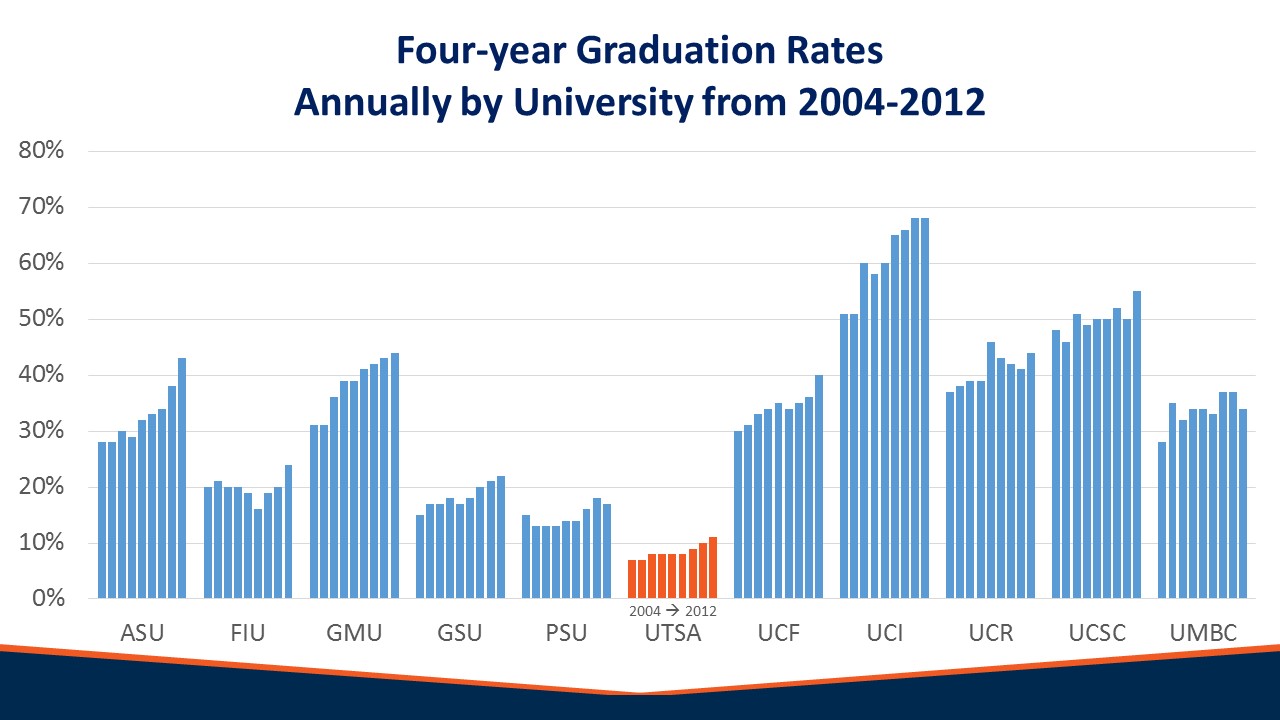 Top Ten year change in Four-year Graduation Rates
UCI: From 51% to 68%, 17 percentage points
ASU: From 28% to 43%, 15 percentage points
GMU:  From 31% to 44%, 13 percentage points
UTSA: From 7% to 11%, 4 percentage points
Peer Average: 39%
Peer Median: 42%
UTSA:  11%
---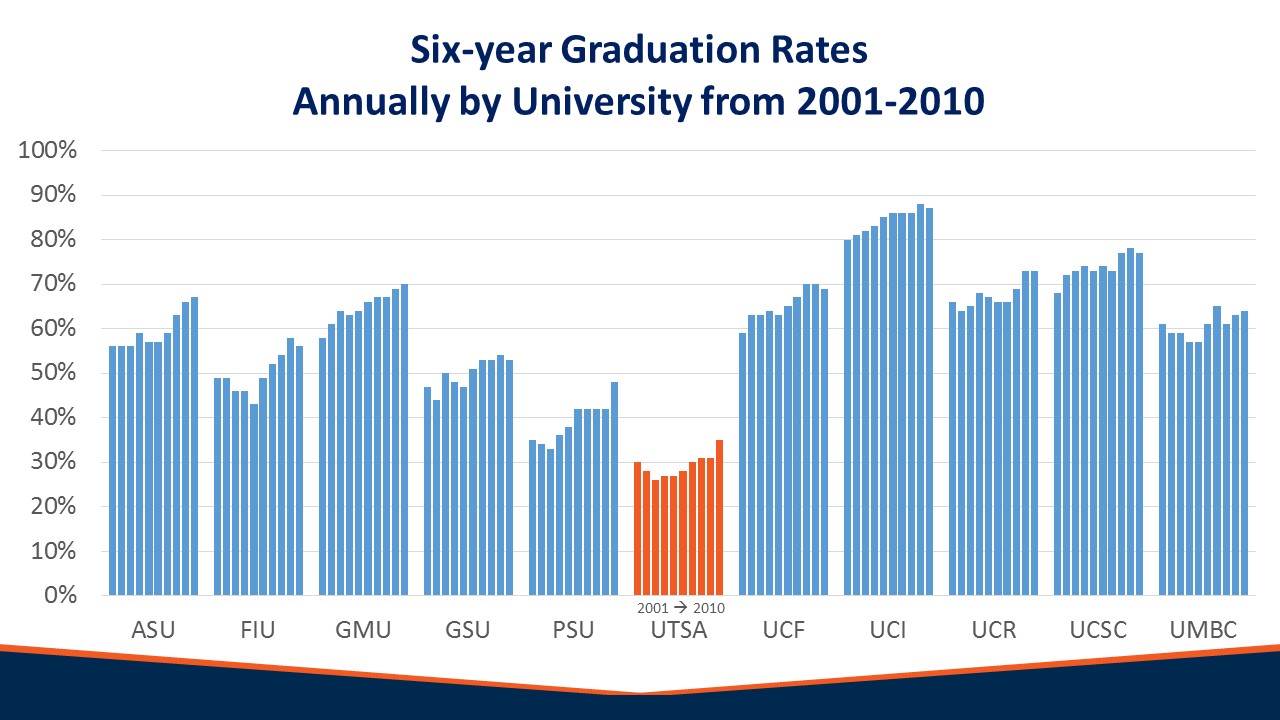 Top Ten year change in Six-year Graduation Rates
PSU: From 35% to 48%, 13 percentage points
GMU:  From 58% to 70%, 12 percentage points
ASU: From 56% to 67%, 11 percentage points
UTSA: From 30% to 35%, 5 percentage points
Peer Average: 66%
Peer Median: 68%
UTSA:  35%
---
Diversity of Faculty and Staff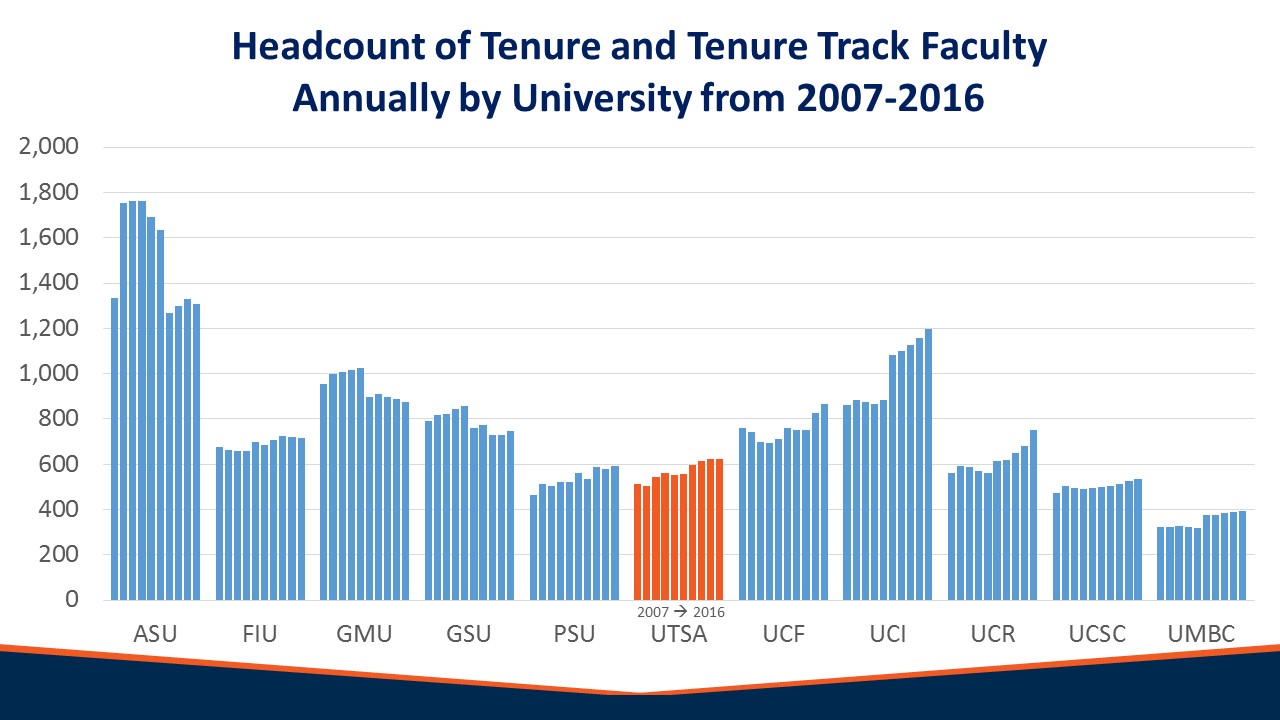 Top Ten year change in Headcount of Tenure and Tenure Track Faculty
UCI: Added 337 faculty lines, 39 percent increase
UCR: Added 189 faculty lines, 34 percent increase
PSU:  Added 126 faculty lines, 27 percent increase
UTSA:  Added 108 faculty lines, 21 percent increase
Peer Average: 798
Peer Median: 748
UTSA:  621
---
Top Percent Increases of Under-represented Minority with Tenure or Tenure Track status of all Tenure or Tenure track faculty
PSU: 2.8% increase from 2017 - 2018
UMBC: 1.4% increase from 2017-2018
UCSC: 1.2% increase from 2017 - 2018
2018 Peer Average: 12.24%
2018 UTSA:  20.1%
---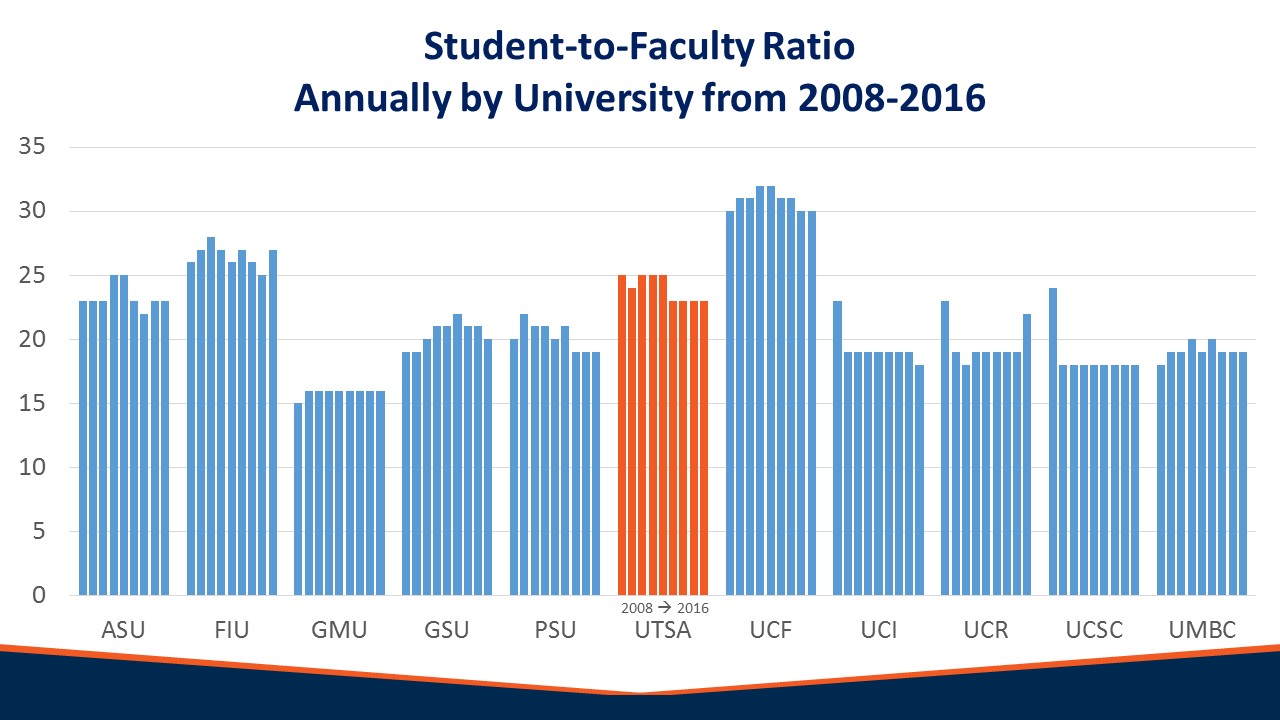 Top Ten year change in Student-to-Faculty Ratio
UCSC: From 24 to 18, decreased by 6 students per faculty
UCI: From 23 to 18, decreased by 5 students per faculty
UTSA: From 25 to 23, decreased by 2 students per faculty
Peer Average: 21
Peer Median: 20
UTSA:  23
---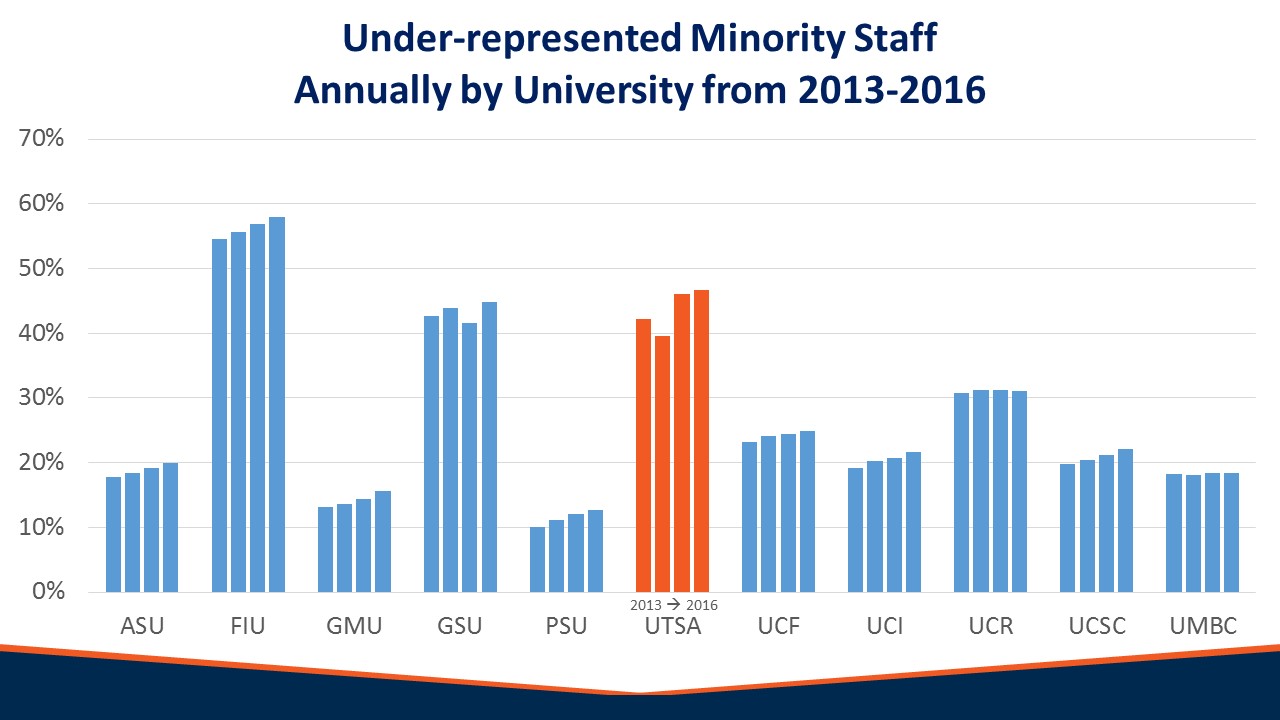 Four Year Change in Under-Represented Minority Staff
UTSA: 4 percentage point increase
FIU, GMU, PSU: 3 percentage point increase
Peer Average: 27%
Peer Median: 22%
UTSA:  47%
---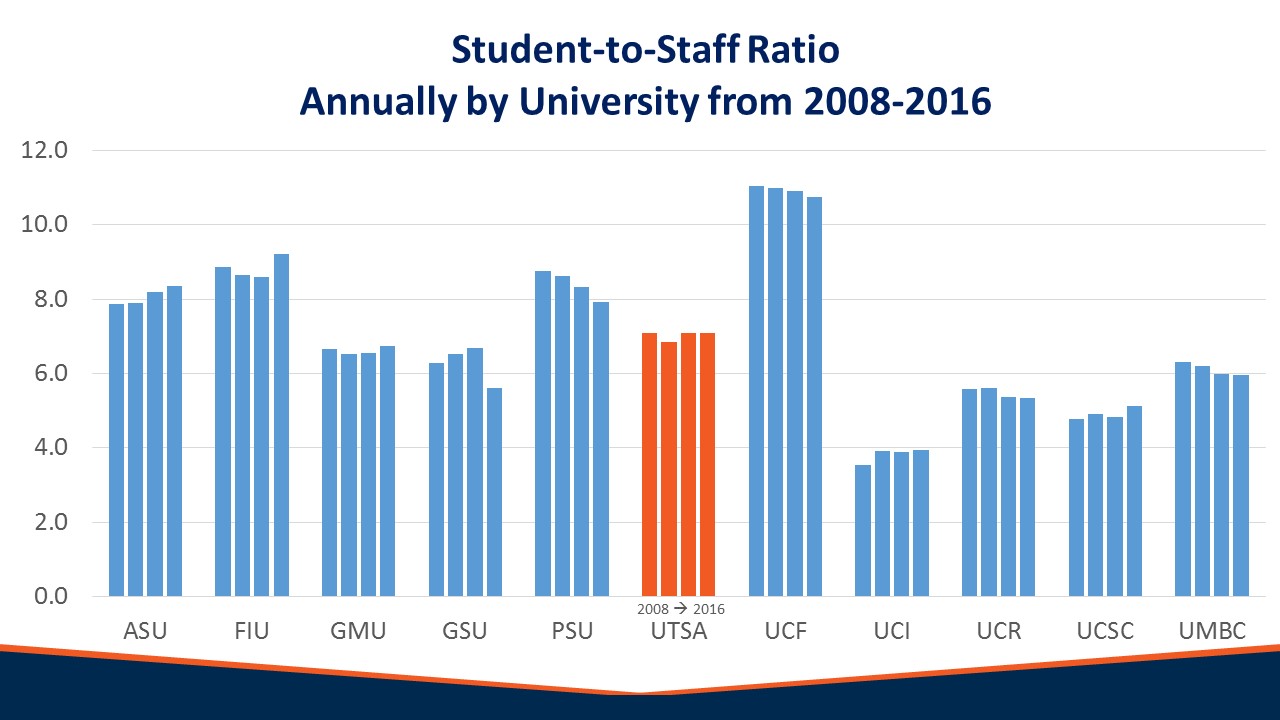 Top Eight Year Change in Student-to-Staff Ratio
GSU: 11 percentage point decrease
PSU:  9 percentage point decrease
UMBC: 5 percentage point decrease
UTSA: No Change
UCI: 11 percentage point increase
UCSC: 7 percentage point increase
ASU: 6 percentage point increase
Peer Average: 6.9
Peer Median: 6.4
UTSA:  7.1
---
Endowment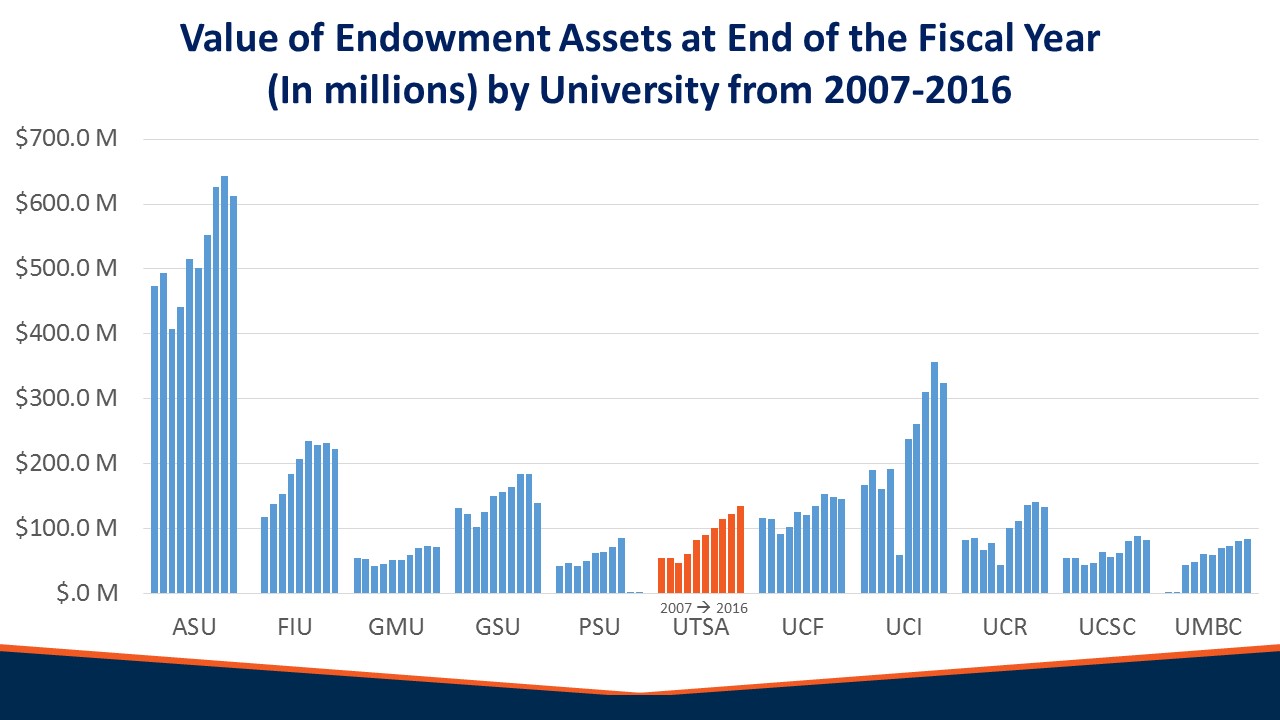 Top Value of Endowment Assets at End of Fiscal Years
UMBC: $82M increase, 8000%
UTSA: $80M increase; 150%
UCI: $158M increase; 95%
Peer Average: $201M
Peer Median:   $139M
UTSA: $134M
Note: PSU was excluded from the calculations above (private foundation)

---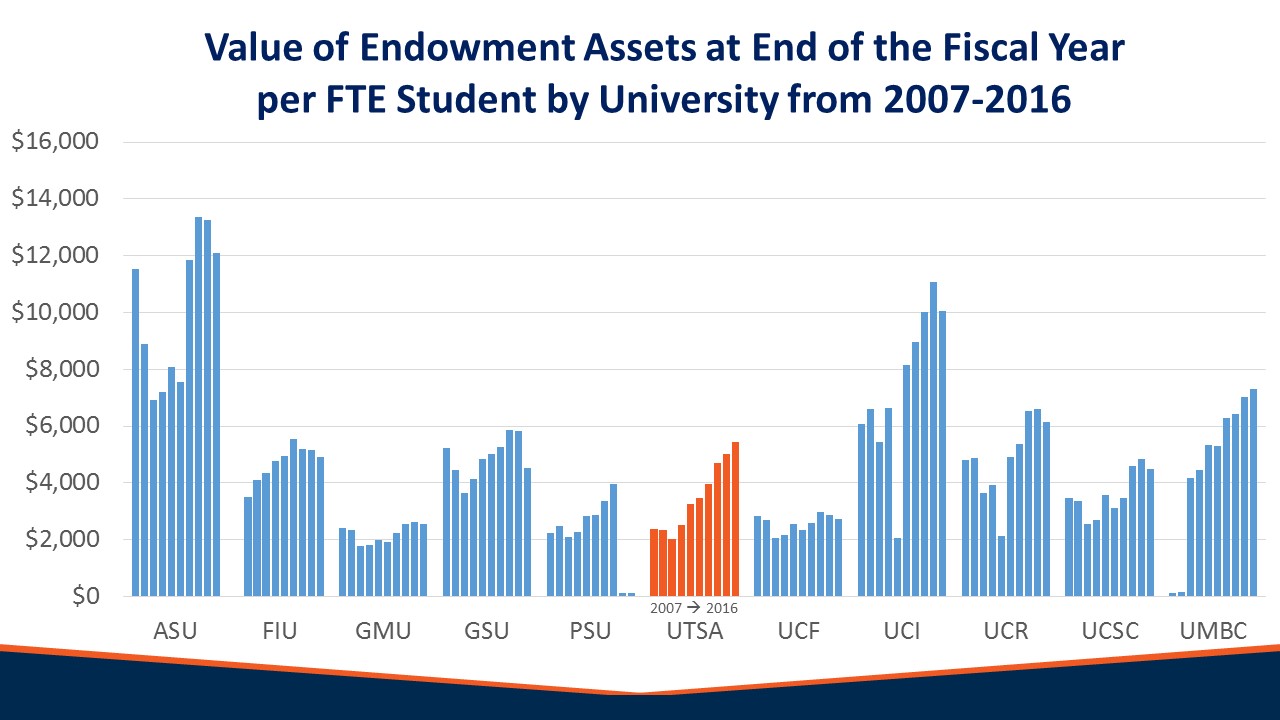 Top Value of Endowment Assets at End of Fiscal Years per FTE Student
UMBC: $7,200 increase per student, 6300%
UTSA: $3,100 increase; 130%
UCI: $4,000 increase; 65%
Peer Average: $6,100
Peer Median:   $4,900
UTSA: $5,453
Note: PSU was excluded from the calculations above (private foundation)

---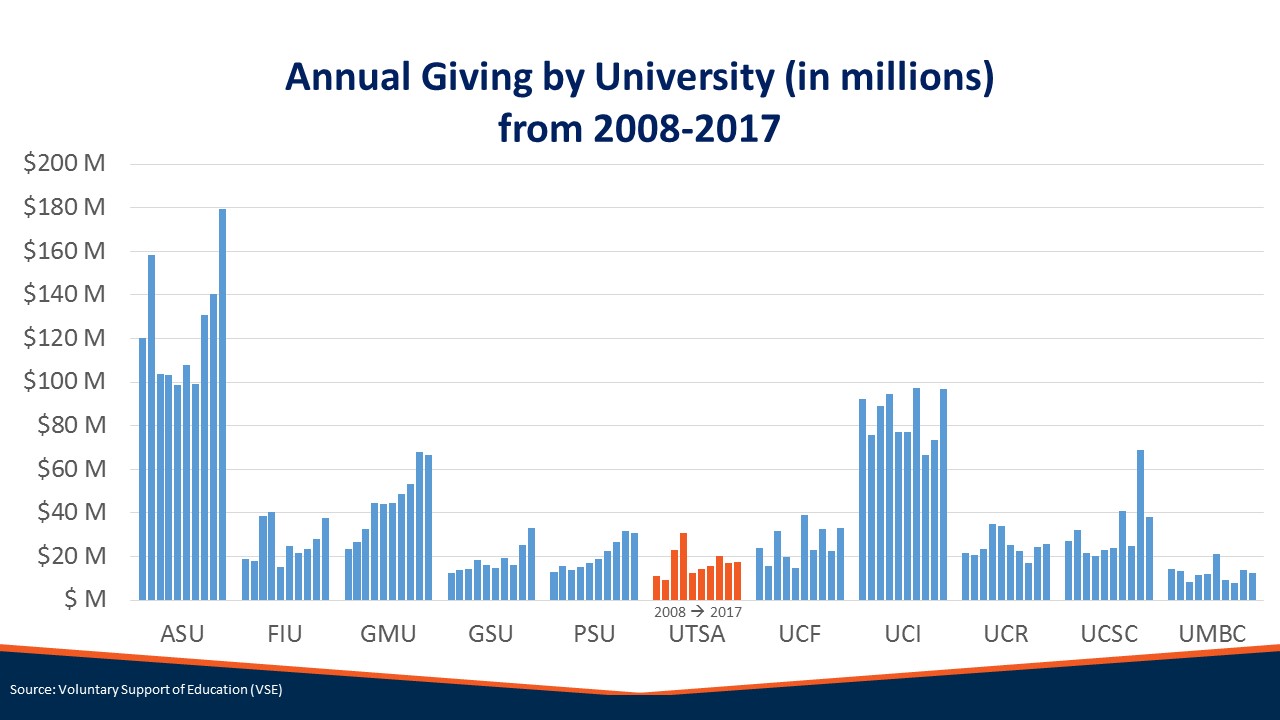 Top Ten Year Change in Annual Giving
GMU: $43M, 182%
GSU: $21M, 170%
PSU: $18M, 137%
UTSA: $6M, 54%
Peer Average:   $55M
Peer Median:   $35M
UTSA:    $17M
---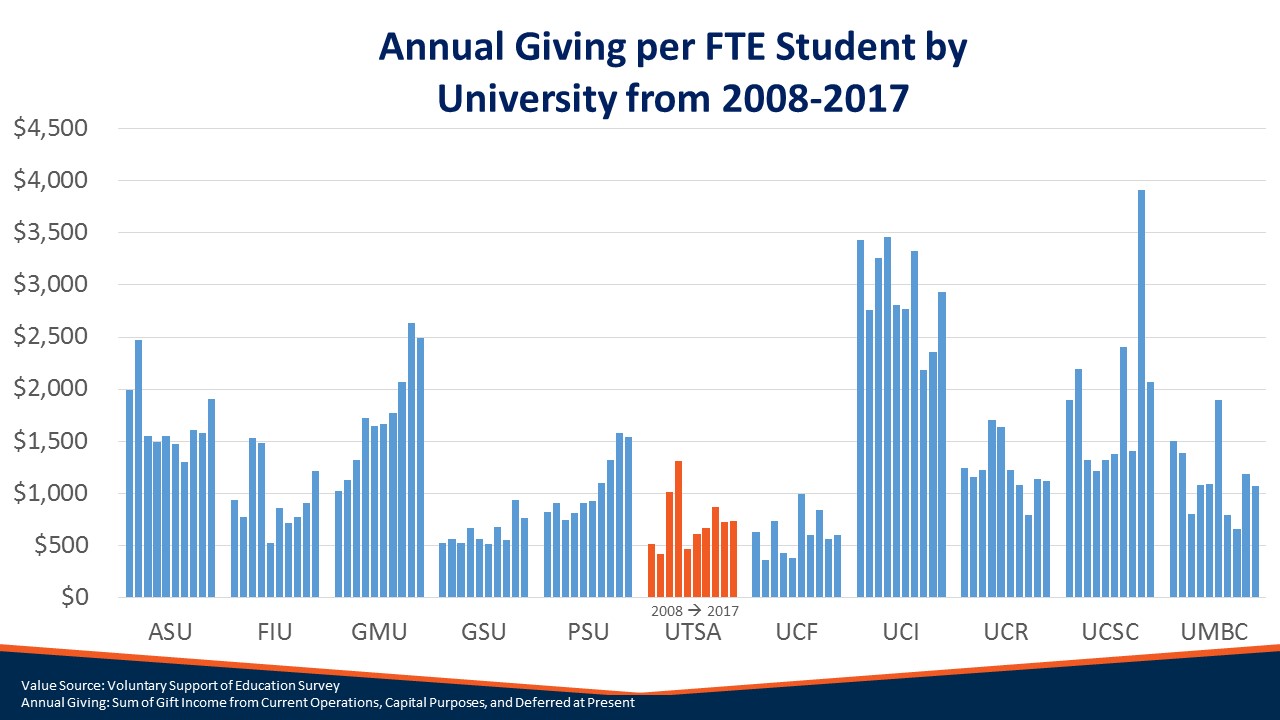 Top Ten year change in Annual Giving per student FTE
GMU: From $1,000 to $2,500 per student FTE (143%)
PSU: From $800 to $1,550 per student FTE (88%)
GSU: From $528 to $736 per student FTE (45%)
UTSA: From $516 to $736 per student FTE (43%)
Peer Average:  $1,537
Peer Median:  $1,212
UTSA:  $1,545
---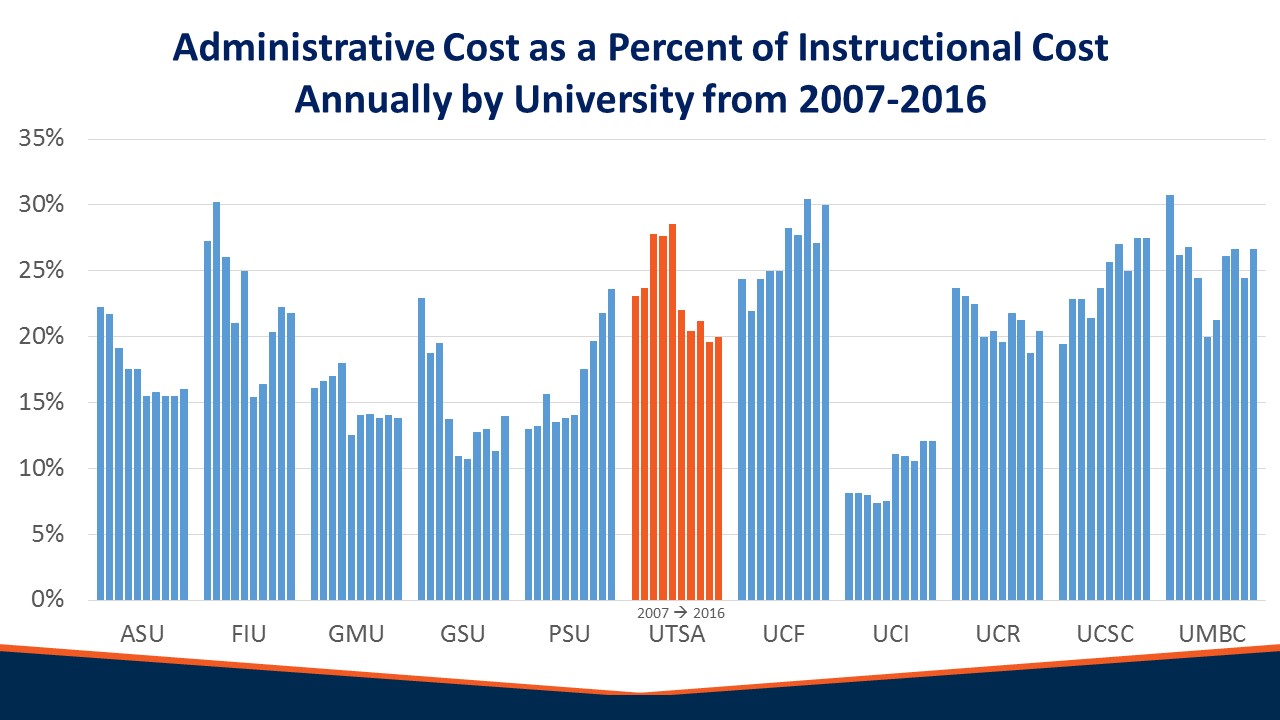 Top Ten year change in Administrative Cost as a Percent of Instructional Cost
GSU: From 23% to 14%; 9 percentage point decrease
ASU: From 22% to 16%; 6 percentage point decrease
FIU: From 27% to 22%; 5 percentage point decrease
UTSA: From 23% to 20%; 3 percentage point decrease
Peer Average: 21%
Peer Median: 22%
UTSA:  20%
---
Faculty Awards