Registered Student Organizations
Registered Student Organizations are separate, independent entities from the University whose membership is composed of UTSA students, or a combination of students, faculty, and staff; which has complied with the registration procedures to be officially registered (granted approval to operate on campus) by the University. There are currently more than 300 student organizations registered at UTSA.
Five Reasons Why You Should Join a Student Organization
Networking
Student organization activities allow you to meet and work with other students, alumni, and company representatives who have knowledge to share. An extensive contact list is also highly valuable when starting your internship and career search.
Social & Marketable Skills
You'll discover new people and new places on your journey as a college student. By participating in student organizations, you'll learn effective communication and presentation skills that will serve you well in college and in your career.
Professional Experience
Student chapters of professional organizations give students the opportunity to learn more about specific fields and take part in events and activities that put their content area concepts into practice.
Leadership Skills
If you become an officer within an organization, you will learn how to balance the challenges of decision-making, delegating and accountability that come with being a successful leader. You will also learn about fundraising and financial management, marketing and working in teams – all of which are essential skills to prepare you for your career.
Friendships and Fun
Student organizations help you keep priorities in focus. Having a familiar group of friends with whom to study and take part in recreational activities significantly impacts student success. Sponsored student organizations are student organizations with a designated and acknowledged partnership with a University academic or administrative unit. Registered student organizations are student organizations separate and independent from the University.
Find the Student Organization For You
Get Involved Fair
Students are encouraged to attend the Get Involved Fair at the beginning of fall and spring semester to meet current student organizations. 
RowdyLink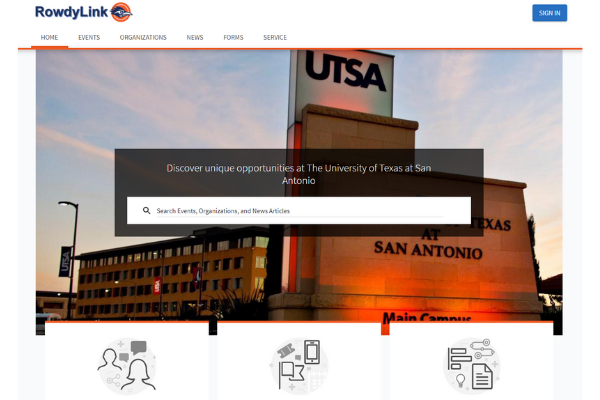 Learn about and contact organizations on RowdyLink. See upcoming organization events.
Involvement Specialists
Complete the "Get Involved Consultation Form" to schedule a one-on-one consultation with an Involvement Specialist for personalized involvement suggestions and organization recommendations.
---
Student Organization Annual Cycle
Follow this cycle to ensure your organization remains compliant throughout the academic year. If any of these are incomplete your organization will be unable to participate in various campus activities and could lose campus recognition.
April-June:  Priority Re-Registration Opens; Complete Display Case/Storage Space & Get Involved Interest Forms; Submit Spring Financial Disclosure Form
August-September:  Late Re-Registration Window Opens; Complete Display Case/Storage Space & Get Involved Waitlist Forms; Submit your Spring/Summer Disclosure of Solicitation Form
August-May: Two members attend State Mandated Risk Management Training (SMRMT) and Submit Compliance Documentation 
November- January: Spring Semester Registration Opens
January: Submit Your Fall/Winter Disclosure of Solicitation Form
March-April: Transition Organization Officers and update your organizations Primary Contact and Organizational Email for Summer Communication
The Student Organization Handbook is provided as an additional resource for you and your members.
---
Welcome Student Organization Advisors
Advising provides a wonderful opportunity for you to get to know students and to gain the satisfaction of knowing that you helped guide students in the development of a successful organization or program. Advising an organization is based on the reciprocal and agreed upon relationship between the advisor and the organization. Advisors will be required to complete an annual Campus Security Authority Training as well as a one-time State Mandated Risk Management Training Module. Please fill out our Advisor Interest Form if you are interested in serving as an advisor.
Visit the Student Organization Handbook to learn more about the role of an advisor and mandatory expectations.