In Memoriam: UTSA remembers long-time university and student advocate Barry McKinney
December 1, 2022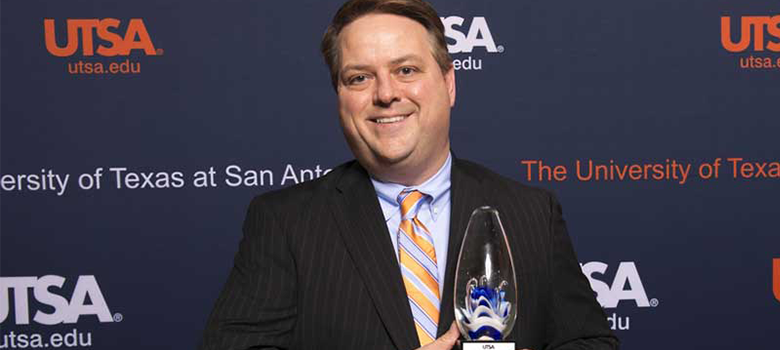 The UTSA community is mourning the loss of an inspirational leader to generations of Roadrunners. Barry McKinney, who served as the university's associate dean of students and director of student activities, passed away on Monday, Nov. 28, after complications following heart bypass and transplant surgeries. He is remembered for his strong commitment to service, sense of humor and dedication to the UTSA community.
McKinney interacted with tens of thousands of students during his nearly 20 years at the university and was the true embodiment of Roadrunner spirit and tradition. As a unparalleled champion of UTSA, he was passionate about developing and growing campus life programs that encouraged, uplifted and inspired every student who became a part of the university community.
"We celebrate all that Barry represented for UTSA, our students and the UTSA student experience. His effort and passion impacted literally thousands of lives and we are eternally grateful for all that he embodied—he was so foundational to our mission, purpose and impact," said President Taylor Eighmy. "We have lost an incredible colleague and friend and we will deeply grieve his loss. We will rally to support his wife, Jan, and their children, Mark and Scott, whose grief must be unfathomable. We will also work to honor Barry's incredible contributions to our Roadrunner community and experience."
---
"We have lost an incredible colleague and friend, and we will deeply grieve his loss." ~UTSA President Taylor Eighmy
---
As the director of student activities, McKinney and his team led the planning and execution of UTSA's most prominent and popular events including Homecoming, Día en la Sombrilla, Roadrunner Days, the Howdy Rowdy Bash, Midnight Light and Commencement.
BestFest, a campus Homecoming celebration, was a special project for McKinney. He and his team expanded the event from 2,000 campus attendees in its early years to more than 10,000 community revelers annually. Funds raised at BestFest support student organizations.
McKinney also oversaw several programs that recognized excellence among UTSA students. The UTSA Spirit of the Roadrunner, formerly Mr. and Ms. UTSA, honors students who strive to achieve the highest levels of academic achievement, campus involvement and community service. The University Life Awards recognize students and student organizations, staff and faculty for their contributions to the quality of student life at UTSA.
Just as these awards embody what it means to be a Roadrunner, so too did McKinney. His passion inspired others to embrace the university's traditions and athletics programs. When UTSA began its football program in 2011, McKinney contributed significantly to shaping the Game Day experience. He was a fixture on the sidelines at every Roadrunner home game.
McKinney was a staunch supporter of the Spirit of San Antonio as well—attending many of the band's rehearsals throughout the year. He served as a member of the Drum Major Selection Committee since SOSA's beginnings, and was one of the first individuals to be named to the SOSA Hall of Fame in 2021.
"Barry recognized that the UTSA student experience outside of the classroom was critical to the development of our trailblazing Roadrunners," said UTSA Provost and Senior Vice President for Academic Affairs Kimberly Andrews Espy. "The imprint he had on the fabric of our campus life will be everlasting. His energy, enthusiasm and commitment to our students was unparalleled, and it inspired all of us to bring that same dedication to our own jobs each day."
McKinney received his bachelor's degree in sociology at St. Mary's University, his master's in education administration at Texas A&M University and a doctorate in education from Texas A&M University-Kingsville.
He joined UTSA in 2004 as the associate director of the Student Leadership Academy, a program that helps students develop critical leadership skills. Two years later, he was named the director of student activities and, in 2012, added assistant dean of students to his duties. In 2014, he was named associate dean of students, the role he held until his passing.
Recognized for his accomplishments in educational leadership, teaching and student activities, McKinney was respected among higher education leaders throughout the country including the National Association of Student Personnel Administrators, the National Association for Campus Activities and the Texas Association of College and University Student Personnel Administrators. 
As the primary liaison for UTSA's participation in Fiesta San Antonio, he helped grow deeper connections between the university and the local community by ensuring UTSA students and leaders were engaged in the annual celebration.
In 2016, McKinney was recognized with the Order of the Roadrunner Award, which is given annually to UTSA staff members who demonstrate exemplary service and commitment to the university and its students, faculty and staff. It is the highest honor that a UTSA staff member can receive.
"Barry brought so much joy and energy to UTSA events and activities," said UTSA Chief Financial Officer and Senior Vice President for Business Affairs Veronica Salazar. "It is impossible to calculate the number of students, faculty and staff that he positively impacted throughout his years at the university—I was one them for sure."
Students were central to McKinney's daily work. He relished spending time with them, advocating for them and learning from them. His enthusiasm and dedication to UTSA was a model for his team and colleagues, and he leaves positive and happy memories with those in the Roadrunner community and elsewhere, noted Senior Vice Provost and for Student Affairs and Dean of Students LT Robinson.
"We honor his contributions to UTSA and higher education by continuing his passion for student engagement and collaborative partnership," Robinson said.
"I miss my friend and colleague," she continued. "As I look around my office and see the impact of his work, I know that Barry will always be with us in spirit."
In many ways, McKinney's legacy will continue at UTSA. Commencement, Homecoming, the Spirit of the Roadrunner, the University Life Awards all reflect the behind-the-scenes work by McKinney's team.  As alumni of the UTSA community gaze upon the Roadrunner statue overlooking Central Plaza, they will remember that McKinney worked closely with the UTSA Advancement and Alumni Engagement team to advance the student-inspired fundraising campaign to Bring Rowdy Home.
McKinney was born on February 12, 1969 and raised in Rockport, Texas. He is survived by his high school-aged sons, Mark and Scott, and his wife, Jan Wilson McKinney, executive director of communications and administration for UTSA Student Affairs.
A UTSA fund, Birds Up for Barry, has been established in McKinney's memory to support UTSA students and the continue the traditions he and his team established and nurtured. A GoFundMe account has been organized to support Barry and Jan's sons with future educational and extracurricular expenses.
A service for McKinney will be held at 2 p.m. on Thursday, December 15, at Zion Lutheran Church, 9944 Leslie Road, San Antonio, Texas 78254.