Get Involved in Wellbeing Efforts
Getting involved in wellbeing efforts is an important way to show you care about our community. Attend an event, share your knowledge as an advocate or educator or join a student organization that helps plan campus events. When we all work together, our community is stronger.
Tell us more about how you would like to get involved on RowdyLink.
---
Mental Health Peer Advocates
Mental Health Peer Advocates are UTSA students who are certified peer education facilitators focused on promoting help-seeking and reducing stigma in receiving mental health and wellbeing support.  They provide peer mentoring as well as prevention and education programming to UTSA students.
Mental Health Peer Advocates provide additional resources and information and serve as liasion between with student body and Wellbeing Services.
Peer Education Program
The mission of the Peer Education Program is to promote healthy lifestyles and better decision making to the UTSA community by providing accurate health information and resources to students. The program consists of Peer Educators who are UTSA student volunteers who provide peer-to-peer education on various health topics through fun and interactive games and discussions. Peer Educators work together to promote wellness by increasing awareness of student health issues and encouraging positive lifestyles.
If you are interested in building leadership skills, promoting health and wellness and mentoring your peers, the Peer Education Program is just for you! All students are welcome to join no matter their background or major.
Topics covered in the Peer Education Program include:
Alcohol
Flu
Time Management
Nutrition
Healthy Relationships
Tobacco
Body Image
Financial Health
Stress
Sexual Health
Physical Activity
Skin Care
Be Part of the Health Nest Team!
Health Nest is a weekly health education outreach program. Each Wednesday from 11am-1pm Peer Educators set up the Health Nest Gazebo on the Main Campus & engage students with games, activities, & conversations about health issues and behaviors.
Requirements to be a Peer Educator
Apply the semester prior to your participation
Enroll in HTH 3031 Peer Education in Health (Need instructor approval prior to enrolling)
Attend weekly class meetings on Mondays from 11-12:30 in RWC 1.806 (Wellbeing Meeting Room)
Work a weekly Health Nest Outreach on Wednesdays from 11am-1pm
Responsibilities of a Peer Educator
Serve as a resource for the UTSA community
Develop health education activities & materials for weekly health topics
Conduct outreach to students & promote healthy behaviors
Help to recruit future Peer Educators
Why Become a Peer Educator?
Gain professional work experience to build your resume
Develop communication & leadership skills
Improve public speaking & health promotion skills
Receive one Health credit
Gain knowledge in several areas of health, wellbeing, & prevention
Make a difference in the health of UTSA students
Meet new people!
---
Prevention of Sexual Violence
Join the UTSA PEACE Center in campus-wide efforts to reduce interpersonal violence and support survivors. From planning events to sharing resources with your peers, it's on us to set the expectation that physical and sexual violence are never OK.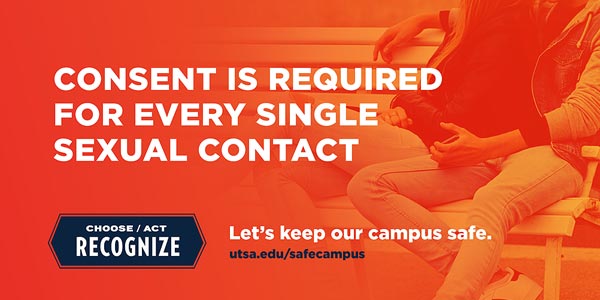 ---
Student Organizations
Active Minds
Active Minds at UTSA empowers college students to speak openly about mental health in order to educate others and break stigmas related to mental health. Active Minds is a student initiative that supports emotional wellness by:
Increasing awareness about mental health
Planning events on campus
Promoting access to campus helping services
Communicating with your peers
You don't have to be any particular type of major to discuss mental health, you just have to be a human who wants change! Become a Stigma Fighter today!