The Student Union offers many services and amenities designed to meet the needs of the Roadrunner community. Grab lunch, visit essential departments, find a quiet place to study, and socialize with friends all in one convenient location.
Information Desk
The UTSA Student Union Information Desk is located on the first floor of the UTSA Student Union, outside the Rowdy Campus Store. If you are lost or have any questions, please stop by and let us assist you. We can provide updates on events happening in and around the UTSA Student Union, answer questions, as well as provide a variety of services and resources.
The Information Desk is run by student staff, and we pride ourselves on being knowledgeable about the whole campus and surrounding areas. We would love the opportunity to serve!
The Information Desk is also now available via Live Chat from 9am-6pm Monday through Friday.
Contact Information Desk via Live Chat
Hours: Mon-Tue 8am - 3pm
Wed-Fri 9am - 2pm
  Start a Live Chat
---
Services and Amenities
Maps and Direction
Need assistance navigating campus? Stop by the information desk for campus maps and directions.
Golf Cart Check-Out
We provide this service to UTSA university staff only. The Golf Cart is available on a first-come, first-served basis at the information desk. It is not available for reservation.
Lost and Found
The Information Desk receives, logs, and secures lost and found items. Each day items of value are taken to the UTSA Police Department. You can contact the UTSA Campus Police Department at 210-458-6247 about lost and found items. Items not accepted by the UTSA Police Department will be held in the UTSA Student Union until the end of each week. Any unclaimed items will be donated at the end of each week.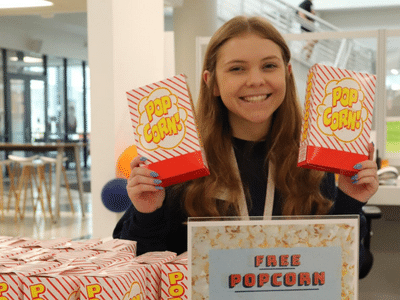 Popcorn Tuesday
Enjoy fresh popcorn on Tuesdays at noon courtesy of the Student Union Information Desk.
Lactation Rooms
Any visitors to the Student Union can access the Lactation Room by checking out a swipe ID card from the Information Desk. Guests will be asked to leave a personal ID in exchange for the key card.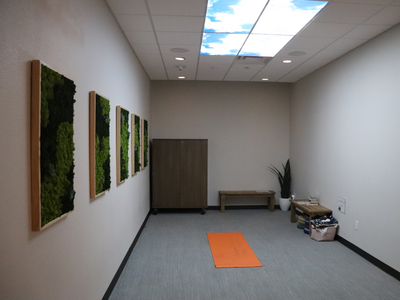 Meditation Space
Located on the second floor of the H-E-B Student Union, visitors can access the meditation room, an inclusive and tranquil space complete with yoga mats, prayer rugs, and ablution stations.
Study Rooms
The Student Union offers a variety of study rooms with built-in technology. Bring your student ID to Student Union Event Services to reserve a space.