The UTSA Advanced Visualization Laboratory (VizLab), managed by University Technology Solutions (UTS) Research Computing Support Group (RCSG), allows researchers from all disciplines of art, science, and engineering to conduct simulation and visualization research to better understand complex phenomena and translate data into images on large-scale and high-resolution visualization walls or other display devices.
The laboratory supports UTSA's mission of teaching, research and community engagement and contributes to UTSA's goal to recruit the world's top computational researchers. UTSA faculty, students, and staff who are interested in utilizing the VizLab can schedule an appointment by clicking here. 

By focusing on research in health, energy, security, sustainability and human development, the University of Texas at San Antonio (UTSA) is quickly becoming a national research university. Many of the topics under investigation in these areas require UTSA researchers to interpret massive amounts of data in an easily comprehensible manner. The Lab is also available for use by any student organizations, outreach programs, class room lectures, and external organizations.

The VizLab has been funded by the National Science Foundation under the Major Research Instrumentation Program. Award Number: 0923468 The Principle Investigator for this project was Dr. Yusheng Feng, and Co-Principal Investigators include: Dr. Ruyan Guo, Dr. Harry Millwater, Dr. Brent Nowak and Dr. Heather Shipley.
---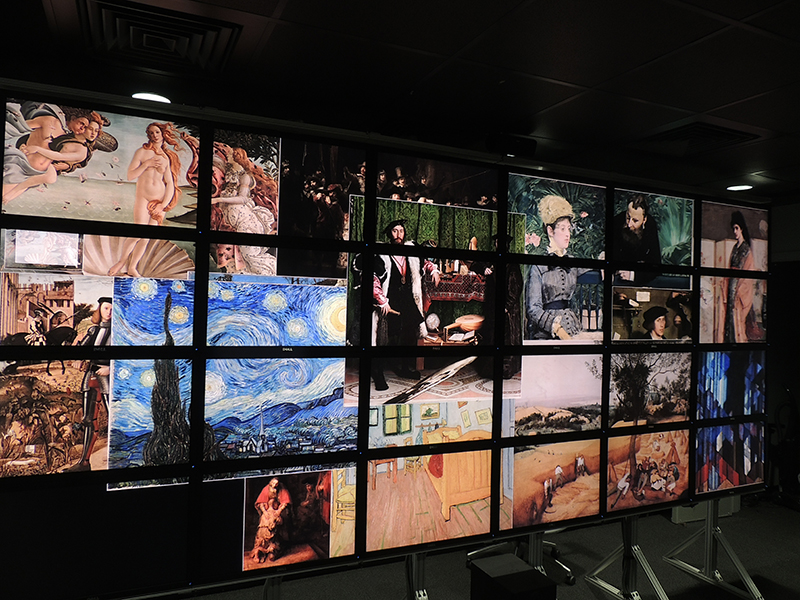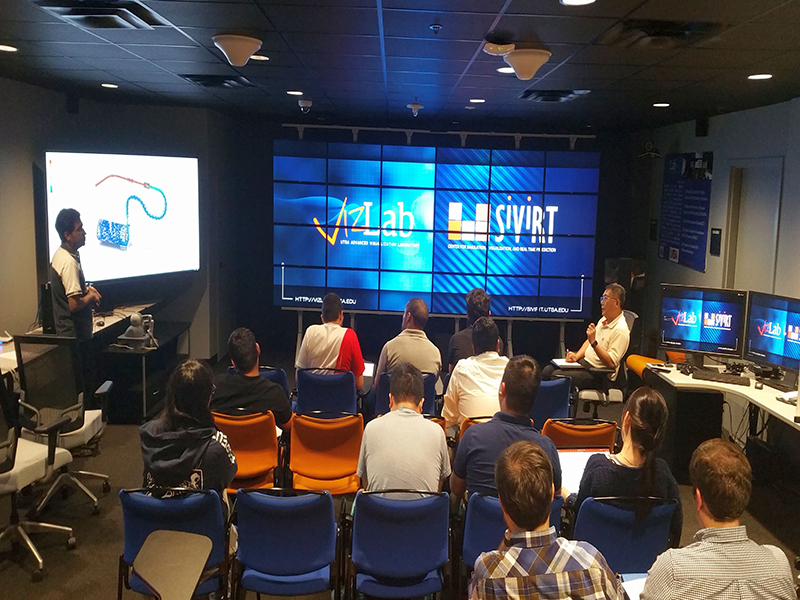 ---
VizLab Features:
VizWall features:
24 high-definition 32" monitors.
115 million pixels versus 2 million on a 1080P TV
VizLab Virtual Reality:
HTC Vive and Oculus Rift
Discover virtual reality with different educational apps on the lab's virtual reality headset.We have virtual reality apps for all majors.
Use Google Earth to see crisp displays of your favorite areas and geography.
Use Oculus Rift to see how blood cells function in a human body.
Nemo features:
3 computational nodes, one head node and a storage node
GPU/HPC high-performance hybrid computational cluster
Each node is powered by a dual 10 core Intel Xeon E5-2630 v4 3.1GHz processors (25M Cache), 32GB of ram and dual Nvidia Quadro M2000 (4GB each)
60 computational cores and 4,608 CUDA GPU cores
Ubuntu 18.04 LTS Linux distribution on Dell Precision 7910 Workstations.
Primary high performance computational cluster for the Advanced Visualization Laboratory.
NEMO runs the software that operates the Visualization Wall (VizWall).
Additional Features:
85" 3D stereoscopic TV display
Two high performance workstations running Windows 10**
** By comparison, a typical desktop computer offers: