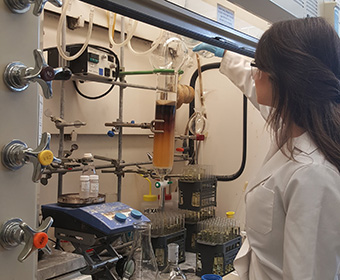 (May 10, 2018) -- The National Science Foundation (NSF) recently announced the winners of the 2018 NSF Graduate Research Fellowship. Four students from the UTSA Honors College received this prestigious award.
The fellowship provides funding to high-achieving students who are interested in conducting research and pursuing a master's or doctoral degree in the sciences, technology, engineering or mathematics disciplines.
Sara Dibrell, a biochemistry major in her final semester at UTSA, is a recipient of the NSF fellowship. The UTSA Top Scholar will be attending the California Institute of Technology in the fall to pursue a Ph.D. in organic chemistry. She says the Top Scholar program was key to helping her earn her NSF award.
"The program has helped me not only go to conferences to present my work, but to develop the skills outside of academics that I need to succeed," said Dibrell. "Being a part of the program is a major reason why I decided to go to graduate school."
Dibrell has been conducting research on the therapeutic treatment of chronic pain in Doug Frantz' laboratory. She hopes to make a difference in biological and health related problems and believes graduate school will give her the opportunity to further her research and make an even broader impact.
>> Engage in experiential learning opportunities at UTSA.
Another current UTSA student and winner of the fellowship is physics major David Cadena. The San Antonio native is graduating this month then will be attending the University of California, San Diego to earn a Ph.D. in bioengineering.
Cadena interned at the UTSA Functional Nanomaterials Laboratory under Kelly Nash in the summer of 2014 after finishing his associates in engineering at St. Philip's College. He says the encouragement and experience he gained in the laboratory made him want to transfer to UTSA and continue his nanotechnology research.
"Dr. Nash was extremely encouraging and inspired me to continue my education," said Cadena. "At UTSA, I met great faculty, especially in the physics department. I felt like I had a huge team cheering for me to succeed."
Cadena used the research from his time in the lab at UTSA, and the experience he gained from his internships, to write the proposal he sent to the NSF. He is eager to learn more about nanomedicine to combat cancer.
NSF fellows receive an annual stipend of $34,000 for three years, along with $12,000 for tuition and fees. The fellowship also provides its fellows with opportunities for professional development and international research, giving students the freedom to conduct research at any accredited U.S. institution of their choosing.
Saifa Pirani '17 graduated from UTSA last fall with bachelor's degrees in statistics and psychology. The NSF fellowship recipient conducted research in the Department of Psychology with Augustine Osman and in the Department of Statistics with Daniel Sass. Pirani's research focused on the creation, validation and implementation of suicide-based questionnaires to assess high-risk behaviors in college student populations.
The Honors College student was a member of the Maximizing Access to Research Careers – Undergraduate Student Training for Academic Research (MARC U*STAR) program under the direction of Edwin Barea-Rodriguez and Gail Taylor. The program develops its trainees to become competitive applicants for doctoral programs in the behavioral and biomedical sciences. Pirani will attend the University of North Carolina at Chapel Hill to earn a Ph.D. in quantitative psychology.
"It felt great to be recognized for the hard work and contributions I have made," said Pirani.
She advises students to find and follow their passions, to work hard and to seek great mentors.
Another recipient and UTSA alumna is Alexis Catala '15. She is currently a doctoral candidate in the structural biology and biochemistry program at the University of Colorado at Denver.  
"We congratulate the Roadrunner scholars who were selected for this prestigious and highly competitive fellowship," said Mauli Agrawal, interim provost and vice president for academic affairs. "We know our students are conducting amazing research, and it is exciting to have their high-quality work recognized by the National Science Foundation."
UTSA is recognized as one of the top five young universities in the nation by Times Higher Education.