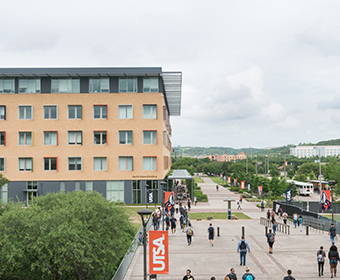 (June 28, 2018) -- The UTSA campus community participated in a panel discussion this week on incentive-based budget models. The session—open to all staff, faculty and students—precedes the debut of UTSA's new budget model pilot this fall. 
Hosted by the Finance and Budget Modeling Task Force, the panel featured representatives from four universities that have experience with or are currently using incentive-based budgeting. Attendees gained insights into lessons the panelists learned when implementing new budget models at their institutions, along with the benefits incentive-based budgets provided to their universities.  
Following presentations from each panelist, the previously submitted questions were asked of the speakers in a Q&A format. Attendees were then able to ask the panelists questions about their experiences with new budget processes.
  >> Watch the budget panel webinar.
The panelists included:
Drew Clark, director of the Office of Institutional Research, Auburn University
David Jewell, associate vice president for financial affairs, University of Wyoming
Michael A. Pagano, dean of the College of Urban Planning and Public Affairs and professor of public administration, University of Illinois at Chicago
Douglas Priest, senior associate vice president for finance, Indiana University Bloomington
Representatives from Huron Consulting, the firm assisting with UTSA's budget redesign efforts, attended the panel discussion to contribute to the dialogue.  

The Finance and Budget Model initiative launched in October 2017 with the goal of identifying a new budget model to optimize UTSA's resources and improve financial performance.