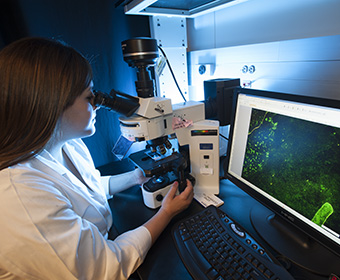 (Aug. 16, 2018) -- In an email sent today to UTSA faculty and staff, President Taylor Eighmy provided updates on the presidential, strategic and tactical initiatives underway to support the university's strategic vision. The initiatives will accelerate UTSA's upward trajectory as a nationally-recognized research and discovery enterprise university.
Research Excellence Task Force
Specialized programs and services have been launched to support faculty in their pursuit of National Research University Fund (NRUF) recognized awards. Four nominations to the National Academy of Inventors and 17 Faculty Early Career Development Award proposals were submitted in July 2018. The Office of the Provost and Office for Research, Economic Development and Knowledge Enterprise will once again host the New Faculty Institute in 2018-19, introducing faculty to the research culture at UTSA and assisting them in launching their research programs during their first year on campus.
UTSA's master planning consultants from Page have begun the discovery phase of the project, collecting programmatic, strategic and physical planning data for review and analysis. Next month, the Page leads will visit campus to gather input from departmental and college leadership. A series of community outreach sessions are in the early planning stages, with the intent of providing opportunities for neighborhood associations and other stakeholders to offer input regarding the physical development of our campuses. These sessions will be offered in collaboration with City Council members representing the districts that include UTSA's Main, Park West and Downtown Campuses.
Finance and Budget Modeling Task Force

After reviewing a summary of all feedback gathered during the budget model redesign process, the Finance and Budget Modeling Task Force accepted Huron's budget model recommendations on July 25. UTSA's new model and budgeting process will be called Incentivized Resource Management (IRM), and a final report will be issued to President Eighmy from the task force later this month. The Budget and Financial Planning Office and Business Information Services are working with UT Shared Information Services to provide data integration with IRM, and financial reporting is being developed for the data analyses needed to support the model.
The Downtown Campus is preparing to welcome additional daytime students due to the new block course schedule. On the first day of classes, President Eighmy will ride the new shuttle bus taking students in the public policy and architecture academic pathways from the Main Campus to Downtown Campus in time for their first class of the day. The second floor of the Frio Street Building is becoming a new destination for students to study, relax and find support in spaces managed by the Student Union, One Stop Enrollment Center and others to be announced. Last week, President Eighmy shared his vision for the UTSA Downtown Campus with the members of Centro San Antonio. His presentation included an updated timetable and more details on his plan to bring additional centers, institutes and programs downtown over the next 10 years.
SACSCOC 2020 – Racing to Reaccreditation
The Racing to Reaccreditation Team has addressed all 100 of the original action items identified in the fall of 2017. Team members are now writing their first drafts for their assigned standards to meet the next deadline of October 15. Meetings are being conducted with sub-teams to collaborate with other areas of the university when needed and to discuss the writing process. An ice cream social was held on August 14 to recognize the team's hard work over the past year and to encourage everyone to keep up the momentum during the next lap in the race to reaccreditation.
National Security Collaboration Center 
President Eighmy delivered a talk on Building Partnerships to meet Global Security Challenges at the 2018 Cyber Texas conference earlier this month, where he promoted the launch of the National Security Collaboration Center (NSCC). Government and industry partners are primed for co-location, with contracts and agreements currently under negotiation. Sandia National Laboratory placed its first scientist at UTSA to work closely with faculty and students in cybersecurity areas. In early August, UTSA leadership visited Pacific Northwest National Laboratory (PNNL) to discuss collaborative research and faculty exchange, as plans move forward to incorporate PNNL as a partner of the NSCC. New industry partners Booz Allen Hamilton and IP Secure provided letters of support and commitment for the NSCC.