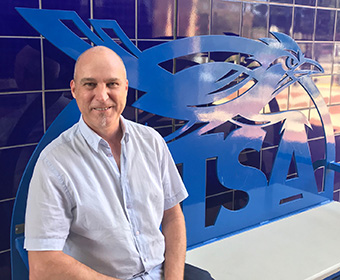 (October 11, 2018) -- Candid Rogers is a lecturer in the UTSA College of Architecture, Construction and Planning. He earned his Bachelor of Arts and Master of Architecture degrees from the University of Texas at Austin, and his career includes professional experience with studios in Barcelona, Spain and with Lake Flato Architects in Texas.
Rogers' research interests include contemporary vernacular design, site design and theory. Currently, he leads Candid Rogers Studio an architectural design practice in San Antonio. Recently, he was appointed to the AIA College of Fellows, a honor recognizing architects who have made significant contributions to the profession and society while exemplifying architectural excellence.
We sat down with Professor Rogers this week to learn more about his work.
You own your own studio and you always have lots of projects going on at once. What's exciting you the most these days?
My professional practice employs both past graduates and current students of our college. We are a regional office that focuses on designing thoughtful architecture that responds to its place and offers a tactile experience of the space. At the same time, we work on out of state projects. We are currently collaborating on a new residential project in New Jersey with one of my past classmates. The client desired a contemporary home that reflects his appreciation of the seaside landscape and a connection between interior/exterior spaces. It's great to think that the friendships and relationships that current students are fostering can lead to future ventures and collaborations in the professional world.
How has your personal journey influenced your work?
I was raised in San Antonio, and that has influenced the critical regional response I bring to my studio's work. Having witnessed the ongoing cultural awakening and expansive geographic growth of the city begins to inform those very responses – from the geographical landscapes such as the smell of the air and taste of the water to the cultural landscapes of encountering good public spaces that people are using and enjoying developing community and dialogue.
In addition, my personal heritage, studies and experiences of working and teaching in Spain continue to factor into deeper cultural overtones. Spain has a rich architectural history, but it also represents exceptional contemporary responses in architecture and the built environment.
What's your favorite architectural landmark and why?  
Mission San Antonio de Valero: The Alamo. It's a very important topic in current city debates, which are exploring how to re-develop the site. But it's perhaps more so my favorite because my ancestor, Cayetano Guerrero, from Sevilla, Spain was employed as a metalsmith in its initial construction. I have a long lineage of Spanish, Mexican and Texan history in my mother's family that was important in the development of the early towns of Texas: Nacogdoches, Goliad and San Antonio.
What's the one thing going on in your field that nobody's talking about?
People don't talk as much as they should about the fact that the built environment is the largest contributor to greenhouse gases and global warming. We have to work, build and live smarter. We need to contribute to the development of smart materials, production systems and sourcing of sustainable products. Also, let's not leave out solutions for the homelessness that confronts society. We need to view people as advocates of their environment - in terms of the technological demands and the experiential conditions offered.
What do you think is the biggest challenge researchers in your field are facing?
Without a doubt, the greatest challenges are funding for research and educating the public on the value and importance of architecture and the built environment. There is also the actual construction science and the operation of all buildings with regards to energy used and consumed is the largest contributor to global warming. If we demand that it be slowed or healed, we must begin with living more efficiently. Architecture has the potential to foster culture and stimulate the community.
What would you say to a student who is interested in pursuing a career in architecture?
You should have unquenchable passion, relentless determination and the view that architecture can and does impact the daily health and happiness of people.