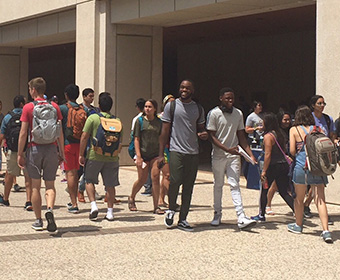 (Jan. 30, 2019) -- UTSA today announced the creation of the Department of Race, Ethnicity, Gender and Sexuality Studies (REGSS) in the UTSA College of Education and Human Development. The new department, effective Sept. 1, will give students within the program areas of African American Studies, Mexican American Studies and Women's, Gender and Sexuality Studies greater opportunity to promote equity and intellectual dialogue, better preparing them for the issues society faces.
"The new department is a significant example of UTSA's commitment to being a model of student success while fostering growth and innovative excellence," said UTSA Provost and Vice President for Academic Affairs Kimberly Andrews Espy. "We know that students who learn in an open and inclusive environment succeed, and this department will be part of cultivating that success."
>> Learn more about the UTSA Department of Race, Ethnicity, Gender, and Sexuality Studies.
Throughout its 50-year existence, UTSA has proactively created avenues for inclusivity through the creation of organizations such as the Consortium for Social Transformation, Somos Mexican American Studies and the Women's Studies Institute.
Community outreach has included events that have built bridges through conversation and engagement between UTSA's diverse communities and the greater San Antonio community.
"We have the potential to help our students not only feel included at the university but to also make an impact toward a more equal and just world," said Marco Cervantes, interim department chair of REGSS. "We will continue to stay devoted to student and community voices as we work toward building and strengthening the department."
One of the first priorities of the new department will be to create a Bachelor of Arts degree in African American Studies, which currently is offered at UTSA as a minor. While UTSA already offers bachelor's degrees in Mexican American Studies and Women's Studies, the additional structure, representation and support that an academic department provides will allow these programs to give students even more courses and community outreach opportunities.
"Establishing the Department of Race, Ethnicity, Gender and Sexuality Studies illustrates UTSA's commitment to preparing culturally responsible citizens who are active collaborators and agents of positive change through scholarship, service and teaching to build equitable and just communities," said Marie "Keta" Miranda, UTSA professor of bilingual-bicultural studies.
The search for a permanent department chair is underway. The department's five-year plan includes conducting national searches for additional faculty, including endowed chairs, for all three programs within the department. The plan also includes developing research centers and increasing the capacities of UTSA's existing Women's Studies Institute.
"The ongoing work of the faculty in the programs included in REGSS have been integral to the equalization of both student and faculty experiences at UTSA and have a profound effect on our students and communities at a time when inclusivity is being challenged and our communities are becoming estranged from one another," said Margo DelliCarpini, dean of the UTSA College of Education and Human Development.
"The new department will prepare students for a world faced with concerns about inequity, the value of diversity and inclusivity," she added. "Our current faculty have dedicated their workto supporting inclusive excellence at the university and the development of this department will only strengthen the great work that has been happening at UTSA for years."
As society grapples with complex issues surrounding race, ethnicity, gender and sexuality, programs such as this can be invaluable training to UTSA students, as the next generation of leaders, and provide meaningful resources to the communities the university serves.
Students who pursue their degrees in REGSS will be prepared to engage in discussions and action that surround social justice in academic, legal and non-profit fields, leading as effective agents of change in our society.