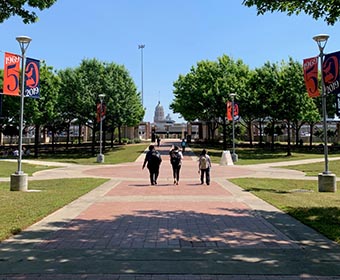 (May 15, 2019) -- As part of its commitment to fully engage the community and further foster meaningful dialogue related to its Downtown Campus expansion, UTSA has expanded its partnership with the National Association for Latino Community Asset Builders (NALCAB), a nationally recognized non-profit organization specializing in research and data-driven strategies to support equitable neighborhood development.
UTSA will work closely with NALCAB to study the issues impacting vulnerable populations near the Downtown Campus and develop a strategy for facilitating ongoing, transparent, two-way conversation with residents and business owners on San Antonio's historic West Side. UTSA first engaged NALCAB in early 2019 to identify and collaborate with communities having a unique stake in the expansion of its Downtown Campus.
"The expansion of our Downtown Campus provides a tremendous opportunity to bring a world- class education closer to underserved communities in the urban core and to be a catalyst in providing access to employment and prosperity, arts and culture, and quality of life for the next generations of San Antonians," said UTSA President Taylor Eighmy.
"At the same time, we recognize the concerns of long-time residents and business owners about real estate trends that have been taking place in our city for more than ten years. We share those concerns and want to use the resources we have available, as a responsible neighbor, to contribute to the preservation of communities around the Downtown Campus," Eighmy added.
NALCAB, an advocate for Latino communities nationally, is a leading source of research and data on vulnerable populations and has significant insight into San Antonio economic and demographic trends. In 2018, NALCAB conducted research for the City of San Antonio on housing vulnerability and provided technical support to the Mayor's Housing Policy Task Force, which issued an influential report last August.
"As UTSA expands the Downtown Campus, the university has a responsibility to build and sustain authentic relationships that preserve the economic and cultural integrity of the surrounding communities. NALCAB will undertake research and community-informed planning efforts to identify opportunities to leverage UTSA's institutional strength in service of the community," said Noel Andrés Poyo, San Antonio-based executive director of NALCAB.
>> Discover the UTSA Downtown Campus.
Drawing on the university's and community's history and legacy, and aligned to UTSA's strategic vision, the university is undergoing a master planning process that will support future expansion of educational and research programs, make higher education more accessible to the community, and draw world-class faculty to the city to train the next generation of workforce-ready professionals.
NALCAB's research team has begun a study of vulnerable populations in the neighborhoods around the Downtown Campus, reporting directly to UTSA's Vice President for University Relations. This newly created position, established recently by President Eighmy, includes federal, state and local Government Relations, Community Relations, University Communications and Marketing, and Presidential Communications and Special Projects. Its mission is to advance the university's strategic vision through stakeholder and public awareness initiatives and outreach.