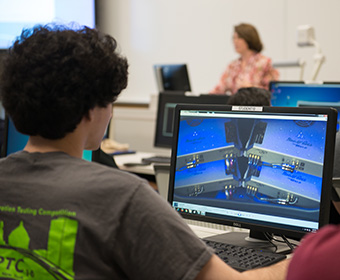 (June 17, 2019) -- In an email sent today to UTSA faculty and staff, President Taylor Eighmy provided updates on the presidential, strategic, tactical and academic initiatives underway to support the university's strategic vision.   
Classroom to Career

The Classroom to Career work group is now mid-process in developing a draft matrix of experiential learning criteria and categories. The draft matrix, which will be discussed more broadly with campus groups this fall, will serve as a foundation for developing curricular, co-curricular and extracurricular options. The matrix will also track progress toward achieving our goal of 75% of UTSA students graduating with some form of experiential learning by 2028. Summer efforts also include community outreach to identify new partnerships that will expand experiential learning opportunities.
Preventing Sexual Assault and Misconduct
The Culture of Respect self-assessment summary results were received in May, and task forces are creating proactive action steps to align with the six key pillars recommended for challenging and removing unwelcome behaviors on campus. Cassandra Parada will begin working as a Student Advocate at the Office of Student Advocacy, Violence Prevention and Empowerment later this month. Student Advocates provide confidential support services for sexual violence survivors and coordinate educational programming in crisis intervention, safety planning and reporting options. Students do not need to report incidents to authorities to receive confidential assistance from the advocate. 

Respectful Discourse

The Steering Team met for the first time and reviewed the committee's charge, scope of work and timeline. The scope of work for the three task forces—Curricular Integration, Co-Curricular Programming and Faculty & Staff Development—was also reviewed. Work tasks include a communications plan, listening tour, environmental scans and self-studies to inform recommendations.

Student Success

The Division of Student Success welcomed Residence Life this month and is excited to announce a pilot program in the upcoming 2019-2020 academic year—Residential Academic Success Peer Coaches—to better serve the unmet needs of students living in residence halls. Student residents report increased need for informal advising regarding life goals, academic progress, on-going time management and life skills development to promote resilience, mindfulness and the management of daily stressors. In this pilot, trained peers will be utilized as academic success coaches and placed in residence halls in order to be accessible in real time and to provide more responsive prevention services when students experience stressors.  
SACSCOC 2020 – Racing to Reaccreditation 

The Racing to Reaccreditation initiative is nearing the final lap to produce UTSA's Compliance Certification Report. All standards have been addressed, and the final pieces of information will be added over the next month. Currently, colleges are reviewing the final version of the Faculty Roster, which lists the qualifications for all instructors of record from 2018-2019. Other final verifications will be taking place over the next few weeks, including reviews by members of the President's Cabinet.

National Security Collaboration Center and School of Data Science

UTSA has embarked on a staff hiring effort for the National Security Collaboration Center (NSCC) to continue building collaborative research and development activities among the NSCC's robust federal and industry partnership ecosystem. Positions will be posted throughout the summer on UTSA Jobs to include the following staff opportunities: NSCC Technical Officer, NSCC Project Manager, Administrative Services Officer and Research Program Coordinator. 

Human Health

An initial framework for establishing a human health-related college at UTSA was announced in May. Over the next two months, efforts will focus on beginning the next steps of deliberative planning with the relevant department chairs and others, submitting a proposal to UT System for formal approval of the new college structure and reaching out to the community to seek input on partnering opportunities.
Expanding Business Education & Career Engagement

Three roundtable sessions with San Antonio business and workforce leaders were held in April and May to gather input on community needs at both the Main and Downtown campuses. Summarized input from these events will be made available soon on the initiative webpage. Over the next month, a newly formed committee will begin the programming process for the new building to serve as a hub for business education and career-engaged learning at the Downtown Campus. This committee will work in parallel to, and cooperatively with, two project teams that will focus on business education and career engagement downtown. Faculty, staff and student input is a key part of this process.
Institute of Texan Cultures

Work continues to align the ITC administratively with the Libraries, including the centralization and integration of budgets and HR processes. The steering committee along with the three original integration teams have been working on collecting data and developing the deliverables outlined in the team charges The steering team is also in the process of creating four new integration teams to focus on communications/web/multimedia, facilities, technology and development. A new faculty position, Director of Academic Research at the ITC, has been created and will be posted soon.