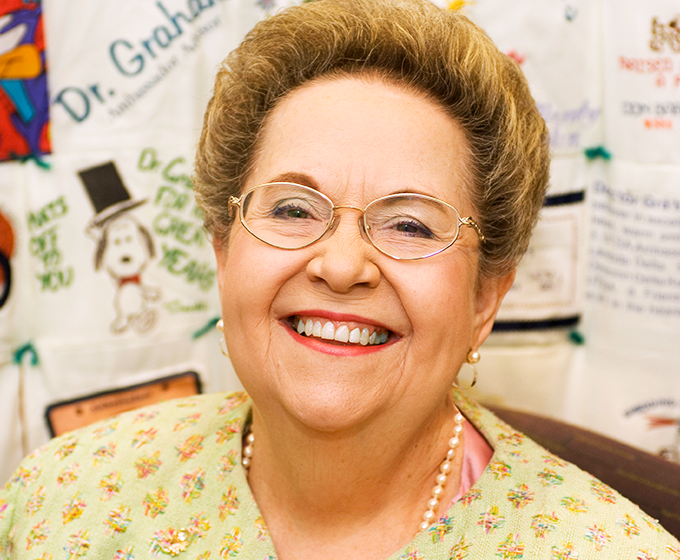 ---
IN MEMORIAM

---
FEBRUARY 18, 2020 — A university icon and founder of the UTSA Ambassadors student leadership group, Pat Graham died Feb. 17. Graham, who retired from the university in 2017 as executive director of the Special Events Center, had worked for 43 years at UTSA. 
When she began working at the university it was still operating out of the Koger Center, which served as a campus from 1973 to 1975. She remembered clearly when everything transitioned to the new campus off of Loop 1604, today's Main Campus. 
"We had to park along UTSA Boulevard, and then they would bus us into campus and drop us off at what is now the McKinney Humanities Building," she told UTSA Today in 2014. "The library was in one of the [athletics] small courts in the PE building, and if you wanted to check out a book, the librarian would send a courier to UT Austin to get the book and bring it back the next day for you." 
The UTSA Ambassadors program is one of Graham's greatest legacies, starting in 1988 and continuing today with a group of 60 or more student leaders. The Ambassadors act as hosts at campus events, university-sponsored conferences and community and alumni functions.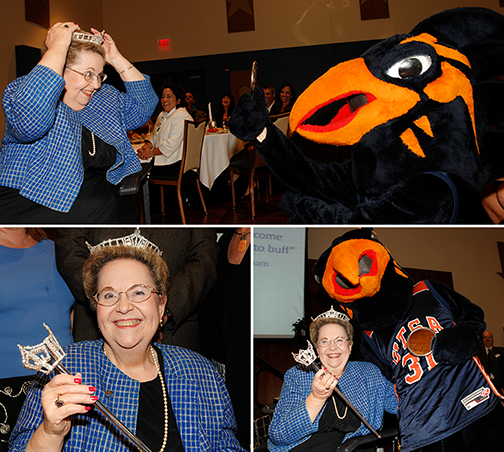 ---
⇐ UTSA holds a retirement party to honor Pat Graham for her 43 years of service to the university.
---
Another of Graham's most distinctive qualities was her ability to see the potential in people and to help them recognize it for themselves, particularly young students. "I believe in the rough diamond theory," she said. "A rough diamond just looks like an old rock. But if you polish it, you'll get a beautiful gem." 
In her decades of service to UTSA she had also worked as the assistant vice president for student services, associate vice president for student affairs and assistant to the vice president for student affairs for planning and special programs. 
Graham was the 2010 recipient of the Council for Advancement and Support of Education's ASAP Outstanding Adviser Award for her work with the UTSA Ambassadors. She was also the 2004 recipient of the Order of the Roadrunner Award, the highest honor a staff member can receive for dedication to the UTSA community. 
---
⇒ Read the Sombrilla Magazine interview with Pat Graham after her retirement from UTSA. 
---
⇒ Gifts in memory of Pat Graham can be made via Launch UTSA for the Dr. Pat Graham Scholarship fund or by mailing a check to UTSA Giving, One UTSA Circle, San Antonio, TX 78249.
---
She was also well-known beyond UTSA, serving as the national president of Alpha Lambda Delta National Honor Society for First-Year Students from 1997 to 2003. She was instrumental in establishing the chapter of Alpha Lambda Delta at UTSA in 1981. Graham served on the National Council of Alpha Chi National College Honor Society for juniors, seniors and graduate students. 
Graham received her bachelor's degrees in business administration and history from Trinity University and her master's degree in guidance and counseling from St. Mary's University. She earned her doctoral degree in curriculum and instruction from The University of Texas at Austin.