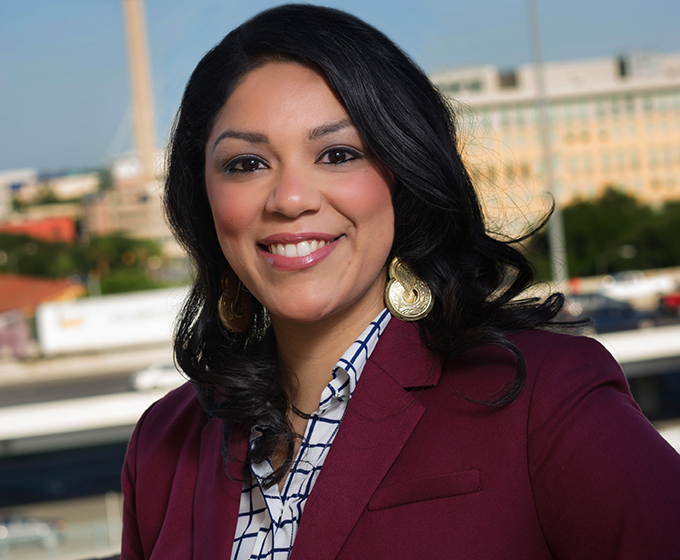 MARCH 10, 2020 — Vanessa A. Sansone, an assistant professor of higher education in the Department of Educational Leadership and Policy Studies at UTSA, has been selected to the 2020 class of leading women in higher education by Diverse: Issues in Higher Education.
The class of 35 women includes professors, deans, presidents and vice presidents at colleges and universities, in addition to leaders of private organizations, who have tackled higher education's toughest challenges. This class was noted for exhibiting extraordinary leadership skills and making a positive difference in their respective communities—qualities that are certainly fitting of Sansone.
"We are delighted to see Dr. Sansone, a tenure-track faculty member, recognized among this distinguished group of women presidents, deans and other university leaders," said Kimberly Andrews Espy, UTSA's provost and senior vice president for academic affairs. "As a first-generation college student, a Latina and a Roadrunner alumna, she is a wonderful representative of the young scholars who are studying and working at UTSA. Dr. Sansone's scholarship on promoting success for diverse student populations in higher education directly supports UTSA and other HSIs in advancing high-quality education outcomes for Hispanic students. We are proud of and grateful for her work, and congratulate her on this honor."
---
"Understanding the rural population—particularly at the intersection of race, place and class—that's where my new work is going."
—VANESSA SANSONE, Assistant Professor of Higher Education
---
---
---
Sansone's research largely focuses on the advancement of educational equity as well as how policy and structures in higher education affect the success of diverse populations—specifically Latinx students, first-generation students, low-income students, student veterans and rural students.
Sansone has been passionate about fighting for marginalized students since witnessing spacial inequity firsthand in her youth. She grew up in poverty on East Side San Antonio, but was offered a sports scholarship by a college preparatory high school on the opposite side of the city. As she made the 45-minute commute to the affluent school each day, she couldn't help but notice the inequalities. There were no potholes in the roads near her school or bars on the windows of the surrounding houses. While college recruiters frequented her school, only military recruiters seemed to be interested in her friends and family, who attended the public school in her neighborhood.
These experiences drove her to not only earn a college degree but influence policy to make higher education more attainable and affordable for those in her community. "These are the things that have shaped me since I was growing up, and it really plays into the research because I'm always looking at it from a critical lens," Sansone said. "I'm always looking at power structures. I'm always looking at it from equity, inequity, opportunity and inopportunity."
Sansone has collaborated with Ohio State University professor Anne-Marie Núñez and University of Pittsburgh professor Gina Garcia on research that explores the efforts of Hispanic Serving Institutions to address the myriad needs of Hispanic students. The research probed topics such as Hispanic underrepresentation in STEM fields and how working outside the classroom influences first-gen Latinx students.
When Sansone teaches master's-level classes about program assessment and evaluation, Hispanic Serving Institutions or college student development theory, she urges her students to examine higher education from a place of social justice. "For too long the field of higher education has operated in these ways of thinking that don't match the populations that we're serving or the communities that we're serving. And I'm really doing my best to push that," Sansone said.
For the past three years she has also been studying geography's effect on postsecondary opportunity. In particular she's investigating how students in rural communities are affected by policies and structures that favor those who live in urban environments. In South and West Texas, for instance, many students who live at least 45 miles away from any city or college campus struggle to simply apply for college because they have limited or no access to wi-fi, public transportation, bilingual aid or several other resources.
"Understanding the rural population—particularly at the intersection of race, place and class—that's where my new work is going," Sansone said. "I'm really excited because it seems to be generating a lot of interest."
Beyond her research Sansone has made considerable efforts to help students in need at UTSA and in Greater San Antonio. She has served as a faculty mentor for undergraduate students in UTSA's First 2 Go & Graduate program in addition to co-creating Colegio en Nuestra Comunidad (College in Our Community), a college fair that was held in a low-income San Antonio neighborhood that was previously overlooked by college recruiters.
To spread the word about the college fair, Sansone spoke with Spanish media outlets, visited local taquerias and worked with fellow organizer Rosemary Salinas to make connections with church communities through the Archdoicese of San Antonio. Faculty and graduate students from UTSA's Department of Educational Leadership and Policy Studies attended, as well as representatives from more than 30 other colleges and universities. About 800 families visited the fair each time it was held. Sansone said the need was greater than she realized, and sometimes those conclusions can only be made through those kinds of hands-on, grassroots endeavors.
"It's this idea that I work with my community. I don't just research my community," Sansone said. "I'm always trying to give back for them."
The feature on the 2020 class of leading women in higher education will be published in the March 19 edition of Diverse: Issues in Higher Education.