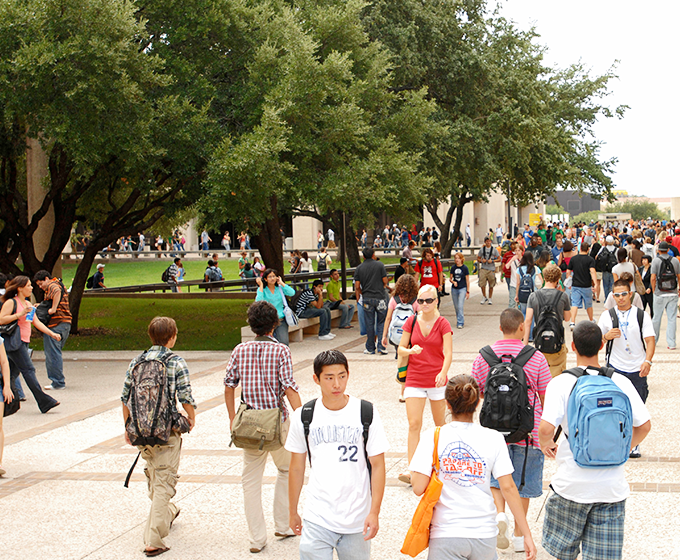 MAY 6, 2020 — UTSA reaffirmed its commitment today to cultivating an environment of zero tolerance for sexual assault and misconduct and to continuing to provide a safe environment for Roadrunners to live, learn and work. The reaffirmation comes at a time when UTSA has several large initiatives underway to strengthen its services for sexual assault survivors and for respondents in sexual misconduct cases.
More than 15 years ago UTSA recognized that intimate and interpersonal violence was a national issue that warranted a proactive and multifaceted approach to ensure the well-being of all students. Since that time it has proactively strengthened its education programs, Title IX outreach and internal investigation processes to support survivors and ensure due process during sexual misconduct investigations.
Today, the U.S. Department of Education issued its Final Rule under Title IX of the Education Amendments of 1972, which prohibits discrimination on the basis of sex in education programs or activities receiving federal financial assistance. The new regulation defines sexual harassment, requires supportive measures for survivors and ensures due process at schools and on college campuses.
---
"Our ultimate goal is to ensure we remain an inclusive campus where all voices are heard and due process rights are protected."
---
---
"UTSA remains committed to ensuring a fair and equitable process that supports and protects everyone in our campus community," said President Taylor Eighmy. "We are carefully reviewing these new regulations and will work to align them with our existing framework. Our ultimate goal is to ensure we remain an inclusive campus where all voices are heard and due process rights are protected."
Today, UTSA is strengthening its sexual assault prevention initiatives through the President's Initiative on Preventing Sexual Assault and Misconduct, which focuses on programming and outreach, training and development, and data governance and reporting to further foster a campus environment free of sexual misconduct. Just a year into the initiative the university is already making tangible progress toward its goals.
"Sexual assault and misconduct are unacceptable, but it is equally unacceptable to be silent on issues of such paramount importance," said Eighmy. "Students, faculty and staff have raised their voices in support of tackling these issues head-on. I believe wholeheartedly in UTSA's ability to serve as a model learning community, where our core values of respect, integrity and inclusivity are evident in everything we do and where every individual has the opportunity to thrive."
Last year UTSA became the first university in the nation to implement the Tracy Rule, which attaches student-athlete eligibility to behavior. The rule, named after sexual assault survivor Brenda Tracy, prevents student-athletes who have engaged in serious misconduct from being eligible for athletically related financial aid, practice or competition.
It also centralized campus conduct reporting in Maxient, a comprehensive database to streamline referrals and information for behavioral issues, including sexual assault and misconduct.
To support survivors of sexual misconduct, UTSA opened the PEACE Center. The UTSA Student Ombudsperson continues to serve as a respondent advocate in compliance with Title IX regulations.
The university also launched a new EOS/Title IX office at its Downtown Campus, published its first Title IX Annual Report for investigations handled by the Equal Opportunity Services/Title IX Office and trained Title IX staff and the hearing officers that adjudicate violations of the UTSA Student Code of Conduct in trauma-informed care.
As a member of the Culture of Respect Collective, UTSA is currently developing action plans that align with the collective's CORE Blueprint, six key proactive pillars focused on challenging and removing unwanted behaviors on campus.
At the same time UTSA has been increasing students' access to mental health services to promote overall well-being.
The university recently added three new staff positions in Counseling and Mental Health Services and expects to add three more once students return to campus. It also added new residential academic peer coaches to lead individual coaching sessions, workshops and residence hall programming and restructured the Division of Student Affairs to create a stronger link between academics and wellness.
Building on this work, Eighmy launched the President's Initiative on Enriching Campus Wellbeing in January 2020. The initiative seeks to foster a culture of physical, emotional and social well-being at UTSA for the benefit of students, faculty and staff and is focusing heavily on mental health at its outset. As part of this initiative, Hodgkins Beckley Consulting, a health care management consulting agency that specializes in higher education, has completed a holistic external review of Student Health Services and Counseling and Mental Health Services.
"Through this initiative, we will model best practices among our peer institutions while also adopting a culturally competent approach that aligns with being a Hispanic-thriving institution," said UTSA Provost and Senior Vice President for Academic Affairs Kimberly Andrews Espy. "With a focus on prevention and early intervention efforts, the initiative will work to provide our students, faculty and staff with the tools they need for increased self-awareness and healthy lifestyle choices."
UTSA has long been a leader in addressing sexual misconduct. It was one of the first Texas universities to incorporate sexual assault reporting and investigations into its Title IX policies. The university began providing education, training and awareness initiatives in 2006 that were aimed at decreasing the prevalence of sexual misconduct and sexual assault on and off campus. Two years later it began a series of proactive climate studies to understand the scope and prevalence of intimate and interpersonal violence among students.
It was also one of the first universities in Texas to implement federal guidelines outlined in the DOE Office of Civil Rights' 2011 "Dear Colleague" letter, which required colleges and universities across the nation to include sexual assault in their Title IX policies and procedures and in 2015 became the first University of Texas System institution to provide online sexual assault education training mandated by Texas HB 699 to incoming freshmen and transfer students.