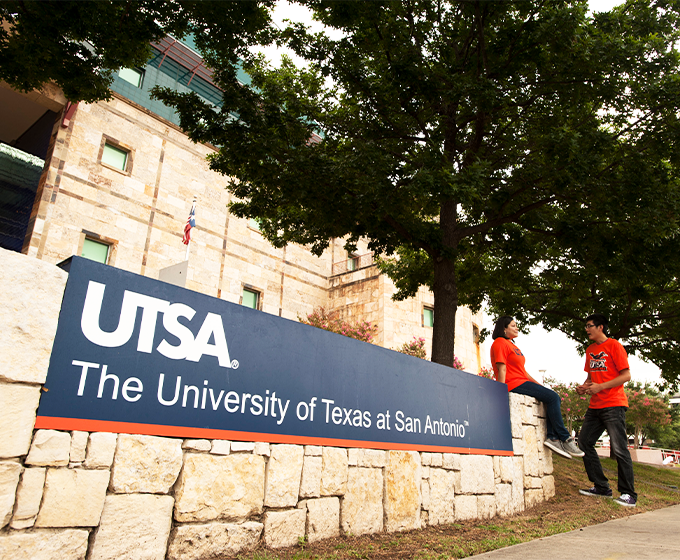 JULY 28, 2020 — Editor's note: The following message was sent via email today from President Taylor Eighmy, Provost and Senior Vice President for Academic Affairs Kimberly Andrews Espy, and Chief Financial Officer and Senior Vice President for Business Affairs Veronica Salazar Mendez to all students and their families, faculty and staff:
We are writing today to provide an update on our plans for the fall semester, knowing that the course of the pandemic—here in San Antonio and beyond—is evolving. As appropriate, our plans may change and we will continue to closely monitor all aspects from a public health perspective.
We know the pandemic has been deeply disruptive to both your work and personal life, and we sincerely hope that you and your loved ones are staying safe and healthy. We trust that the new academic year—different though it will be—will provide many opportunities to further your goals.
We had over 7,300 members of our community attend or view recordings of our Roadrunner Return town halls held over the past few weeks, and our thanks go to all who participated in the conversations. The additional details below regarding our fall semester plans build on our commitment to your health and well-being while providing flexible and accessible options for you and for our students. Please see our Roadrunner Return website for an updated, comprehensive description of our fall plans. 
Work Modality Update
For the past month campus leaders worked to evaluate the best ways to provide UTSA's core services as we anticipate the increased activity that comes with the start of a new academic year. Initially we planned to share information today regarding work modality options for UTSA staff. While important steps have been taken to review our services and workforce, we are taking additional time to finalize our planning so supervisors can present employees with a more complete picture of work modalities for the fall semester.
Because this planning will take a little more time, all telecommuting agreements that were set to expire on July 31 will automatically be extended to August 14. No new agreements are required for this extension.
By August 14, UTSA staff can expect to hear from their supervisors regarding work modality options for their position as we continue to determine the services that will be available on campus and virtually this fall. 
Travel Policy Update
University-sponsored domestic and international travel restrictions have been extended through October 31, 2020. 
Course Schedule 
The fall schedule of classes is nearly complete and on track to be finalized by July 31 to reflect the updated modes of instruction in line with our hybrid operational model. As expected, 95% of organized classes will be fully online. One Stop's class modality resource page is an excellent guide to explaining the difference between the three online modalities: asynchronous, synchronous and online hybrid.
Students should follow the regular registration process if they need to make changes to their schedule. They do not need to take any special action if they wish to take all of their classes online. As their courses are updated in ASAP, they will automatically reflect the designated mode of instruction. For classes listed as face-to-face, faculty will also offer virtual options for students who prefer to complete their coursework remotely. Registration questions should be directed to onestop@utsa.edu while questions about the availability of specific courses may be directed to each college or academic department. 
Update on Campus Services 
Employees will be required to purchase parking permits for use when working on campus. To accommodate a larger telecommuting workforce and the employees who will return to campus this fall, a variety of parking options are available, including several permit-free student commuter parking areas, parking permits at the standard rates, hourly parking and more.
At this time, we are planning for the Campus Rec and Student Union buildings to be open with modified services and operations. In addition to the programming available in these facilities, both will continue to offer a robust slate of virtual options. The Roadrunner Pantry will continue to be open weekdays through the fall semester to serve the UTSA community by providing essential food and nonfood items at no cost.
Due to a reduced on-campus student population, we will not offer campus transportation services this fall. While The 'Runner shuttles will be unavailable, all students, faculty and staff have access to free transportation throughout San Antonio using the VIA U-Pass program, which includes convenient transportation between Main Campus and Downtown Campus.
We will continue to offer students comprehensive support services and resources this fall. The vast majority of service-based campus offices converted their services to virtual formats this spring and summer, and have used the past several weeks to further develop their virtual offerings for the fall. Just like this summer, most campus offices will be available virtually and some will also offer in-person services on-campus.
To support online learning and our robust virtual services, we will provide enhanced WiFi in designated areas on campus where social distancing can be easily maintained. These areas include Sombrilla Plaza, the Paseo Principal outside the Student Union and a portion of the Barshop parking lot. Enhanced WiFi services are expected to launch in the coming weeks, with more information to be provided by University Technology Solutions. As a reminder, the UTSA Libraries will also be open with modified hours and operations under social distancing requirements.
Fall Fee Adjustments 
We understand that this fall will be different from a typical semester. Following the decision to suspend campus transportation services, as well as a thorough evaluation of our mandatory fees and available services, we have amended our fall 2020 semester fees for our students, waiving the transportation fee and international education fee. Other fees, such as those for the Student Union and Campus Rec, will be charged as planned. 
Updates from the Public Health Task Force 
The Roadrunner Return Compliance Training module—which will be required for all faculty, staff and students—is nearing completion and will be launched early next month. Likewise, our COVID-19 Health Self-Assessment Tool is being piloted and will be made available to the campus community in early August via the LiveSafe app, Roadrunner Return website and UTSA mobile site. Watch your inbox for announcements.
Our current situation remains fluid. As circumstances evolve, the Public Health Task Force will continue to provide updates to the Roadrunner community. Their next report will offer further guidance on adherence to safety measures, proper mask wearing, symptom reporting and testing. Soon after the report is released, the task force will hold a town hall as another opportunity for community dialogue and questions.
All in all, it will be a semester of new discoveries and adjustments, opening many doors of opportunity to continue toward our goals in innovative ways. We will not allow the pandemic to detract us from providing our students with a world-class education or pursuing groundbreaking research that will change our world for the better. Thank you for your patience and for your loyalty to UTSA throughout this journey.