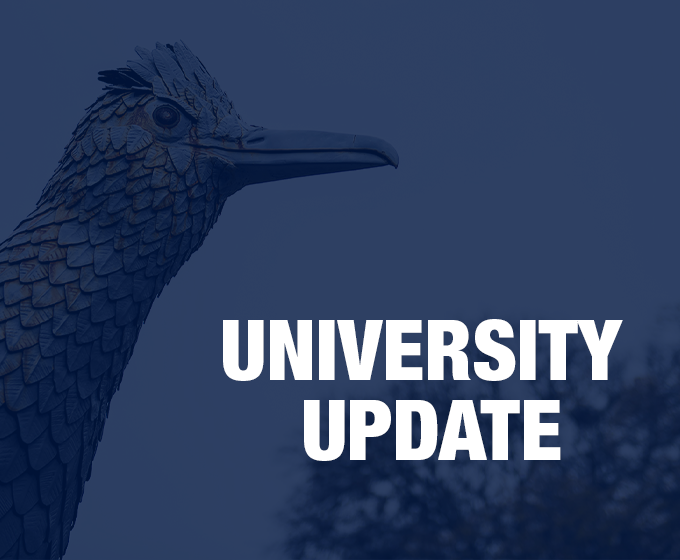 AUGUST 7, 2020 — UTSA is committed to supporting the university community during remote learning and operations. Here is your latest digest of university news and tips.
---
SO LONG, SUMMER!
OK, so we aren't expecting chilly nights and our local flora to be turning stunning shades of color any time soon, but today is the final day of the summer session at UTSA. And that means the fall semester isn't far off—17 days away, to be exact. So let your mind wander to the new academic year and the time, as legend holds, of change, preservation, comfort and letting go as well as lots of orange—like UTSA orange and that one thing none of us can get away from during autumn: pumpkin-spice everything.
---
---
COMMUNITY NEWS

---
SEND A SHOUT-OUT: The monthly Staff Appreciation Award nominations are open for faculty, administrators, students, alumni and other staff members to nominate an individual—or a team—who deserves recognition. Pick a worthy fellow Roadrunner and submit a nomination form.
---
PROTECTIVE EQUIPMENT UPDATE: Following guidance of the Public Health Task Force and the Recovery Operations Committee, criteria has been established for assessing campus spaces to determine whether a plastic barrier is warranted to help prevent the spread of the coronavirus. UTSA Facilities is continuing to review requests in the order they are received. Learn more on the Protective Barrier Request Process page.
---
WORK-FROM-HOME EXTENDED: Staff telecommuting agreements have been extended to August 14 to finalize return-to-work modalities and flexible workplace policies and to ensure everyone stays healthy while continuing to support the university. Supervisors will notify team members of work modality options by August 14. Additionally, explore the fall semester calendar.
---
---
VIRTUAL EVENTS

---
EXPAND YOUR AWARENESS: Strive for greater equity and social justice at UTSA and join the university's Microaggression Awareness Campaign by attending a virtual workshop that will help you understand how bias influences thoughts, actions and behaviors. Register today for Understanding and Challenging Microagressions (search keyword microaggressions) today or on one of these other upcoming dates: September 23, October 22, November 13 or December 16.
---
INNOVATE FOR FALL: Academic Innovation offers more webinars, including its Summer Digital Teaching Forum Series, to make your fall semester successful.
---
---
ONLINE LEARNING & TELECOMMUTING

---
BEING ACCESSIBLE: Academic Innovation is making it easy to get digital accessibility questions about courses answered with Digital Accessibility virtual office hours via Zoom. Drop in today and any Friday between 11 a.m. and noon. Of course, you can also still to email DigitalAccessibility@utsa.edu.
---
STAY CONNECTED, 'RUNNERS: You don't have to feel alone while working from home. Join a social gathering, take a stretch break or learn a skill with the daily slate of options from Rowdy New U. Coming up early next week: Yoga! Tuesday, August 11 at noon via Zoom.
---
ADIOS, SKYPE FOR BUSINESS: In anticipation of Microsoft retiring Skype for Business, University Technology Solutions will retire this tool for UTSA by August 14. If you already have plans to host calls or meetings using Skype for Business in the 2020–2021 academic year, you'll need to make arrangements to shift those to MS Teams or Webex Meetings. For questions or assistance, contact Tech Café by calling 210-458-5555 or emailing techcafe@utsa.edu.
---
---
---
---
HEALTH

---
BE SUMMER FIT: Campus Rec has virtual group exercise classes every week for early risers and night owls. From Zumba to Buti yoga to boot camp, there's a class that's just right for you. Check out the full list of classes, streamed via Zoom, offered by Stay Well with Campus Rec.
---
SOLUTIONS FOR YOU: All UTSA employees, retirees, spouses and dependents age 18 and over who are covered by the UT SELECT Medical Plan are eligible to participate in UT System's Living Well Webinars. With Livongo learn more about diabetes and hypertension management. Today at noon via Webex.
---
PHYSICIAN VIRTUAL ACCESS: Employees and family with UT SELECT Blue Cross Blue Shield of Texas can access MDLIVE with no copayment. Have a live consultation with a doctor 24/7 via video, mobile app or phone. Even if you are not sick, activate your account now so that you can skip that step when you are actually sick and need to see a doctor quickly. Learn about how to use the service on our Human Resources page, with this MDLIVE explainer video or this instructional flier.
---
REACH OUT: Whenever you need to speak with someone about stress or other problems, assistance is just a phone call away. Provided through Deer Oaks, employee can reach out for counseling and mental health services at 888-365-6271.
---
'RUNNERS CARE: Remember that Roadrunners are always ready to show that they care. The multidisciplinary Behavioral Intervention Team responds to reports of distressed and concerning behavior from students, faculty and staff. UTSA's Behavioral Concerns Assistance page has more info and will allow you to submit a report online. Both the EOS/Title IX Office and Student Conduct and Community Standards are available for consultation if you have questions or concerns prior to submitting a report. To reach SCCS during remote operations, email them at SCCS@utsa.edu.