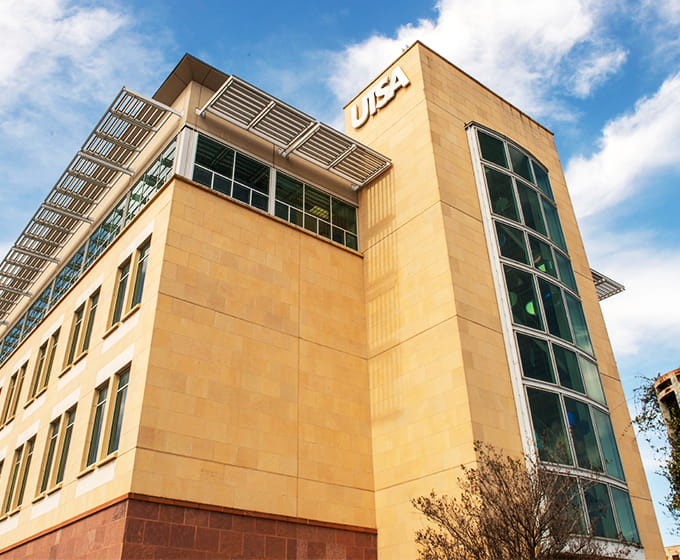 SEPTEMBER 23, 2020 — Editor's note: The following message was sent today via email from Provost and Senior Vice President for Academic Affairs Kimberly Andrews Espy to all faculty, staff and students:
2020 has been a unique time of reckoning for our country—particularly so for institutions of higher education—where the racial justice protests following the killing of George Floyd and the public health disparities highlighted by the COVID-19 pandemic are prompting deeper examination of social, economic and health inequities. UTSA was founded on the fervent belief that San Antonians deserve access to high-quality education and opportunities, and with the specific intent to advance educational attainment for Hispanic students and students from other underserved populations.
Today, I am proud to announce the launch of UTSA's Equity Advocacy Initiative, a comprehensive university effort by faculty, students, and staff to coordinate the deliberate and focused planning needed to fulfill that promise and to create truly inclusive learning environments where our students and all members of the UTSA community can engage and thrive. These ideals have long been woven through our university's mission and core values, and the beginnings of this initiative date back more than a year ago to the launch of the 21st Century Learning Environments Task Group in the spring 2019 semester. That task group was charged to consider what is needed to create a learning environment that encourages critical thinking, communication, collaboration, and creativity, and, most critically, acknowledges the social and cultural changes that have occurred from the 20th to 21st century and the readiness of faculty and students to negotiate adapting to these changes.
Through the Equity Advocacy Initiative, the university will develop an overarching framework for implementing the recommendations put forth by the task group and connecting their work to that of the tactical teams for Enabling Clear Pathways to Degree Completion and Increasing Inclusive Access to Higher Education in Our Communities. Collectively, this work will further define the Roadrunner student experience in and out of the classroom with an intentional grounding in diversity, inclusion and equity.
Efforts related to the initiative will be broad and highly collaborative; some are designed to support specific student populations, whereas others serve to educate and equip the larger Roadrunner community with the knowledge to enact change. Numerous activities across Academic Affairs already are underway:
Implementing recommendations from the 21st Century Learning Environments Task Group, including improving teaching support to infuse inclusive and asset-based teaching strategies into coursework.


Convening the Enabling Clear Pathways to Degree Completion Tactical Team to address opportunities to increase connections in core curriculum, streamline degree pathways, and enhance and expand our mix of academic programs.


Convening the Increasing Inclusive Access to Higher Education in Our Communities Tactical Team to expand access to higher education through improved pipelines to UTSA.


Expanding UTSA's Bold Promise program, which currently covers 100% of tuition and fees for eligible UTSA first-time undergraduate students, to include eligible transfer students from Alamo College District schools who completed their Promise program.


Developing an innovative Common First-Year Experience that includes programming designed to create community, common coursework, campus engagement, digital fluency, well-being, and living and learning online. The program will develop a common language around existing resources, develop new traditions and provide an opportunity for students to contribute and give a voice to global discussions and expression of their personal identities Students will engage in "Questions that Matter" through coursework and co-curricular activities that will create a digital archive of Roadrunner experiences.


Further refining department chair and faculty search processes to ensure inclusive and diverse recruitment practices, including increasing existing diversity requirements both for the search committee and candidate pools, and requiring training for all search committee members on what implicit bias is, how it influences searches, and strategies to reduce implicit bias in searches to achieve talented and diverse candidate pools.


Redesigning the work-study program to expand the number of work-study positions available to UTSA students, in alignment with goals of the Classroom to Career Initiative and recognizing that students who work on campus persist in their education and graduate at nearly twice the rate of those who work off campus.


Recruiting and hiring three endowed chairs through our "connected" hiring strategy in our Strategic Hiring Initiative to increase our diverse faculty leaders who positively impact national grand challenges and serve as exemplars for broadening the participation of those who are historically underrepresented. These new tenured, distinguished professor positions in multiple colleges will deepen and broaden UTSA's capacity in impact-focused research and education that promotes student success, research excellence, community health and well-being to advance our role as an HSI Research University nationally.


Launching the Provost's Diversity Post-Doctoral Fellows Program, a new program within UTSA's Strategic Hiring Initiative designed to further advance UTSA's goals for Inclusive Excellence, based on the successful pilot last year. This post-doctoral fellowship program seeks to identify, advance, and nurture the work of outstanding, diverse early career post-doctoral scholars, with the goal to prepare participants for faculty positions at UTSA (or elsewhere), particularly in fields where there are fewer members of underrepresented groups. This year's program is open to candidates with doctoral degrees in health-related fields, where the post-doctoral experience at UTSA is oriented to the development of AI and/or other data science research skills and online pedagogy competencies.
Additionally, in support of the initiative, UTSA's academic divisions and colleges are developing plans to create new and enhance existing programs to advance diversity, equity, inclusion and justice; undoubtedly, many new projects will be introduced through the initiative as our work progresses. Our intention is for this work to permeate the academic experience at UTSA—in ways large and small—to advance our destination as a model for student success. At the same time, we recognize that faculty and staff, too, can benefit from this initiative, and there will be multiple opportunities for all of us in the Roadrunner community to engage and contribute to this effort.
We know that higher education serves a particularly critical role in American society by simultaneously advancing the social mobility of individuals and promoting stability and prosperity of our communities. In times such as these, I would venture that UTSA has a special opportunity in this regard because of our home in the culturally and historically rich city of San Antonio, which has a long heritage of social activism and impact. I invite you to learn more about the initiative, including the recommendations of the 21st Century Learning Environments Task Group and the charges that have been set forth for the aforementioned tactical teams, and to get involved. As always, I welcome your feedback at provost@utsa.edu.