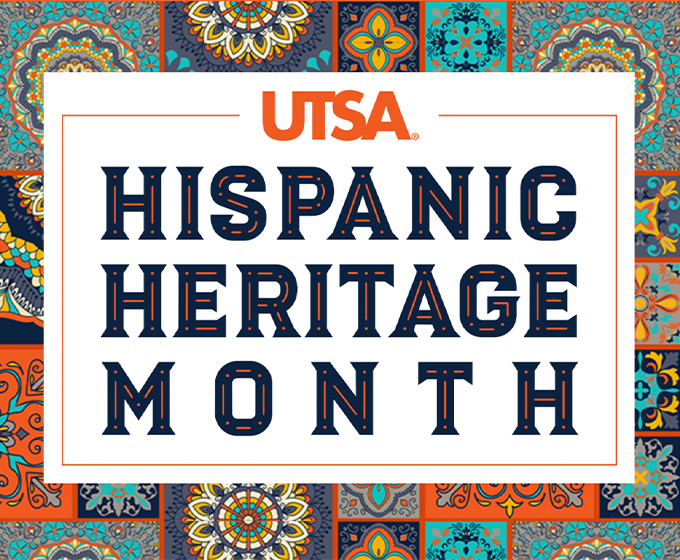 SEPTEMBER 21, 2020 — This week UTSA continues its slate of events in observation of National Hispanic Heritage Month. From the history and contributions of the Hispanic community to their strength and resiliency, the Hispanic community is being recognized.
UTSA, along with the rest of the country, is joining the heritage month observations through October 15 with a series of events surrounding the university's theme, "Voces de Resistencia / Visions of Resilience."
This year's events will showcase the stories of and perseverance of the Hispanic community, while also inspiring Roadrunners to face adversity with their own strength.
Since the university's inception, UTSA has always embraced its Hispanic serving identity. Ranked third in Texas for Hispanic student enrollment, UTSA has a student body that 57% of whom identify as Hispanic or Latino. Most recently, Excelencia in Education, an organization geared toward accelerating Latino student success in higher education, ranked UTSA third out of the top 5 institutions in Texas for awarding bachelor's degrees to Latino students.
---
---

This Week's Events Focus: Indigenous People 


Latinos in Journalism
Monday, September 21 at 4 p.m. via Zoom and YouTube
Part of the University Relations Speakers Series, this is a national perspective on journalism as well as local perspective of how Hispanics are succeeding in the field. Panelists, including Nora Lopez, SAAHJ; John Quiñones, Sylvia Foster-Frau, Maria Ardona, and Ray Suarez, will offer professional perspectives for current students.
The Latino Vote 2020
Tuesday, September 22 at 2 p.m. via Zoom and YouTube
Part of the University Relations Speakers Series, this panel will include Domingo Garcia, LULAC's national president; Juan Andrade, president of the U.S. Hispanic Leadership Institute; and Elaine Ayala, columnist for the San Antonio Express-News.
Racial Justice Book Club
Wednesday, September 23 at 2 p.m. via Zoom
In observance of Hispanic Heritage Month the club will explore issues of Hispanic identity, diversity, equity, student success and social justice. The club will be reading Redeeming La Raza: Transborder Modernity, Race, Respectability and Rights by UTSA professor Gabriela González. The weekly sessions will include guest speakers and virtual discussions.
Resistance and Resilience: Lessons from the Chicano Movement of the '60s and '70s
Wednesday, September 23 at 7 p.m. via Zoom and YouTube
This panel discussion will explore the history of the Chicano movement, including its history, politics, leadership, ideology, strategies and tactics. The three surviving founding members of Mexican American Youth Organization—José Ángel Gutiérrez, Mario Compean and Mario Ignacio Pérez—will participate on the panel. 
Virtual National Latinas in Leadership Breakfast: The Rise, Power and Influence of Latina Leaders
Thursday, September 24 at 7:30 a.m. via Zoom
UTSA faculty and staff will participate in this virtual breakfast event. 
Spirit of La Causa
Thursday, September 24 at noon via YouTube
Ernest Martinez, chair of the César E. Chávez Legacy and Educational Foundation, will share stories of La Causa in San Antonio and how the social justice movement shaped his commitment to continue to the work of his father, Jaime P. Martinez; César E. Chávez; and Dolores Huerta.