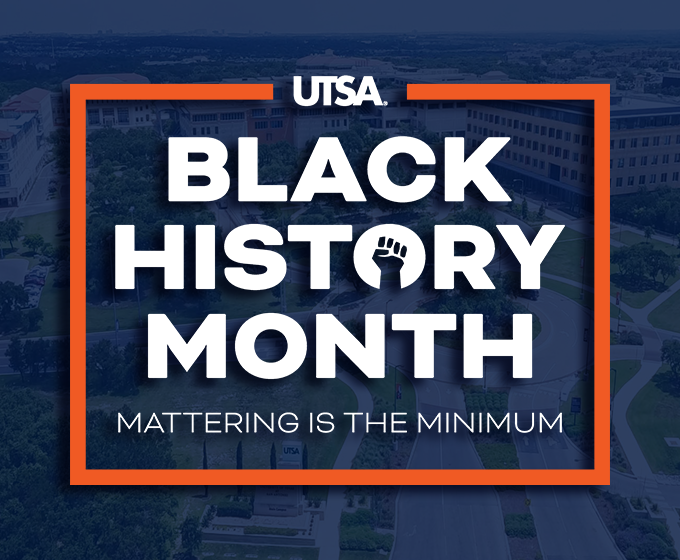 FEBRUARY 1, 2021 — From keynote speaker presentations, the Racial Justice Book Club and Bokwa dance sessions, UTSA is celebrating the history, lives and culture of the African American community through a series of events for Black History Month.
"UTSA is excited to celebrate the lives and accomplishments of many African Americans that unfortunately go overlooked at times," said Traci Guinn Buckley, assistant vice president for UTSA Inclusive Excellence. "The committee has come together to offer unique programs, events, and keynote speakers that we hope our campus and community will enjoy. This month-long celebration will do and provide a number of things, but most importantly, it will recognize that Black history is our history."
---
"UTSA is committed to uplifting and advocating for racial justice."
---
---
Throughout the month of February, the Roadrunner community is invited to participate in the planned activities to commemorate the African American people, places and events that have paved the way for racial equality.
"UTSA is committed to uplifting and advocating for racial justice, and our Black History Month event calendar reflects the institution's value of supporting Black lives and history," said Brandi Scott, director for the UTSA Multicultural Student Center for Equity and Justice.
The following Black History Month events will all be held virtually via Zoom.
Racial Justice Book Club: Black History Month Discussion Series
Wednesday, February 3, 2 p.m.
Ann Margaret Trujillo, associate director of the Multicultural Student Center for Equity and Justice, and Ammi Bui, humanities librarian for UTSA Libraries, are hosting a series of discussions with the Racial Justice Book Club for the month of February. Come join the Racial Justice Book Club to discuss topics relevant to Black History Month and the "Book of the Month" pick.
African American Women Through the Years
Thursday, February 4, noon
Belle Wheelan, the first woman and African American to serve as president of the Southern Association of Colleges and Schools Commission on Colleges, will discuss life for African American woman throughout the years.
Black Hair in Corporate America
Tuesday, February 9, 3:30 p.m.
In recent years, many Black people have fully embraced the texture of their kinks and curls — and the multi-step regimens that come along with caring for their hair. Though, for many of us, the subject remains a point of contention. Black hair has a long history of being politicized and stigmatized in the workplace for men as well as women. Join Sheronda Lacy, assurance senior manager for Ernst and Young, for a real and honest dialogue, sharing stories and celebrating black hair in corporate America.
Nevil Shed: Road to Glory
Tuesday, February 9, 7 p.m.
Nevil Shed will join us to discuss his journey including experience as starting center for the 1966 Texas Western National Championship Team. The team made history by defeating Kentucky to win the national championship during the height of the civil rights era becoming the first team to win with an all black starting lineup. The cultural impact was significant with the win helping promote the desegragation of athletics in southern colleges. The team was inducted into the Naismith Memorial Basketball Hall of Fame in 2007 and inspired the book and film, 'Glory Road'. The team was recently inducted into the National Collegiate Basketball Hall of Fame.
Black Experiences in Sport
Thursday, February 11, 2 p.m.
This panel discussion will feature former students, scholars, entrepreneurs, and administrators who can speak to the diverse historical, contemporary, and global experiences of Black athletes. The panel of speakers will include Langston Clark, an associate professor in UTSA's Department of Kinesiology who studies the intersection of athletics, race and education; Ajhanai Newton-Anderson, sport marketing instructor at the University of Connecticut; Javier Wallace, a Ph.D. candidate at the University of Texas at Austin researching the transnationalism of athletes; and Darnell Smith, the inaugural director of intercollegiate athletics and recreational sports at Texas A&M University-San Antonio.
Voicing Afro-Latinx Histories & Identities
Friday, February 12, noon
UTSA professors Marc Perry, Mario Salas, and Marco Cervantes will join Andrea Queeley of Florida International University and Raniah Jeanlys for a conversation about the awareness of Afro-Latinx experiences in higher education, pop culture, and advocacy.
Bokwa
Monday, February 15 and Friday, February 19, 1 p.m.
Bokwa is a cardio infused blend of boxing ("bo") and kwaito ("kwa") that taps into hip-hop, house, reggae, and melodic rhythms and dance. Bokwa participants draw letters such as the L, I, J, K, and dozens of other steps with their feet while performing an energizing and addictive cardio workout routine. It's an excellent choice for beginners.
Afrobeats
Wednesday, February 17 and Thursday, February 18, 7 p.m.
Afrobeats is a music genre that blends jazz, soul, funk, and in more recent tracks, electronic music. Influenced by heavily percussive instruments, vocals, house music, and funk, participants will use moves and routines inspired by popular Afro club music hits and dances. Afrobeats blends high energy steps, hip movements, and strong core-based moves. Join us as we move and de-stress to Afrobeat music.
Freedom Is a Constant Struggle Featuring Angela Davis
Tuesday, February 23, 6 p.m.
Outspoken political leader, activist, professor, renowned author, and cultural icon, Dr. Angela Davis is scheduled to talk to the UTSA community, as part of Black History Month. This event will be virtual and the link will be made available in RowdyLink.
Corporate and Culture: Black Wall Street
Wednesday, February 24, 3 p.m.
Wall Street was once "Black"! Learn about its destruction and what it did to set back the economic prosperity of Blacks both as workers and entrepreneurs. Hear from two Balck entrepreneurs who are paving the way for the next generation of Black Wall Street.
BSU Presents: Black Girls Rock
Thursday, February 25, noon
The Black Student Union of UTSA presents a panel discussion on Black women in history and the impact of prominent Black women in the Roadrunner community. The panel will feature UTSA physics professor Kelly Nash, 3M director of operational excellence Yolanda Williams, UTSA alumna and Black Freedom Factory president Kimiya Factory '19, and UTSA student Jasmine Taylor.