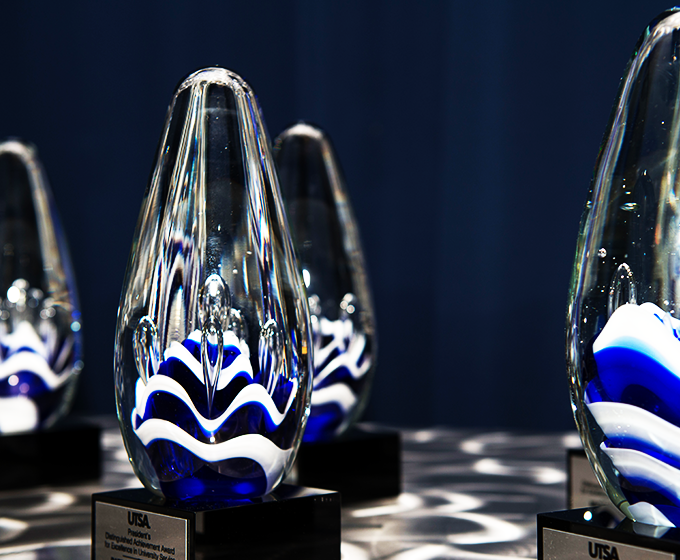 APRIL 6, 2021 — UTSA is proud to announce this year's University Excellence Awards ceremony details and award nominees.
The awards program celebrates the achievements of Roadrunner faculty and staff, ranging from exceptional teaching and innovative research to exemplary team spirit and impactful advocacy. The university received a record number of nominations this year—a testament to the outstanding work on the part of so many faculty and staff during a year of extraordinary circumstances.
The awards ceremony livestream will take place on Tuesday, April 20 at 4 p.m. and will feature   President Taylor Eighmy, Provost and Senior Vice President for Academic Affairs Kimberly Andrews Espy, Vice President for Inclusive Excellence Myron Anderson, and Chief Financial Officer and Senior Vice President for Business Affairs Veronica Salazar Mendez.
The Roadrunner community can access the livestream online and is invited to cheer on the award winners through the YouTube chat feature. The livestreamed ceremony will be recorded and available for viewing after the event.
UTSA's University Excellence Awards encompass three categories: 
President's Distinguished Faculty Achievement Awards
President's Distinguished Diversity Awards
University Excellence Staff Awards
In addition to revealing the award winners, the ceremony will acknowledge those faculty and staff celebrating milestone years of service to UTSA in both 2020 and 2021. Years of Service honorees will receive an email invitation to attend a drive-through event on Main Campus to pick up their commemorative pins and certificates, scheduled for April 14 from 11 a.m. to 2 p.m. along UTSA Circle, adjacent to the Main Building and Bauerle Road Garage. A recap video of the pickup event will be broadcast during the UEA ceremony.
Here are nominees in each category:
---
---
PRESIDENT'S DISTINGUISHED FACULTY AWARDS
---
---
HOWE TEACHING AWARD
Hector Aguilar
Jennifer Beavers
Chris Booker

Chantal Fahmy
Daryl Ohlenbusch
Sarah Ullevig
---
TEACHING EXCELLENCE AWARD
Yongcan Cao
Victoria Dougherty
Curtis Fish
Kimberly Fonzo
Patrick Gallagher
Matthew Gibson
Alexis Godet
Eddie Hernandez
Matthias Hofferberth
Autumn James
Patricia Jaramillo
Janet Jordan Vote
Donald Lien

Terri Matiella
Ryan McPherson
Priscilla Rose Prasath
Arkajyoti Roy
Heywood Sanders
Corey Sparks
John Drew Stephen
Alicia Swan
Alexander Testa
Jelena Todic
Erica Wallace
Wei Wang
Xiaolu Zhang
---
CORE CURRICULUM AWARD
Gina Amatangelo
Jessica Beckham
Favor Campbell
Michael L Cepek
Joanne Ford-Robertson

Mariah Hopkins
Deborah Moon Wagner
Miranda Richmond
Shelley Roff
Rebecca Schroeder
---
UNIVERSITY SERVICE AWARD
Gina Amatangelo
Keegan Gold
Wei-Ming Lin
Rita Mitra
Sakiko Oyama

Debra Peña
Jennifer Smith
Johnelle Sparks
Ram Tripathi
---
ADVANCING GLOBALIZATION AWARD
David Akopian
Rebecca Bria
Frank Chen
Roger Enriquez

John Murphy
Bonita Sharma
Katelyn Sileo
Xiaohe Xu
---
INNOVATION & IMPACT AWARD
Andria Crosson (and team)
Kellie Lynch (and team)
Stanton McHardy (and team)

Leslie Neely (and team)
Lloyd Potter (and team)
Gwen Young (and team)
---
COMMUNITY ENGAGEMENT AWARD
Patrick Benavidez
Michael Cepek
Langston Clark
Megan Hayes Piel

Meizi He
Rogelio Sáenz
Liset Vasquez
---
RESEARCH ACHIEVEMENT AWARD
Megan Augustyn
Nikolaos Gatsis
John P. Bartkowski
Elias Bou-Harb
Fernando Campos
Eunhee Chung
Greg Griffi
Megan Hayes Piel
Jeffrey Howard
Murtuza Jadliwala
Vikram Kapoor

Oleg Larionov
Sandra Morissette
Isabel Muzzio
Rogelio Sáenz
Elizabeth Sooby
Ahmad Taha
Serife Tekin
Alexander Testa
Zijun Wang
Wenbo Wu
---
MENTORING AWARD
David Akopian
Candace Christensen
Kathryn Jill Fleuriet
John Quarles

Maho Sonmez
Alexander Testa
Jelena Todic
Charles Wilson
---
PERFORMANCE, CREATIVE, PRODUCTION AWARD
Buster Graybill
Sarah Lasley
---
---
PRESIDENT'S DISTINGUISHED DIVERSITY AWARDS
---
---
FACULTY AND STAFF
COEHD Office of Professional Preparation and Partnerships
Charles David
Democratizing Racial Justice Project
Danielle Gawronski and Erica Clark
Kalia Glover
Destiney Jones
Gerald Lewis

Microagressions Awareness Committee
PRIDE Faculty and Staff Association
La Raza Faculty and Administrators Association
Lilliana P. Saldaña
Sherri Simmons-Horton
UTSA Racial Justice Book Club
VPDAR Inclusive Excellence Champions
---
STUDENTS
Black Student Union
G-Force Mentors
Alpha Martinez-Suarez
Suyapa Muñoz

Priscilla Okolie
Rowdy Chess Club
Rey Villanueva
---
---
UNIVERSITY EXCELLENCE STAFF AWARDS
---
---
RICHARD S. HOWE SERVICE TO UNDERGRADUATE STUDENTS AWARD
Miltos Alamaniotis
Ephrem Fernandez
Ryan Filo
Rosa Garza-Girdy

Melissa Hernandez
Johnelle Sparks
Gail Taylor
UTSA Video Production Group
---
LEADERSHIP AWARD
Leonardo Amaro
Louis Badillo Jr.
Lauren Beaver
Daniel Bellamy
Karen Daas
Gregory Elliott
Leticia Garcia
Kelly Garza

Regina Gomez
Alejandra Gonzalez
Nikki Lee
Daniel Ramirez
Luisa Ramirez
Barbara Smith
April Valdez
Sandra Vasquez-Kayruz
---
RISING STAR AWARD
April Flores
Melissa Garcez
Bailey Gosline
Jaime Guzman
Marie Kuehler
William Lansdon
Sharon Martinez

RaLynn McGuire
Ty Middleton
Mariah Neumeyer
Melissa Ramirez
Tyler Renard
Sara Tate
---
EXTRA MILE AWARD
Georgina Anguiano Elliott
Claudia Arcolin
Andrea Brown
Sandra Cardona
Ashley Castillo
Laurie De La Paz-Noriega
Jolyn Demarest
Amy Fritz
Leticia Garcia
Sandy Givens
Patrick Grant
Pamela Jones
Wendy Kim
Nikki Lee
Agustin Llano
Jennifer Martinez
Karen Metz

Cheryl Negrete
Janie Paschal
Shashi Pinheiro
Luis Plascencia
Daniel Ramirez
Elizabeth Raymond
Cristina Rodriguez
Georgina Rodriguez Martinez
Michael Rushforth
Lorelei Salazar
Lorrie Smith
Beth Smothers
Kaye Steinhour
Daniel Wherritt
Frederick Wiedner
Naomy Ybarra
---
TEAM SPIRIT AWARD
Black Faculty and Staff Association
Clinical Teaching Candidate Team
College of Business Graduate Advisers
Continuous Improvement and Accreditation Team
Counseling and Mental Health
COVID-19 Recovery Operations Team
Donor Relations
Robin Davis
ELPS Admin Staff
Facilities and Student Union
Facilities Emergency Response Team
$5M Team
Freshman and International Recruitment

Global Initiatives
Inventory Department
Music Department Administrative Staff
ODL/LT/TLS
Office of Field Education
People Excellence Talent Acquisition Team
People Excellence Talent Management Team
PREP Program
Spanish & English Strategic Enrollment Collaboration Team
Student Success and Athletics Collaboration Team
Student Union Team
Undergraduate Recruitment
Veteran Certification Team
---
ORDER OF THE ROADRUNNER
Antonio De La Cruz
Laura Gilliland
Matt Keneson

Amy Manning Thompson
Minako Shibazaki
Kyle Stephens
---