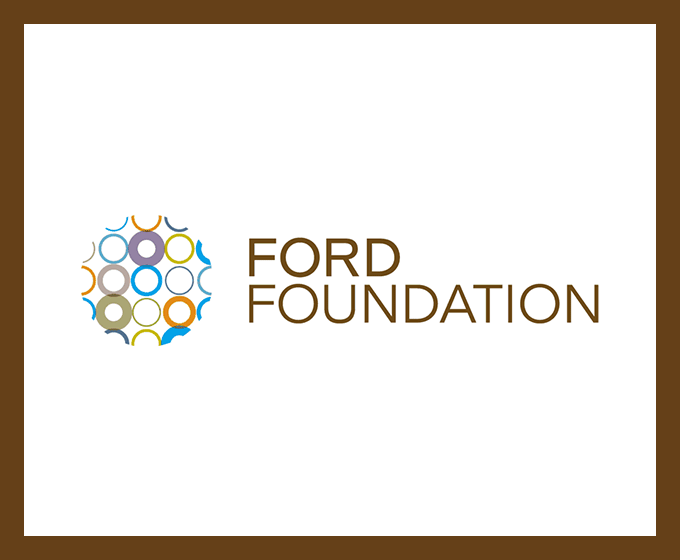 MAY 28, 2021 — UTSA students Favour Obuseh (biomedical engineering) and Kaitlyn Varela (chemistry) were recognized this April as Ford Foundation Predoctoral Fellows out of approximately 70 students nationwide. Daisy Paredes (anthropology) received an honorable mention, which is bestowed upon an additional 70 students each year. 
Run through the National Academies of Sciences, Engineering, and Medicine, the Ford Foundation Predoctoral Fellowship is an extremely competitive program, which provides $27,000 of funding annually for three years of a student's doctoral program.
The foundation seeks to the increase ethnic and racial diversity of college and university faculties across the nation. Ford Foundation fellows are future professors and leaders who pledge to use diversity in their research, teaching, and mentorship to enrich education for future students.
In addition to the Ford Fellowship, all three students were awarded the National Science Foundation's Graduate Research Fellowship to help fund their future study.
---
---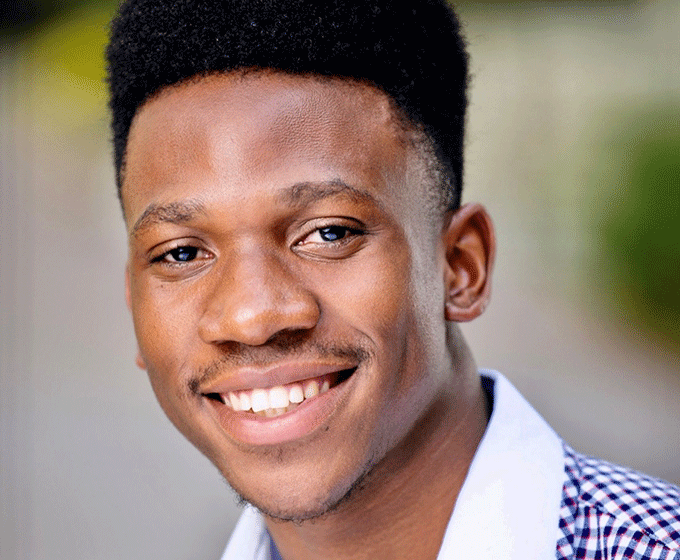 Favour Obuseh
Having graduated from UTSA in the spring of 2021, Obuseh will join the Harvard-MIT Health Sciences and Technology program to obtain a Ph.D. in medical engineering and medical physics as an MIT Sloan Scholar. As a biomedical engineering major in both the College of Engineering and Honors College, Obuseh has sought out mentors that helped guide his path.
"I remain so thankful for the programs and professors that saw potential in me," Obuseh said. "I'm stoked for what the future holds for me."
Attending the Harvard-MIT program will not be Obuseh's first time in Boston, as over the past two summers he participated in summer research programs at MIT under the mentorship of professors Robert Langer, Giovanni Traverso, and Jacquin Niles. In both research experiences, they tackled translational projects that target pertinent world problems.
Obuseh helped in the design of novel microneedles for long-term contraceptive delivery, which will provide a cheaper, effective and discreet contraceptive for women in developing countries across the world. In Niles' lab, he worked to express proteins produced by the malaria parasite, a disease that still claims 500,000 lives yearly and one that Obuseh directly witnessed while growing up in Nigeria. 
Obuseh came to the U.S. at the age of 13, first adapting to the American education system in high school, and joining UTSA as a student-athlete on the men's track and field team. As a biomedical engineering major, Obuseh was exposed to research and joined the NIH federally-funded Maximizing Access to Research Careers - Undergraduate Student Training for Academic Research (MARC-U*STAR) program, where he conducted research with Eric Brey, the Edward E. Whitacre Jr. Endowed Chair in biomedical engineering.
Promoting research excellence for others, Obuseh also served as a leader on the UTSA campus, becoming the first Black president of the Biomedical Engineering Society and serving as a mentor for younger students. As a future researcher and professor, Obuseh seeks to mentor students and has long-term ambitions to form institutional ties with universities in Nigeria, so that he can promote research.         
"Engaging in research has been rewarding for me in terms of being able to contribute to the advancement of human health. Extending the same opportunities to others at universities both in US and abroad have since been added to my goals as a researcher and educator.  Through research and mentorship, I would love to tell the story of my life as one which overcame the spicules of limitation and coalesced with serendipity to leave an imprint on the lives of generations to come."
---
---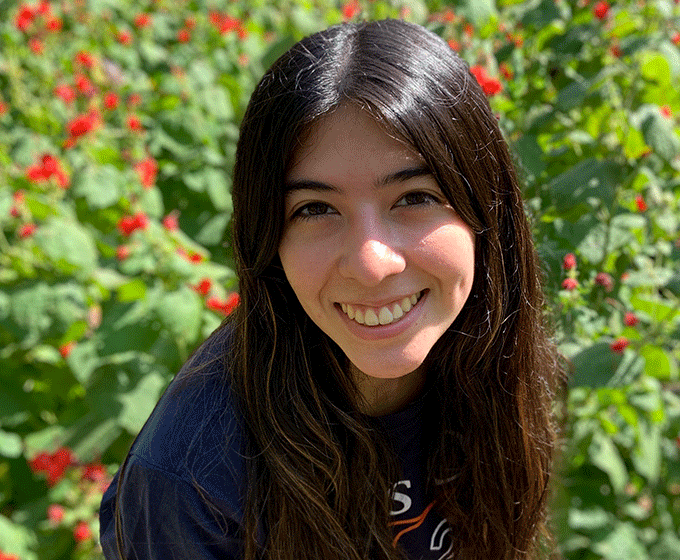 Kaitlyn Varela
Varela is a first-year doctoral student in chemistry. She graduated from UTSA in the spring of 2020 with a degree in biochemistry, where she participated in the Research Initiative for Scientific Enhancement (RISE) and was also an Honors College graduate.
Her decision to stay at UTSA and continue her research has paid huge dividends with this distinction.
"Receiving the Ford Fellowship in the context of my research goals and future professional goals really gives me the confidence to pursue a career in chemistry," Varela said. "I love UTSA and that's why I decided to stay for my graduate studies, and winning this fellowship has further exemplified that it is a great place to achieve great things. I'm really excited for what's to come and so grateful for the network and opportunities the fellowship will entail for me."
Working in the lab of assistant professor of chemistry Francis Yoshimoto as both an undergraduate and graduate, Varela researches artemisinin, an antimalarial drug whose mechanism of endoperoxide formation in nature is unknown. The lab seeks to understand this process to better facilitate mass production of antimalarial drugs. 
The San Antonio native recognizes the Ford Fellowship award and the context of its mission as being special to her.
"Being a Hispanic woman in science, I value representation and diversity. I hope to continue to promote diversity as a professor and help spread the idea that anyone can do anything they want to if they set their mind to it." Varela said. She credits her parents for their "love, support, and encouragement" as well as a "huge thank you" to her mentor Yoshimoto, as well as chemistry professors George Negrete and Hector Aguilar, and the RISE program for their support and guidance in helping her become the scientist she is today.
---
---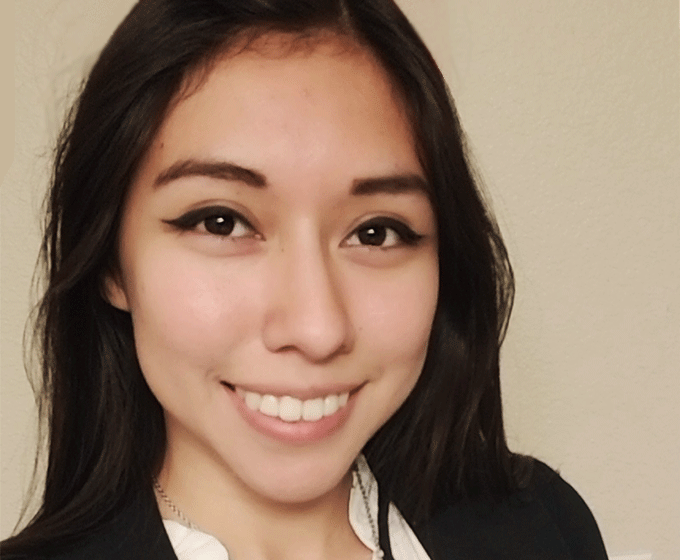 Daisy Paredes
Paredes graduated in spring 2021 with an anthropology major and professional writing minor in the UTSA Top Scholar Program and Honors College. A first-generation Mexican American student, Paredes came to UTSA from the Rio Grande Valley.
During her time at UTSA, she has combined experiential learning, research, advocacy, service, and anthropology to address human problems, particularly access to mental health at institutions of higher education.
While at UTSA, she organized mental health, self-care, and peer care programming sessions as well as advocated for widespread student access to mental health first aid training. Paredes also served on the UTSA Public Health Task Force in the summer of 2020, contributing to UTSA's health report for all UTSA community members and stakeholders.
Next year, Paredes will pursue a Ph.D. in anthropology at UTSA to become an applied researcher and educator in South Texas. She will research mental health within Hispanic Serving Institutions that serve historically disenfranchised communities. In her undergraduate thesis, her research focused on how mental health care at universities respond to the national mental health crisis and the inability of institutional mental health care to adequately serve students.
"My graduate research will challenge implicit ideas in anthropology and the U.S. about what 'counts' as mental health care and explore how people seek and experience forms of care to alleviate mental distress within an institution not originally intended to deliver healthcare," she said.
One of the reasons that Paredes has chosen to continue her work at UTSA is due to the excellent mentorship she has received through the Department of Anthropology, particularly in the areas of environmental and medical anthropologies. Her mentor, associate professor of anthropology Jill Fleuriet, notes the importance of her work which "represents the next wave of theoretically engaged anthropology."
"Her work digs deep into theory to 'do something' for the communities in which she works," Fleuriet said.
---
---
With these three students being honored by the Ford Foundation, UTSA is being recognized for its ability to mentor undergraduate students and prepare them for success in doctoral programs.
The success this year runs across three academic colleges: The College of Engineering, College of Sciences, and College of Liberal and Fine Arts. It also comes with these students participating in UTSA-run researcher training programs like the MARC U*STAR, RISE, and McNair Scholars, as well as being supported by the UTSA Office of Nationally Competitive Awards.
In other competitions in 2021, UTSA has received its highest number of awards in undergraduate research for the Goldwater Scholarship, National Science Foundation Graduate Research Fellowship, and Fulbright Student Program.