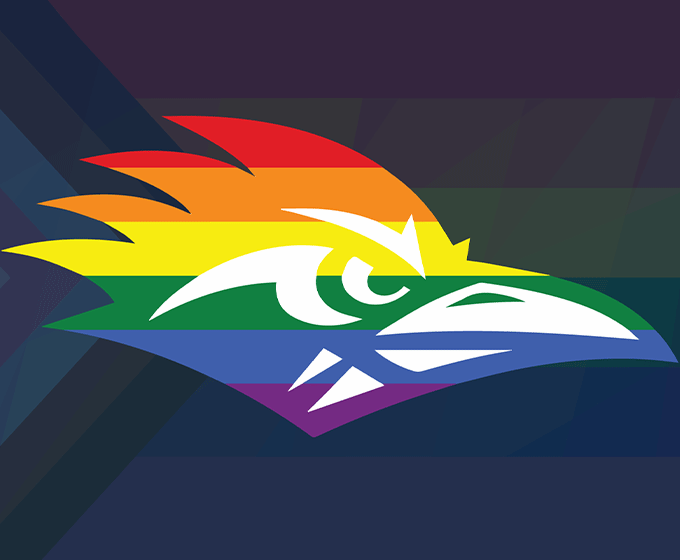 JUNE 14, 2021 — June is LGBTQIA+ Pride Month, and UTSA is hosting a series of events inviting members of the Roadrunner community to celebrate our LGBTQIA+ students, faculty and staff. Throughout the month of June, university events will highlight the importance of equality and increased visibility of lesbian, gay, bisexual, transgender, queer, intersex and asexual people.
Starting with the Stonewall Uprising in New York City on June 28, 1969, Pride Month both commemorates and celebrates LGBTQIA+ activism and culture through the years. The first annual Pride Parade occurred in 1970, and San Antonio Pride began in 2004. These Pride Month events are dedicated to the uplifting of LGBTQIA+ voices, the celebration of LGBTQIA+ culture, and learning LGBTQIA+ history.
Many of the events will take place exclusively online to promote the safety of our community and include as many Roadrunners as possible, wherever they may be. All online events require Roadrunners to RSVP before attending.
Pride Month at UTSA begins with the debut of a Queer Zines Guide from UTSA Libraries. This reading guide features some of the 250-plus self-published magazines held by UTSA Special Collections that highlight LGBTQIA+ struggles, passions, poetry, and artwork. UTSA Libraries also has a Lesbian, Gay, and Transgender Research Guide available.
From Monday, June 21, through Sunday, June 27, the Student Union Tower Lights and the Monument Lights will display rainbow colors after sunset to celebrate Pride Month.
Students, faculty and staff can also show their pride and allyship all month long with "Pride Rowdy" Zoom backgrounds and by using the hashtag #RowdyPride on social media.
The following series of events seeks to uplift LGBTQIA+ voices, celebrate the 51st annual Pride Parade, and promote community resources. All events will be held virtually via Zoom unless otherwise noted:
---
June 15 • Pride Month Trivia
Noon
Hosted by the UTSA Pride Faculty & Staff Association, the Pride Month Trivia winner who best demonstrates their knowledge about everything LGBTQIA+ Pride will win a "Pride Rowdy" tank top or t-shirt.
---
June 16 • Virtual Panel: What Does Pride Month Mean to You?
Noon
During this panel presented by Pride FSA, UTSA faculty, staff, and students will discuss what Pride Month means to them and to the LGBTQIA+ community.
---
June 22 • Out and Proud in San Antonio: Retracing the History of Pride Celebrations in the Alamo City
Noon
In this presentation, LGBTQIA+ historian and archivist Melissa Gohlke will explore the rich history and evolution of Pride celebrations in San Antonio drawing on archival collections held at the UTSA Libraries Special Collections.
---
June 23 • Virtual Movie Screening: 'Hap Veltman's San Antonio Country'
6:30 to 8:30 p.m.
Watch this 2020 documentary about the extraordinary life of Arthur "Hap" Veltman and the nightclub that kickstarted San Antonio's gay civil rights movement. A panel discussion will be held after the film featuring director Noi Mahoney and Derek Robertson, associate professor in the UTSA Department of Counseling. Roadrunners can submit questions for the panelists beforehand during registration.
---
June 26 • Virtual Pride Parade
6 to 10 p.m.
Organized by Pride San Antonio, the festivities include makeup tutorials, a Peace Love Pride Wedding, and special guests.
---
June 28 • Campus Rec Pride Giveaway
Opens at 6 a.m.
UTSA Campus Recreation will be doing a giveaway in celebration of Pride Month at the Recreation Wellness Center. In honor of the first Pride Parade's anniversary, the first 51 patrons to visit the Rec will win a free t-shirt.