At UTSA, 75% of students receive financial aid, and 45% receive federal Pell grants. The latter are awarded to students with exceptional financial need.
The donors were also attracted to UTSA's identity as a Hispanic Serving Institution (HSI) and its focus on accelerating Latino student success through intentional systems and programs. In 2020, Excelencia in Education awarded UTSA the prestigious Seal of Excelencia, a comprehensive certification recognizing the university's commitment and ability to serve Hispanics, which comprise 57% of its student population.
"This gift is completely transformational for us, for our students, and for our community—it is a tremendous investment in our collective future. A college education is the best way to address inequities that exist in our communities. I am immensely grateful to Ms. Scott and Mr. Jewett for their belief in UTSA's mission and impact as a Hispanic Serving Institution here in San Antonio." said President Taylor Eighmy. "We look forward to announcing specific plans for this gift later this year."
"A gift of this magnitude with no restrictions is extremely rare but its message is clear," said University of Texas System Chancellor James B. Milliken. "It means that Ms. Scott and Mr. Jewett have confidence in the mission and the people of UTSA to determine the best path forward to invest in student support initiatives and ultimately to generate economic prosperity and social mobility in our region."
"This gift is a powerful statement of the impact that UTSA already has had on our community and it sends a clear signal that our institution will forever impact the lives of families," said UT System Regent Rad Weaver. "It will help prepare them as leaders in their fields and further builds the competitiveness of our San Antonio economy."
UTSA's strategic plan, A Vision for UTSA, provides a roadmap to help the university become a model for student success, a great public research university, and an exemplar for strategic growth and innovative excellence. The plan is heavily guided by data, enabling the university to focus on the institutional practices that result in the most impactful gains.
UTSA has proactively developed and implemented dozens of programs to support student success, particularly for its underserved communities. Its Bold Promise program provides full tuition and fees to high achieving undergraduates from low- and middle-income families living in Texas. Its Resilience and Retention Advising Program targets and supports students who are at risk of dropping out of college due to academic dismissal or denial into the major of their choice. The university also has other programs that address systemic inequities. These support first-generation college students, transfer students, students in foster care and Dreamers.
---
"It will help prepare them as leaders in their fields and further builds the competitiveness of our San Antonio economy."
---
---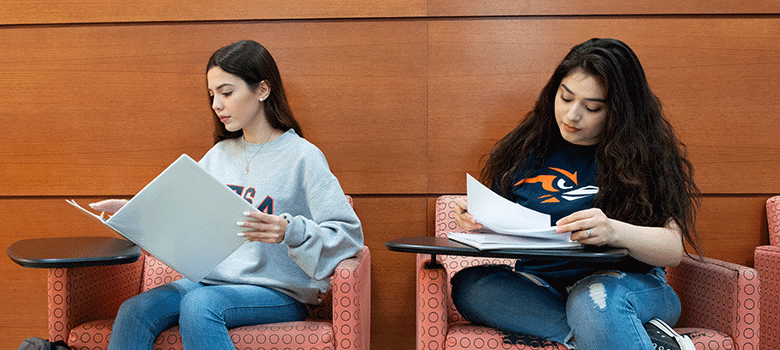 ---
---
This intentional commitment to drive student success is raising standards of excellence across the university and benefitting all students who attend UTSA. From 2015 to 2020, the university's four-year graduation rates doubled—from 15% to 32%—and its six-year graduation rates climbed from 31% to 46%. Additionally, for the first time, in Fall 2020, UTSA's first-year retention rate moved into the nationally recognized benchmark by exceeding 80%, up from 77% in 2019.
"UTSA's student population includes the next generation of leaders who will develop the new innovations, businesses and social programs that will be key to ensuring a bright future for San Antonio and for Texas. I am proud of the work and outcomes UTSA has accomplished to support and enable the success of our students in earning their degrees," said UTSA Provost and Senior Vice President for Academic Affairs Kimberly Andrews Espy. "As a public, urban serving university with limited resources, this generous gift will go a long way in enabling UTSA to create life-changing opportunities for its students and to prepare a diverse pipeline of professionals for the workforce."
With an estimated net worth of more than $55 billion, author and philanthropist MacKenzie Scott is one of the wealthiest women in the world and owns 4% of Amazon. In 2019, Scott signed the Giving Pledge, a campaign that encourages the world's most affluent people to give a majority of their wealth to charity to serve others. Scott's husband, Dan Jewett, has also signed the pledge. Over the last year, Scott has given billions to mission-driven organizations—including higher education institutions—with the goal of uplifting historically underrepresented populations.
"The immense generosity of Ms. Scott and Mr. Jewett is absolutely remarkable. We know that this investment in UTSA, our mission, our purpose and our impact is a testament to where we have come from but also where we are going," said Karl Miller Lugo, UTSA Vice President for Development and Alumni Relations. "We will be able to significantly leverage this investment to build a pipeline that supports college-going San Antonians in need for generations to come."
UTSA is an aspiring Carnegie R1 (highest research activity) HSI with academic and research specialties in cybersecurity, health, tomorrow's technology, and social-economic development. With more than 34,000 students, it is the largest university in the San Antonio metropolitan region.
UTSA advances knowledge through research and discovery, teaching and learning, community engagement and public service. The university embraces multicultural traditions and serves as a center for intellectual and creative resources as well as a catalyst for socioeconomic development and the commercialization of intellectual property—for Texas, the nation and the world.