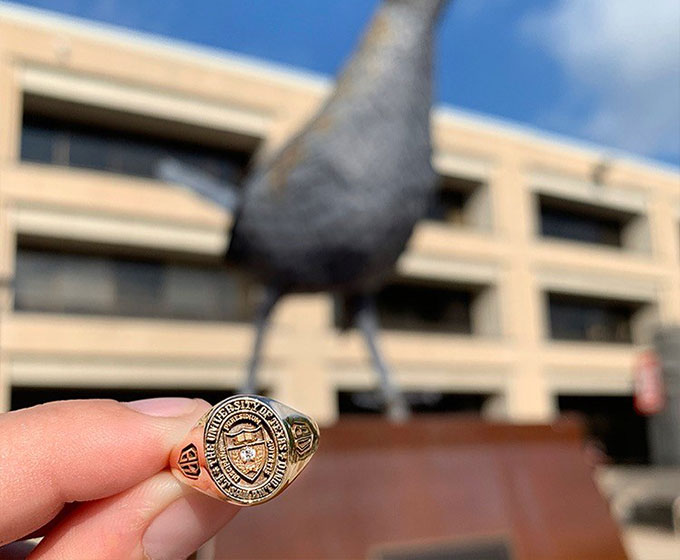 MAY 3, 2022 — Many students will soon be finding out what it means to be a Roadrunner for life as they join the thousands of alumni who now wear a UTSA ring. 
In all, 378 'Runners will receive their official UTSA rings in two Spring 2022 Ring Ceremonies at 6 p.m. and 8 p.m. on Tuesday, May 3, at the H-E-B Student Union Ballroom (1.104). The students will learn about the ring's significance and recite the UTSA Ring creed.
Prior to tonight's ceremonies, the rings spent a night in the Alamo—the only college rings in San Antonio to do so. Since 2012, nearly 10,000 UTSA rings have stayed overnight at the historic building.
The UTSA rings feature the university's seal with the motto "Disciplina Praesidium Civitatis." The motto translates to "A cultivated mind is the guardian genius of democracy," a quote by the Republic of Texas President Mirabeau B. Lamar.
The seal features images of a shield with an open book, signifying protection and higher learning. The star at the bottom of the seal represents the Republic of Texas and the wreath with the olive branch stands as a symbol of peace.
On one side of the ring is the Alamo and the words, "From our hills of oak and cedar to the Alamo," which is the opening line of UTSA's alma mater. These words also represent the university's growth. Images of oak and cedar branches solidify the Main and Downtown Campus connections.