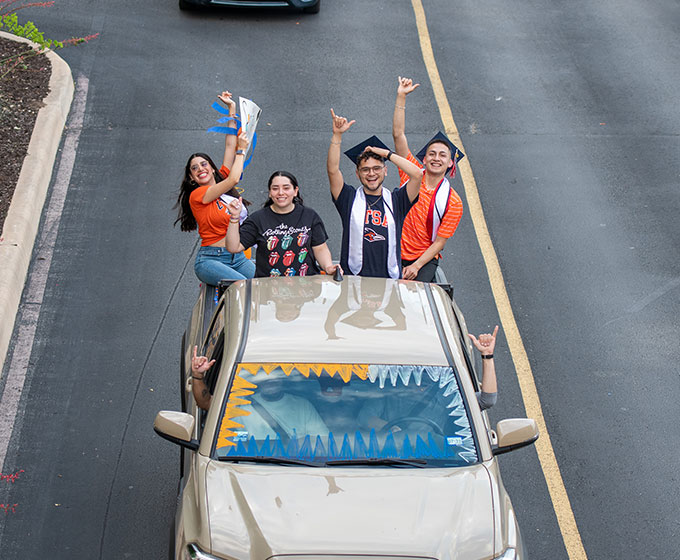 MAY 13, 2022 — The classic San Antonio tradition of jumping in your vehicle to honk for a grand celebration is making its way to the UTSA Main Campus later this afternoon.
Dozens of UTSA graduates will be driving through campus in their commencement regalia with their friends and family, cheering and honking along as part of the UTSA Commencement Drive at 5:30 p.m. today.
One of the university's newest traditions, the Commencement Drive debuted in 2020, amidst COVID-19 and social distancing measures including remote operations.
It grows each semester. Graduates from the spring and summer 2022 classes and their family and friends are invited to participate in this nostalgic parade around Main Campus.
Graduates are encouraged to decorate their vehicles, wear their regalia and honk their horns to celebrate their achievement with the Roadrunner community. UTSA faculty and staff will line the parade route to celebrate the graduates.
Vehicles will begin gathering at 5 p.m. at the Brackenridge 5 parking lot prior to the parade's procession through the campus at 5:30 p.m.
Families, friends and pets can take part in the celebration, either by riding with their graduates or viewing the parade from one of the designated viewing areas located in Brackenridge Avenue Lot 1, Ximenes Avenue Lot or Bauerle Road Lot 3.
Out of town viewers may watch a livestream of the drive on the @UTSA social media channels. Watch the channels for more details, make plenty of noise and share your videos on social media using #UTSAGrad22 for a chance to be featured.