The Alliance's 20 founding members represent every university that has been categorized both as an R1 institution (very high research activity) by the Carnegie Classification of Institutions of Higher Education and as a Hispanic Serving Institution (HSI) by the U.S. Department of Education.
Representing nine states, the 20 HSRU Alliance universities together enrolled 766,718 students in fall 2020. Of those, 33% (254,399) were Hispanic. In 2019-20, the institutions produced 11,027 doctoral graduates, of which 13% (1,451) were Hispanic. In 2020, their combined research spending totaled more than $5.9 billion.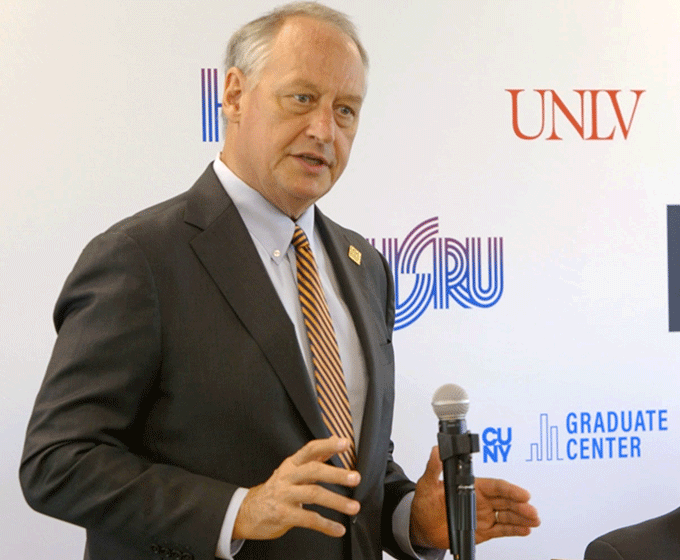 UTSA President Taylor Eighmy spoke to attendees of a press conference announcing the Alliance of Hispanic Serving Research Universities in Washington, D.C., on June 9.
"Hispanic Serving Institutions are founded in opportunity, equity and inclusion. Our membership in the Alliance aligns closely with that mission, our strategic plan, and our trajectory here in San Antonio and South Texas," said UTSA President Taylor Eighmy, who serves on the executive committee of the Board of the Alliance. "We lead by example. Our strategic focus on student success and new knowledge creation aligns perfectly with the goals of the Alliance and with where UTSA is going as a university."
James B. Milliken, chancellor of the University of Texas System, added, "Texas has the second largest Hispanic population in the nation, and that important demographic is growing rapidly. UT institutions are committed to ensuring that the academic workforce—our graduates at all levels and the future faculty who create and transmit knowledge—reflect the diversity and richness of the state and nation we serve. I applaud the intentional, focused goals of all the Alliance, and I'm grateful to our presidents for their leadership."
UTSA enrolls nearly 35,000 students in 171 bachelor's, master's and doctoral degree programs. Fifty-seven percent of its students identify as Hispanic and 70% are eligible for federal financial aid.
Between 2010 and 2020, UTSA sharply improved its four and six-year graduation rates by 17 and 19 percentage points, respectively, and made substantial gains in removing achievement gaps for students of color.
In 2021, Hispanic and Black students had six-year graduation rates of 51% and 55%, compared to their White peers, which attained a six-year rate of 48%. These increases put UTSA on target to achieve its 2028 graduation rate goals. Guided by its 10-year strategic plan, UTSA is deepening its commitment to student success, research excellence, and strategic growth and innovative excellence.
University leaders attribute the gains to best practices and programming in retention, student success and financial aid—as well as support systems for first-generation students, transfer students, Dreamers and students with a history of foster care. Examples include:
the First to Go and Graduate (F2G&G) program, a unique concept that pairs UTSA students who will be the first in their families to earn a degree with trained peer mentors and faculty coaches who were also first-generation college students in familias that increase engagement, encourage retention and positively impact graduation rates. To date, the program has served 1,403 students, including 821 Latino students (58.5%). Between fall 2016 and fall 2019, it resulted in a 17% increase in graduation and retention rates.


UTSA Bold Promise, a tuition-free program that provides access to higher education for Texas students from low- and middle-income families. The program covers 100% of a first-time freshman's tuition and fees for four years and is open to students with a family income of $50,500 per year, a threshold that will increase to $70,000 in fall 2022 due to an infusion of PromisePlus funding from the University of Texas System. In fall 2021, 79% of newly enrolled Bold Promise students identified as Hispanic or Latino. 
a Graduation Help Desk that aids students such as students of color and those from families without college experience in resolving roadblocks to graduation. The Help Desk builds on the efforts of other campus offices to provide support for students experiencing unique or unforeseen challenges. It also identifies and addresses common barriers to timely graduation to positively impact institutional policies and procedures. Since its start in 2017, the help desk has removed graduation roadblocks for nearly 2,000 UTSA students, saving them $3.2 million in added tuition and fees.
---
---
---
---
UTSA has made intentional, strategic efforts to recruit, hire and retain faculty from diverse backgrounds that reflect the demographic makeup of its student body. Currently, UTSA ranks No. 2 among HSI-R1s for its percentage of tenured and tenure-track faculty members who identify as Hispanic or Latino. In the fall 2021 cohort, 30% of the university's new tenured/tenure-track faculty members identified as Hispanic. In fall 2020, one in five tenured/tenure-track faculty members identified as underrepresented minorities.
Additionally, UTSA is home to 35 UT System Board of Regents Outstanding Teaching Award recipients, seven memberships in the prestigious National Academies and three Piper professors.
These and other successes have propelled UTSA into the spotlight for data-driven approaches around the recruitment, retention and success of Latino students and other students of color. The aspiration of the HSRU Alliance is to improve outcomes by increasing collaboration and sharing insights across the 20 universities.
"UTSA has been committed to the implementation of strategies to increase opportunities for Latino students and to diversify our faculty to better support our students' success," said Kimberly Andrews Espy, UTSA provost and senior vice president for academic affairs. "It is exciting to join with other institutions who are also leaders in this important work. We look forward to sharing best practices and expanding our impact through our collaborative efforts."
In the months ahead, members of the HSRU Alliance will advance several initiatives established prior to today's formal announcement. The first project, funded by the Mellon Foundation, is focused on supporting more Ph.D. students in Latino humanities studies and guiding them to academic careers. A second initiative, funded by the National Science Foundation, expands opportunities for Hispanic students in computer science.
In 2020, UTSA received the prestigious Seal of Excelencia from Excelencia in Education, a comprehensive certification recognizing the university's commitment and ability to accelerate Latino student success.
A year later, UTSA received a transformational $40 million gift from philanthropists MacKenzie Scott and Dan Jewett. Today, this gift is fueling proven enrollment, retention, learning and graduation strategies, raising standards of excellence for all UTSA students.