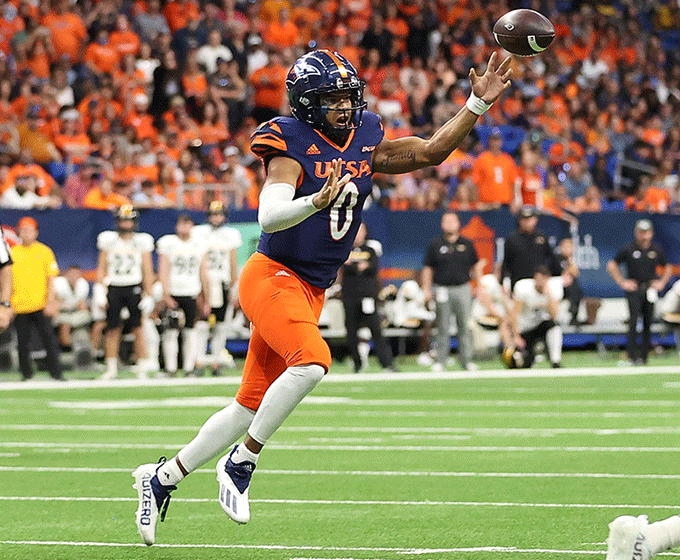 JULY 29, 2022 — One season after achieving its first Conference USA championship, UTSA Football is being tabbed to win it again, while being led by many standout student-athletes earning preseason honors and making appearances on watch lists for national awards.
The C-USA preseason media poll picked the Roadrunners to finish first in the conference this season. UTSA received 14 of a possible 22 first-place votes from a panel of media members that cover all 11 C-USA schools.
UAB received the remaining eight first-place votes, taking second place in the preseason poll, followed by Western Kentucky, which UTSA beat 49-41 to claim the 2021 conference crown.
PREDICTED ORDER OF FINISH
UTSA (14)
UAB (8)
Western Kentucky
Florida Atlantic
North Texas
UTEP
Charlotte
Middle Tennessee
Louisiana Tech
Rice
Florida International
With UTSA emerging as the Conference USA frontrunner, it's no surprise that many Roadrunners are earning national acclaim. Two have earned Conference USA's highest preseason honors and a total of seven UTSA student-athletes have been named to preseason watch lists for prestigious college football awards.
Quarterback Frank Harris and safety Rashad Wisdom were named Conference USA Preseason Offensive and Defensive Players of the Year, respectively. They joined C-USA Preseason Special Teams Player of the Year Brayden Narveson of Western Kentucky as preseason superlative award winners in a vote by the league's head coaches.
---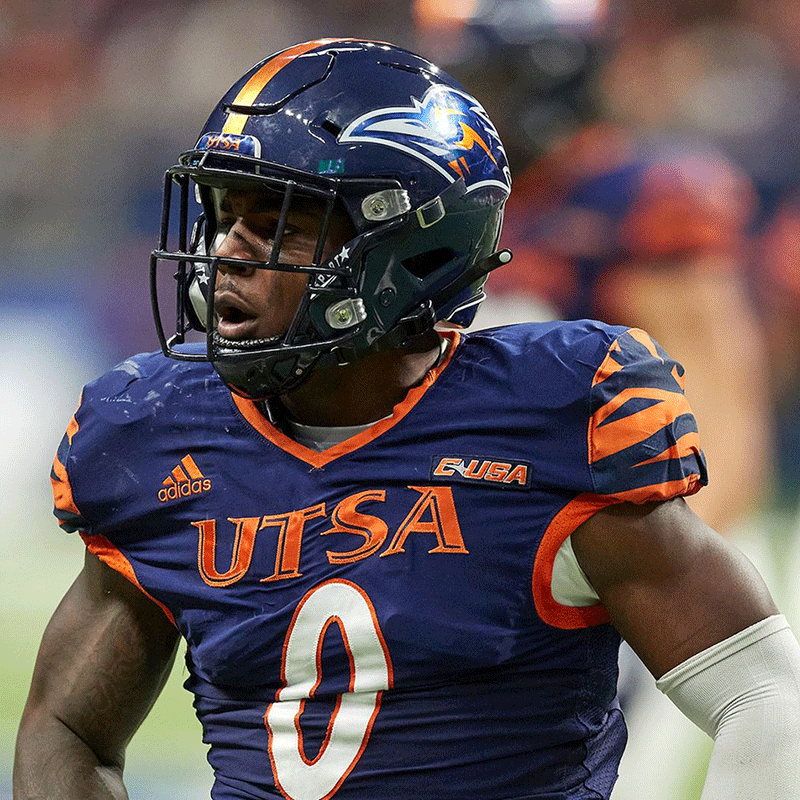 Rashad Wisdom
It's been a busy preseason for Wisdom. He was named to the watch lists for the Jim Thorpe Award, the Bronko Nagurski Trophy and the Chuck Bednarik Award, while also earning a nomination for the 2022 Allstate AFCA Good Works Team. The Jim Thorpe Award has been bestowed upon the top defensive back in college football since 1986, the Chuck Bednarik Award is presented annually to the most outstanding defensive player in college football, and the Football Writers Association of America has awarded the Bronko Nagurski Trophy to its National Defensive Player of the Year since 1993. The Good Works Team recognizes college football's student-athletes for their unwavering commitment to community service and their good works off the field.
Wisdom has been heavily involved in giving back to the San Antonio area community throughout his collegiate career. The cyber security major has volunteered his time with Rowdy Readers, Dr. Seuss Day for Youth Literacy, UTSA's Diploma Dash, UTSA Student Government Field Day, the annual Martin Luther King Jr. Day March. Wisdom was the emcee for the 2022 UTSA Giving Day live video stream, and he has been a speaker at local elementary schools. The 2021-22 Roadrunner Pride award recipient also created a GoFundMe to benefit the San Antonio Food Bank, where he volunteered his time to help collect and sort donated food items. 
Wisdom and his family also organize events for the Bryce Strong Foundation, which they started in honor of his younger brother, Bryce, who passed away after a battle with cancer in July 2020. The nonprofit's mission is to bring awareness, assistance and resources to adolescent cancer warriors and their families in honor of Bryce.
 
A two-time first-team All-Conference USA performer at safety, Wisdom has paced the Roadrunners in total tackles in each of the past two seasons, helping guide UTSA to 19 wins, a conference championship and a pair of bowl games during that timeframe. He has registered 227 tackles, 158 solo stops, 12 tackles for loss, five interceptions, four forced fumbles, a pair of sacks and a fumble recovery. He has returned two of his interceptions for touchdowns, which is tied for the school record.
---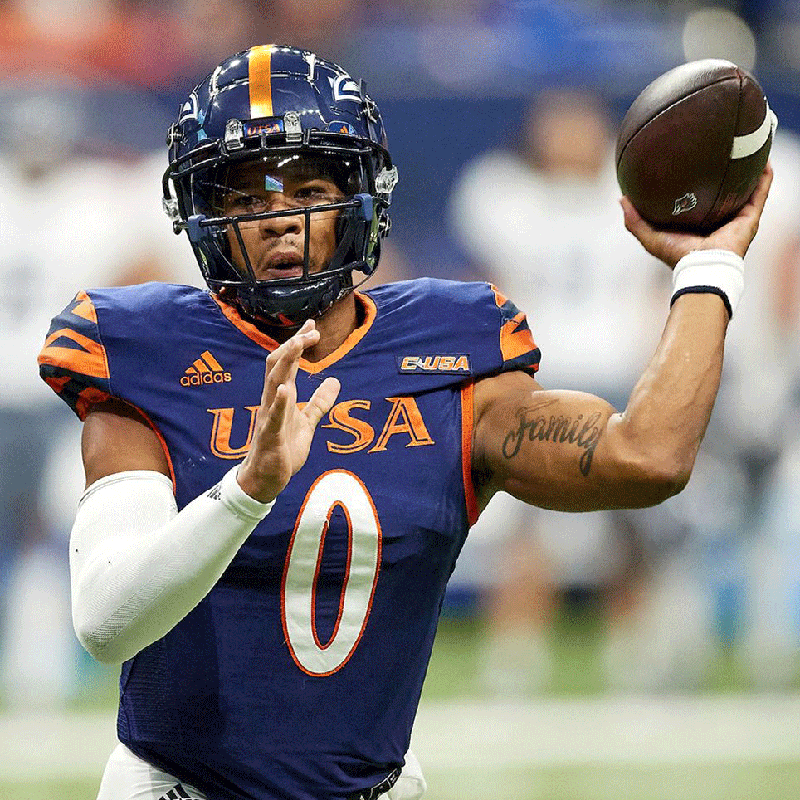 Frank Harris
Harris has also accumulated a long list of accolades this summer. He was named to the watch lists for the Maxwell Award, the Davey O'Brien Award and the Walter Camp Player of the Year Award in addition to being honored as a Wuerffel Trophy nominee. The Maxwell Award has been presented to the College Player of the Year since 1937 and the Davey O'Brien National Quarterback Award is presented annually to the nation's best college quarterback. Meanwhile, the Wuerffel Trophy honors college football players who serve others, celebrating their positive impact on society and their ability to inspire greater service in the world. 
Harris has participated in many community service projects while at UTSA. He has volunteered his time with the San Antonio Food Bank UTSA's Rowdy Readers program that visits local elementary schools, San Antonio's annual Martin Luther King Jr. Day March, UTSA Day of Service, UTSA's Diploma Dash, the Bryce Strong Foundation and the San Antonio Police Officers Association Blue Cares outreach program.
He also has spent his time helping out with the For The Kids dance marathon that benefits pediatric cancer patients and their families. He has collected donated food items for CANtoberfest, an annual UTSA event benefitting the San Antonio Food Bank. During the 2021 winter storm that knocked out power and water to thousands of area residents, he once again gave of his time to help the Food Bank collect donations. Furthermore, he has given countless hours hosting local youth football camps and clinics and speaking to numerous San Antonio-area youth sports teams.
A semifinalist for the Davey O'Brien and Earl Campbell Tyler Rose Awards a year ago, Harris enters the 2022 campaign with a 20-8 record as UTSA's starting quarterback. The left-hander has thrown for 5,293 yards and 42 touchdowns on 488-of-739 passing (.660) and rushed for 1,220 yards and 15 touchdowns as a Roadrunner.
---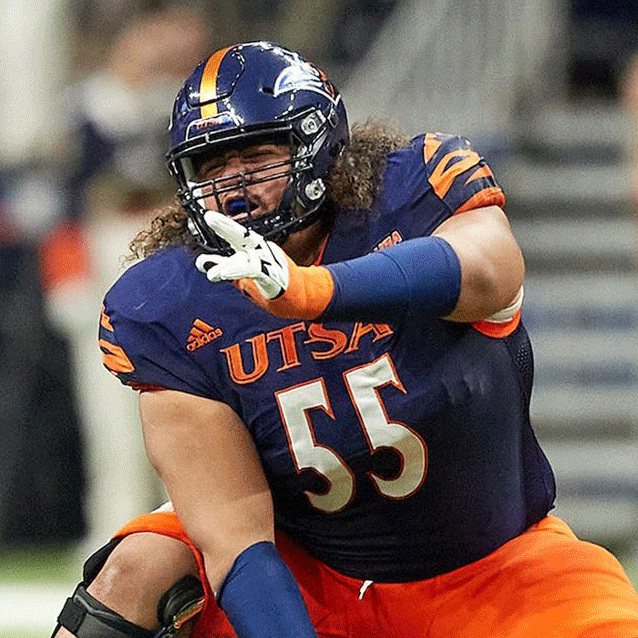 Ahofitu Maka
Center Ahofitu Maka made it on the preseason watch lists for the Outland Trophy and the Rotary Lombardi Award. Since 1946, the Outland Trophy has been awarded to college football's best offensive or defensive lineman, while the Lombardi Award is given annually to the offensive lineman, defensive lineman or linebacker who best exemplifies the character and discipline of NFL Hall of Fame Head Coach Vince Lombardi in addition to outstanding performance and ability.
Maka has excelled in the classroom while at UTSA. He is a two-time CoSIDA Academic All-District honoree, a three-time C-USA Commissioner's Honor Roll member, a 2021 C-USA All-Academic Team pick and a C-USA Academic Medal recipient.
A native of Honolulu, Hawai'i, Maka has been a second-team all-conference selection at center in each of the last two seasons. He has started 37 career games, including 36 at center, as a Roadrunner after transferring from Independence Community College prior to the 2019 campaign. Over the last two seasons, he has allowed only two sacks in more than 500 pass-blocking snaps as the leader on an offensive line that has paved the way for a record-setting offense.
---
Oscar Cardenas
Tight end Oscar Cardenas made an appearance on the John Mackey Award preseason watch list. Established in 2000, the award is presented annually to college football's most outstanding tight end.
A fourth-year junior, Cardenas has played in 30 career games and made five starts at tight end as a Roadrunner. A punishing blocker, he has caught 19 passes for 279 yards and two touchdowns during his career. Most memorably, he hauled in two passes in the final minute of UTSA's 34-31 comeback win over UAB last November, including the game-winner on a tipped pass with three seconds left to help the Roadrunners secure the C-USA West Division crown.
---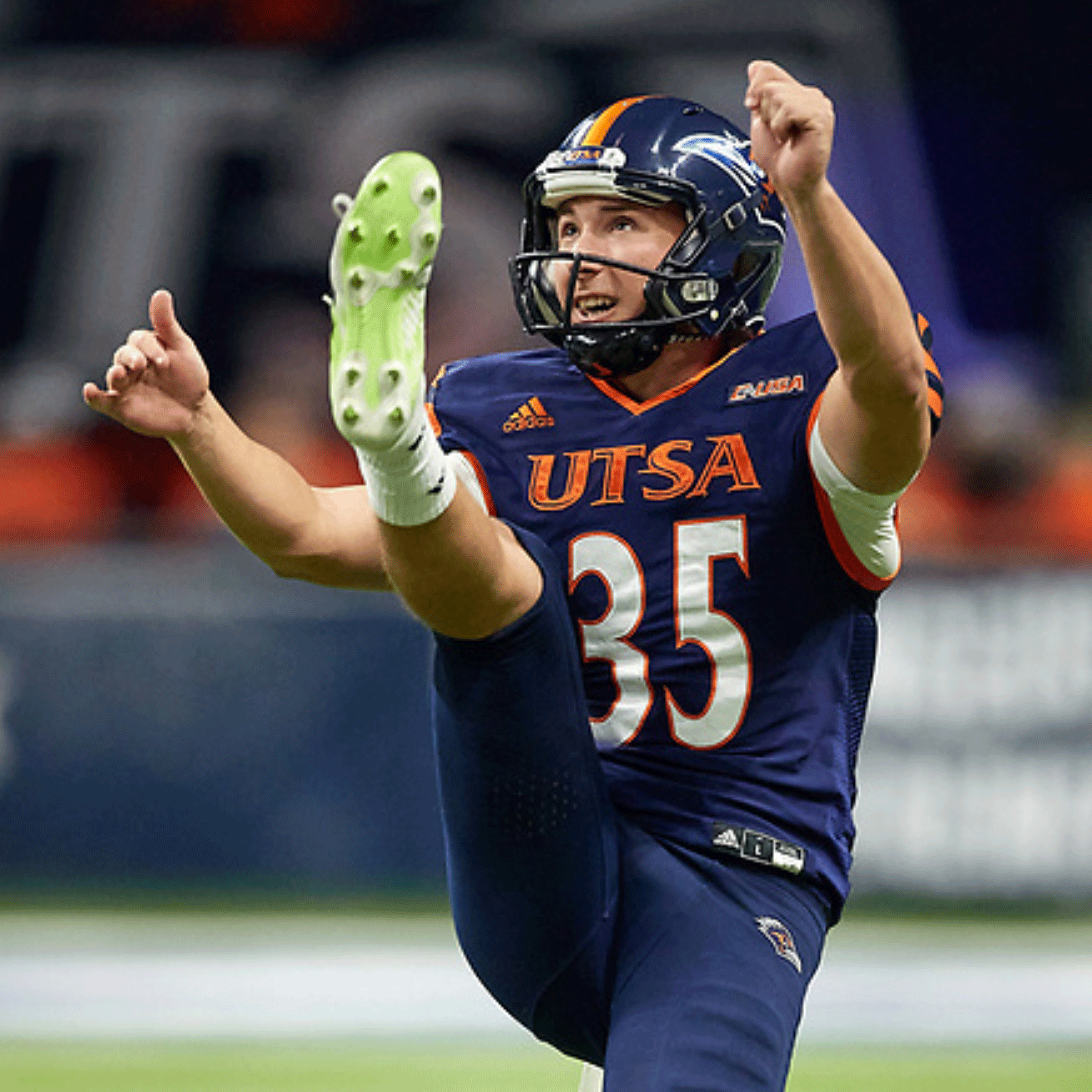 Lucas Dean
Punter Lucas Dean was named to the Ray Guy Award preseason watch list. Also established in 2000, it is presented annually to college football's most outstanding punter.
A native of Dunsborough, Australia, Dean enters his fourth season with the Roadrunners as the program record holder with a career punting average of 43.8 yards. Dean established UTSA's single-season standard for punting average in 2020 with a 46.0-yard average on 57 punts. The two-time all-conference selection was the C-USA Special Teams Player of the Year in addition to being named a second-team All-American by The Sporting News and a fourth-team All-American by Phil Steele in 2020.
---
Zakhari Franklin
Wide receiver Zakhari Franklin landed on the preseason watch list for the Biletnikoff Award for the second straight season. Any player, regardless of position, who catches a pass is eligible for the award. As such, the Biletnikoff Award recognizes college football's most outstanding receiver, not merely the most outstanding wide receiver.
Franklin is coming off a record-setting season in 2021. He smashed UTSA single-season standards for receptions (81), receiving yards (1,027), receiving yards per game (79.0) and receiving touchdowns (12) en route to first-team all-conference honors. His 2021 campaign vaulted him atop the UTSA all-time charts for receptions (168), receiving yards (2,212) and touchdown catches (22). He also owns the program's single-game record for receptions with 12.
---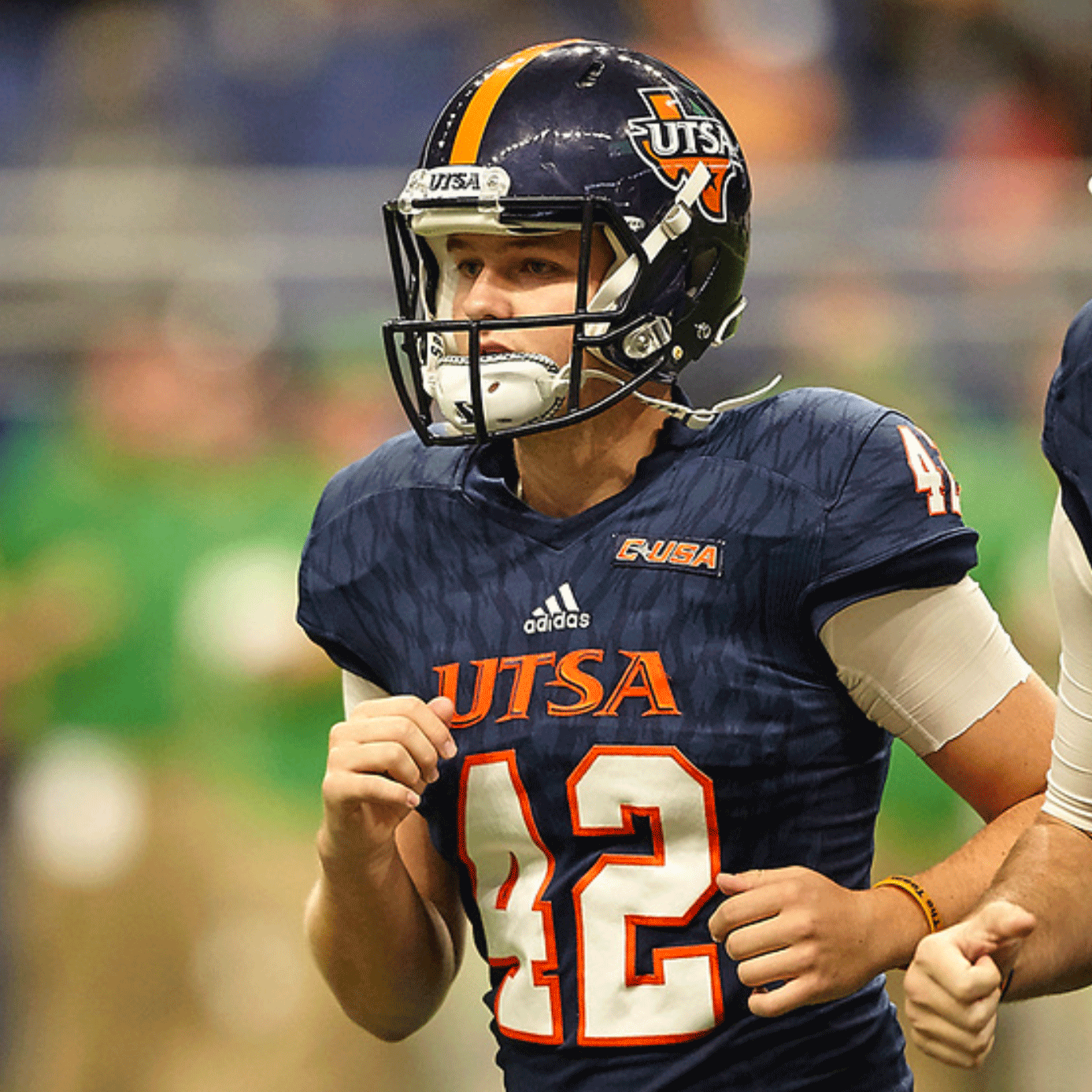 Jared Sackett
Kicker Jared Sackett was named to the preseason watch list for the Lou Groza Award. The award has been given to the nation's top collegiate place kicker since 1992.
Sackett, a graduate transfer in his second stint as a Roadrunner, was a Lou Groza Award semifinalist in each of his first two seasons with UTSA. Sackett made 19 of 22 field goals for UTSA in 2017. He finished that fall ranked third in the Football Bowl Subdivision in field goals per game (1.9) and ninth in field-goal percentage (.864) en route to earning USA Today Freshman All-America, C-USA All-Freshman Team and honorable mention all-conference accolades. As a sophomore in 2018, Sackett connected on 14 of 19 field goals (73.7%), including nine of 40-plus yards.